Tavares Strachan: Orthostatic Tolerance/It Might Not Be Such A Bad Idea If I Never Went Home
-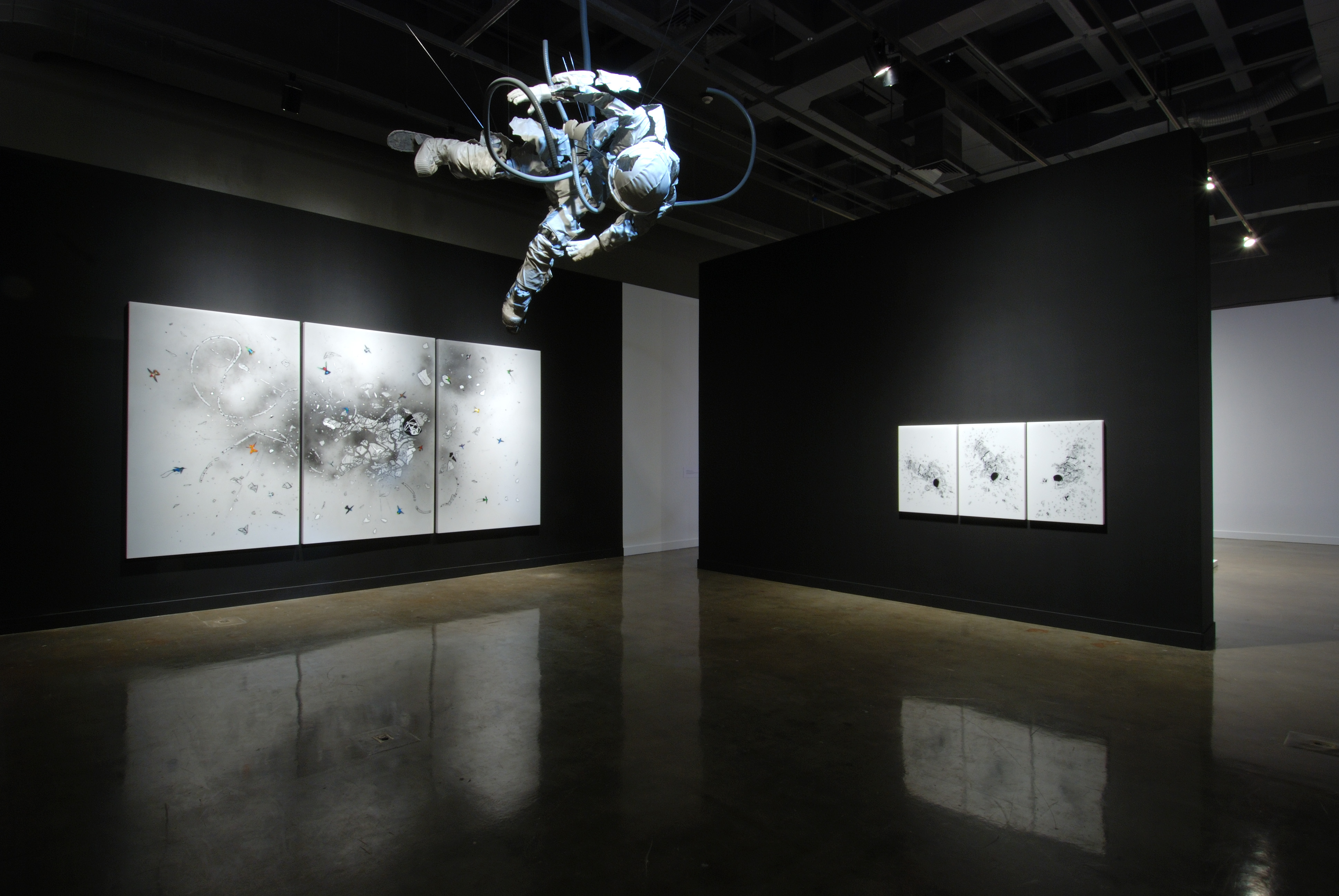 Explore all artists who have exhibited at the List in our
Artist Index
.
The MIT List Visual Arts Center is pleased to present Orthostatic Tolerance: It Might Not Be Such a Bad Idea if I Never Went Home, the next phase of a new project by Bahamian-born, New York-based artist Tavares Strachan.
Since 2006, Strachan has been working on this multiphase body of work that explores space and deep-sea training. "Orthostatic" means to stand upright, and "tolerance" refers to the ability to withstand pressure. Combined, the phrase refers to the physiological stress that cosmonauts and deep-sea explorers endure while exiting, and re-entering our home, the thin surface of planet Earth.
The Orthostatic Tolerance mirrors Strachan's interest in establishing an Ocean and Aerospace Exploration Agency in Nassau (BASEC) both to continue his own exploration efforts while fostering educational outreach efforts for children in his home country. Strachan is perhaps best known for the work, The Distance Between What We Have and What We Want, 2004-06. For this project, Strachan embarked on an Arctic exploration during which he extracted a 4.5-ton block of ice and shipped it to his former grade school in Nassau, where it was kept frozen by a solar-powered freezer. For a year after the Arctic remnant was installed in the sub-tropical environment, Strachan presented lectures in elementary schools throughout the Bahamas.
The Orthostatic Tolerance comes after two years of intensive research and hands-on training that has taken the artist to the Yuri Gagarin Cosmonaut Training Center in Star City, Russia as well as the Massachusetts Institute of Technology in Cambridge, Massachusetts. A previous iteration of Orthostatic Tolerance entitled Launching into an Infinite Distance was presented at Grand Arts, Kansas City in January, 2010. The solo exhibition at the List Center will feature a number of new works that were developed during Stachan's recent residency at MIT as well as works from the Grand Arts exhibition. The List Center is grateful to Grand Arts for their production of these works. 
Over the course of numerous visits begun in July, 2009 Strachan met with researchers and scholars in the departments of Aeronautics and Astronautics and the MIT Sea Grant College Program's Autonomous Underwater Vehicle Lab. In addition the artist collaborated with a group of graduate students in MIT's 3-D Imaging Optical Group to create a nano-sized topographical landscape. Strachan's work with the MIT Sea Grant College program was focused on creating a submersible underwater sea rover entirely out of blown glass, while the Man Vehicle Space Laboratory at MIT served as a location for a film shoot documenting the artist in training for his experiments with gravitational stress.
About the Artist 
Born in 1979 in Nassau, Bahamas, Tavares Strachan is based in New York, NY. Strachan holds a BFA from the Rhode Island School of Design and an MFA from Yale University. He has had solo exhibitions at the Institute of Contemporary Art, University of Pennsylvania, Philadelphia, and the Mattress Factory, Pittsburg (2009); at Pierogi 2000, Leipzig, Germany and Daniel Weinberg Gallery, Los Angeles (2008); The Luggage Store, San Francisco and Ronald Feldman Fine Arts, New York (2006). Strachan has also been included in The 2008 Armory Show, New York and at group exhibitions at the Queens Museum of Art, New York; Pierogi, Brooklyn; Jack Tilton Gallery, New York, and the Art Dealers Association of America 2008 Art Show, New York. Strachan's work has been written about in The Brooklyn Rail, New York Magazine, The New York Times, Artforum, Art Papers, Flash Art, and Art in America.
Sponsors

Support for Orthostatic Tolerance: It Might Not Be Such a Bad Idea if I Never Went Home has been provided by The National Endowment for the Arts, a Federal agency, the Nimoy Foundation, the Council for the Arts at MIT, and the Massachusetts Cultural Council. Media sponsor: Phoenix Media/Communications Group.