Anicka Yi: 6,070,430K of Digital Spit
-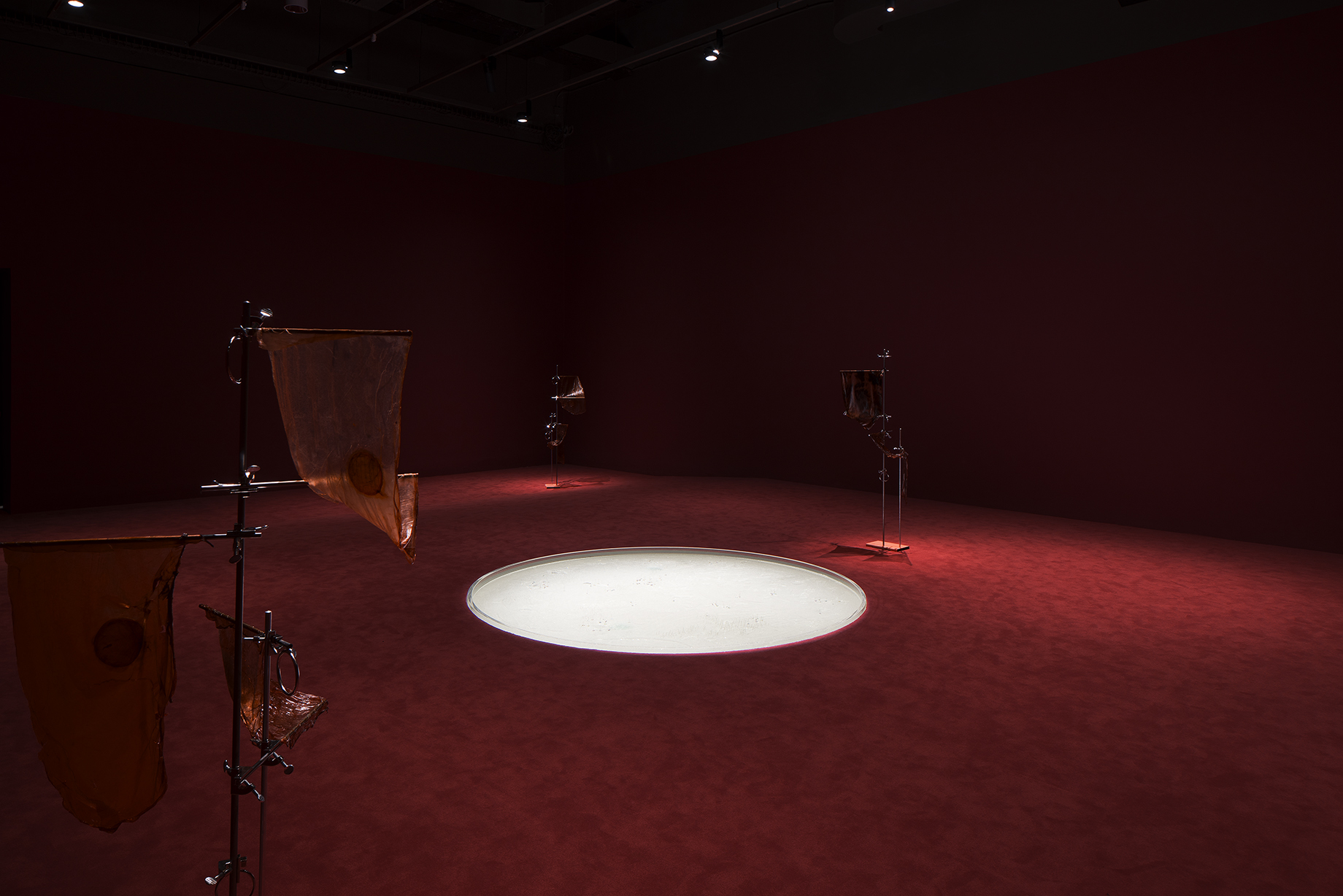 Explore all artists who have exhibited at the List in our
Artist Index
.
Departing from the ambiguity between the significations of taste as a sense and taste as aesthetic discernment, Anicka Yi's work for the MIT List Visual Arts Center foregrounds her ongoing project The Flavor Genome.
The artist's sculptural installation examines how "flavors"—visual, olfactory, gustatory, auditory—can form sense memories and spur longing, though their cultural and economic value is subject to global consumerism and a politics of taste. For the exhibition, the artist will create a large, illuminated pond containing synthetic and biological matter such as hair gel and the cellulose "leather" that grows from the bacterial cultures in kombucha tea. The gallery is scented with menthol—which for Yi recalls the dish Mint Pond, a plate of molecular gastronomy she once consumed at elBulli, the famous but now defunct restaurant. The installation also features an intermittent soundtrack playing over speakers, as the exhibition plays on ideas of good and bad taste throughout.
Accompanying Yi's exhibition, the List Center is producing the artist's first catalog, 6,070,430K of Digital Spit. The book includes an exchange between Caroline A. Jones and Yi on scent, ethnicity, and symbiotic microorganisms; an essay on networks and extravisual means by Johanna Burton; and an essay by Alise Upitis on the irreducible ambiguity of Yi's work. 6,070,430K of Digital Spit  is published by the List Center and Mousse Publishing. 
Anicka Yi (b. 1971, Seoul, Korea) lives and works in New York City. She studied at Hunter College–CUNY.  Recent solo exhibitions include Cleveland Museum of Art, Ohio; 47 Canal, New York; Lars Friedrich, Berlin; Galerie Rüdiger Schöttle, Munich. Forthcoming solo exhibitions include The Kitchen, New York, and Kunsthalle Basel, Switzerland.
Anicka Yi is curated by Alise Upitis, Assistant Curator, MIT List Visual Arts Center.
Sponsors

Support for this exhibition has been generously provided by the Council for the Arts at MIT, the Office of the Associate Provost at MIT, the Massachusetts Cultural Council, the MIT List Visual Arts Center Advisory Committee, and the Friends of the List. Special thanks to 47 Canal, New York.

Anicka Yi is a 2014-15 Visiting Artist at MIT, presented by the MIT Center for Art, Science & Technology (CAST) and the MIT List Visual Arts Center.