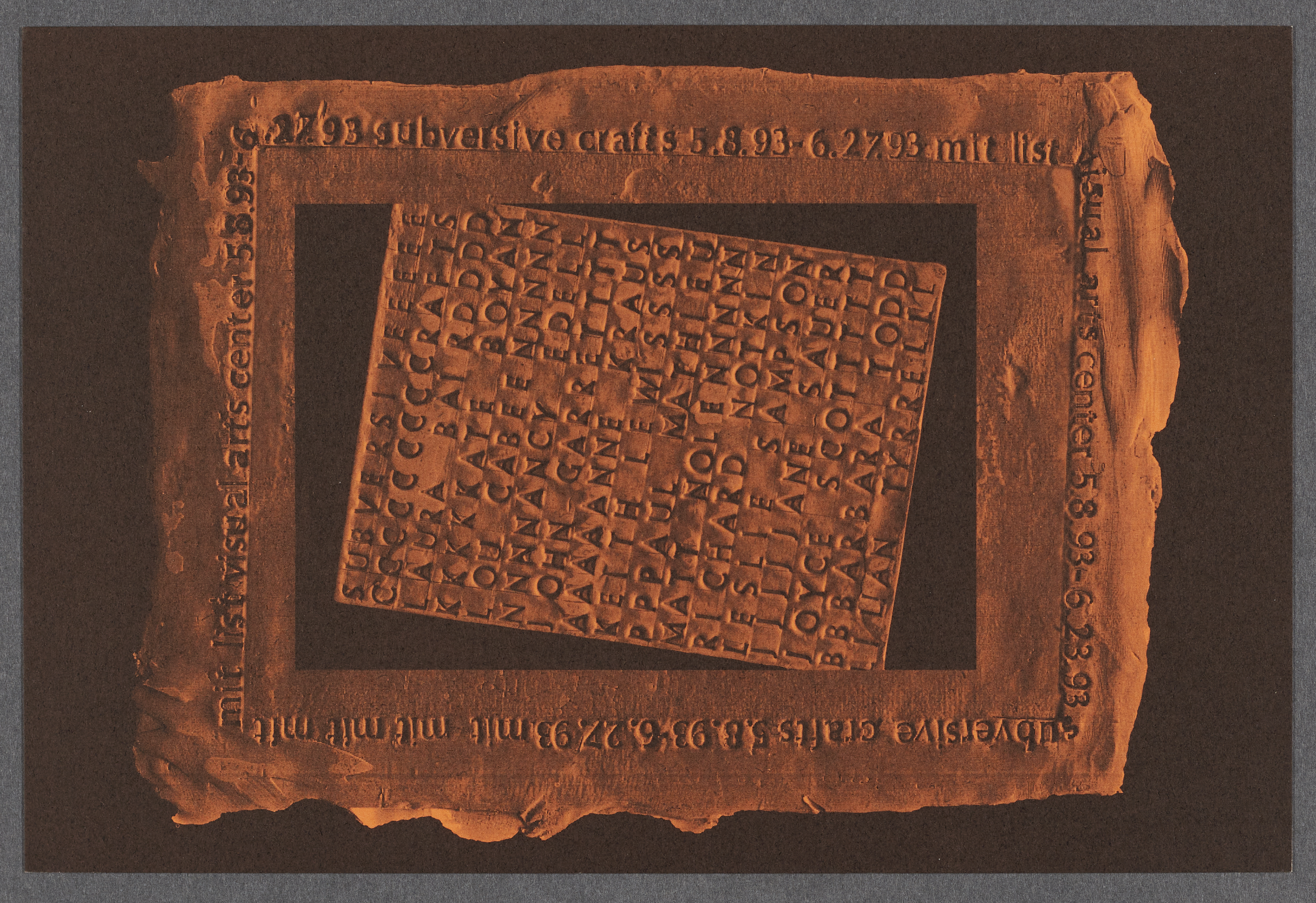 Explore all artists who have exhibited at the List in our
Artist Index
.
Observing the Year of American Craft, the List Visual Arts Center presents Subversive Crafts, an exhibition of crafts from the United States and Canada that undermines the decorative and comfortable domesticity often associated with that medium.
Fifteen ceramicists, beaders, basket-makers, jewelers, weavers, and stitchers are represented by pieces whose forms, materials, and technical sophistication celebrate the work of the hand, while providing a critical commentary on contemporary questions.
Crafts have sometimes been considered the stepchildren of the more serious and elevated "Fine Arts." And yet, by embedding a trenchant political content in such familiar objects of intimate usage as dishes, necklaces, blankets, and handbags, these craftspeople deftly infiltrate the familiar terrain of everyday life to make serious and unsettling statements.
Richard Notkin, a well-known potter from Oregon, makes masterfully crafted stoneware teapots which refer simultaneously to the comfort of an ancient social ritual and to current, more anti-social events: nuclear threats, military adventurism, and urban inequalities. New Mexican artist John Garrett weaves receptacles that give new meaning to the term "Trash Basket." Lilian Tyrell's and Laura Baird's woven blankets and rugs, Barbara Todd's quilts and Lou Cabeen's embroideries, the warmth and protection implied by the objects themselves compete with a content expressed in images of devastation and disaster. In Kate Boyan's sparkling beaded handbags visual delight collides unselfconsciously with sobering messages on greed, damage, and loss in the natural world. Joyce Scott and Keith Lewis acknowledge the role of jewelry in intimate personal identity; her beaded chokers and pins and pendants implicate the wearer in scenarios of exploitation, abuse, and loss. 
Catalogue with introductory essay and essays on individual artists by Katy Kline.