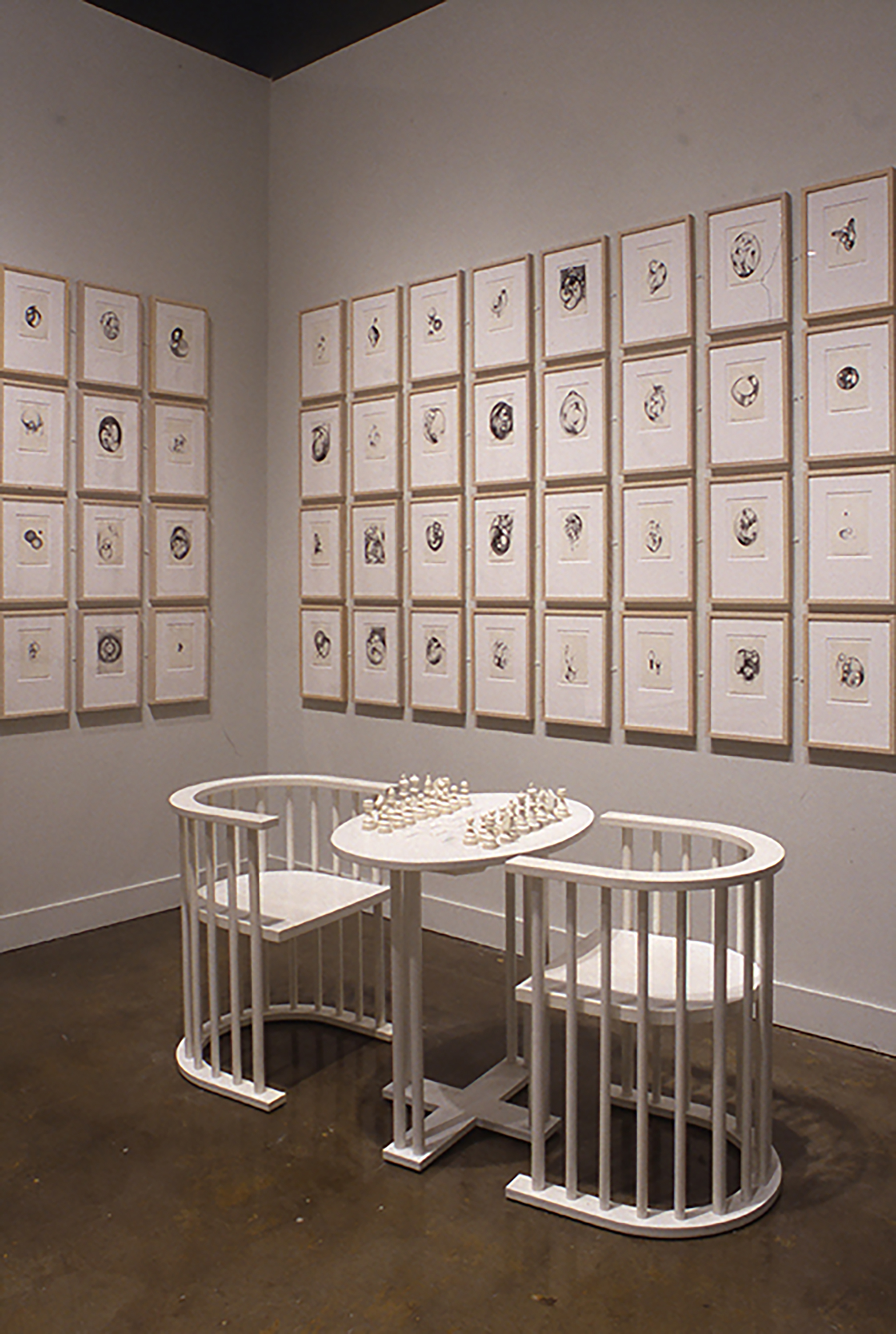 Explore all artists who have exhibited at the List in our
Artist Index
.
YOKO ONO's first American retrospective, Y E S  YOKO ONO, comes to the MIT List Visual Arts Center on October 18, 2001.
The exhibition, organized by the Japan Society in New York City, has been remarkably popular, attracting over 150,000 visitors to its recent presentation in Minneapolis. It features approximately 150 works from the 1960s to the present, with a focus on ONO's early period, and includes objects and installations; language works, such as instruction pieces and scores; film and video; music; and performance art. It is divided into five chronological and thematic sections: GRAPEFRUIT: The Early Instructions; HALF-A-WIND: Early Objects; FLY: Events, Performances &  Films; WAR IS OVER!: The Peace Movement & Other Collaborations with John Lennon; and PLAY IT BY TRUST: Recent Work. The exhibition title, Y E S YOKO ONO, refers to the interactive installation known as Ceiling Painting, an important work shown at ONO's historic 1966 Indica Gallery show in London.
The exhibition offers the first comprehensive reevaluation of ONO's prolific 40-year career, exploring her position within the postwar international avant-garde, and her critical and influential role in originating forms of avant-garde art, music, film, and performance. It examines her early and central role in the Fluxus movement; her important contributions to Conceptual Art in New York, London and Tokyo; her concerts; experimental films; vocal recordings; public art, including works made with John Lennon; and recent works, including interactive installations and site-specific art. ONO collaborated with such avant-garde figures as John Cage, George Maciunas, Nam June Paik, Charlotte Moorman, Andy Warhol, and Ornette Coleman, and works from these collaborations are also represented.
The exhibition is organized by modern Japanese art historian Alexandra Munroe in consultation with Fluxus scholar Jon Hendricks. Munroe, Director of Japan Society Gallery, is recognized internationally for her publications and landmark exhibitions in the field of modern Asian art, notably, Japanese Art After 1945: Scream Against the Sky seen at the Solomon R. Guggenheim Museum in 1994. Jon Hendricks, curator of The Gilbert and Lila Silverman Fluxus Collection, Detroit, is renowned for his catalogue raisonne Fluxus Codex (Abrams, 1988). He has worked as YOKO ONO's curator and archivist since 1989 and has contributed to several important exhibitions of ONO's work.
In collaboration with the exhibition, The Museum of Fine Arts, Boston, will present six programs featuring YOKO ONO's films from the 1960s through the 1990s. First screening, Saturday, October 20, 7:30pm. Tickets are $15 and $12. Call 617 369-3770.
Each year, the Max Wasserman Forum on Contemporary Art addresses critical issues in contemporary art and culture through the participation of renowned scholars, artists, and arts professionals. This year's Forum, entitled Losing the Revolution: On the Loss of Seditious Potential when Avant-Garde Art and Music Stopped Sleeping in the Same Bed, addresses the work of YOKO ONO. The Forum was generously established in memory of Max Wasserman, MIT '35. Details will be announced soon.
This exhibition is organized by the Japan Society, New York.
Sponsors

Y E S YOKO ONO is made possible in part by major support from NTT DoCoMo, Inc. Assistance from Apple Computer, Inc.; EMI Recorded Music, EMI Records Ltd. and Capitol Records, Inc.; EMI Music Publishing; and Signatures Network, Inc. is gratefully acknowledged. Generous support from The Andy Warhol Foundation for the Visual Arts; the E. Rhodes and Leona B. Carpenter Foundation; The David Geffen Foundation; and Marilyn and Jeffrey Katzenberg have also made this exhibition possible. The tour of Y E S YOKO ONO is supported in part by the National Endowment for the Arts, Washington, DC, a federal agency. Support for the presentation of Y E S YOKO ONO at the MIT List Visual Arts Center generously provided by The Massachusetts Cultural Council and the Council for the Arts at MIT. Additional in kind support has been provided by Sapporo USA, AK Media/MA, Four Seasons Greenery, and several other local businesses. Media sponsor for Y E S YOKO ONO: Phoenix Media Communications Group.