PORT: Navigating Digital Culture Organized by a r t n e t w e b
-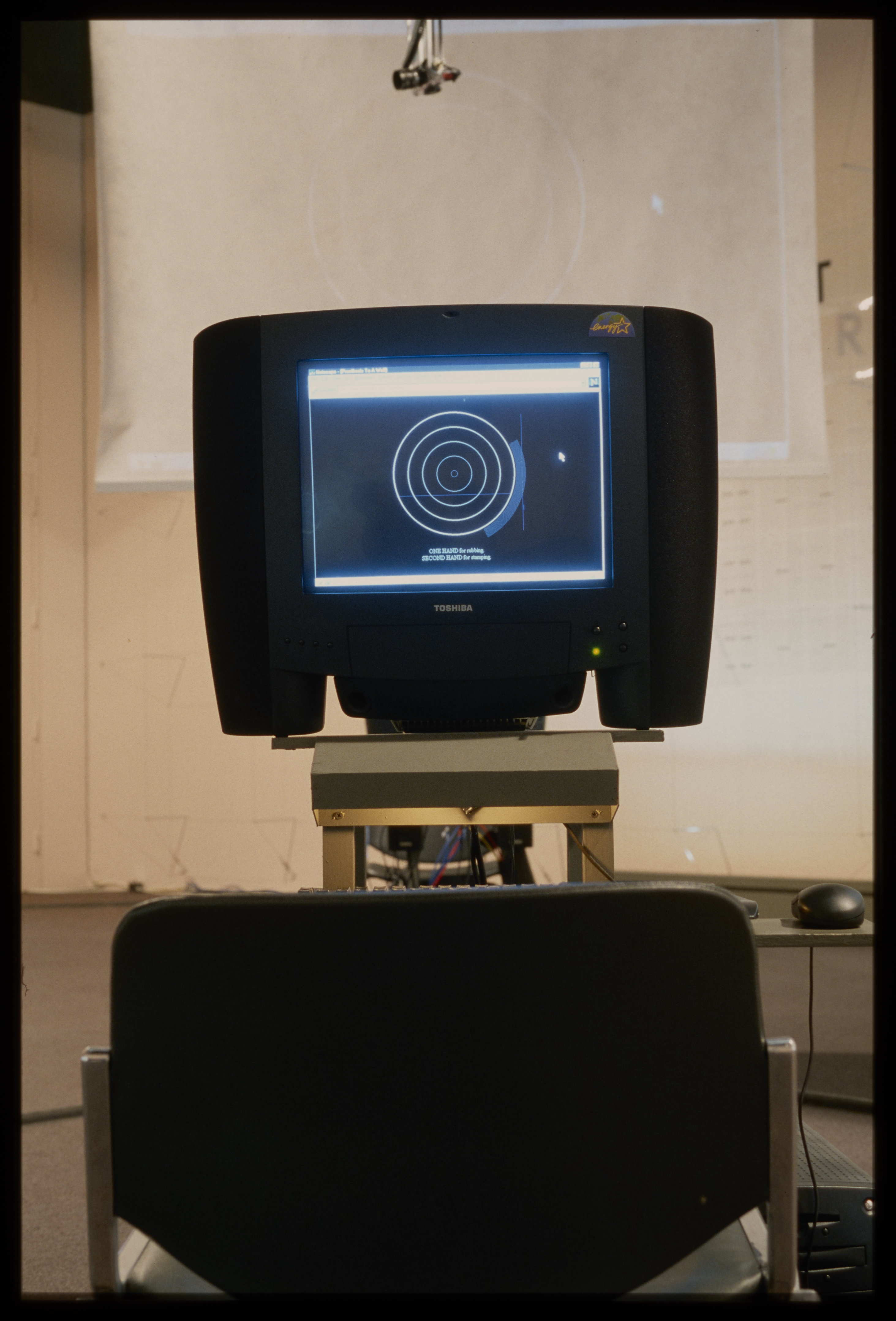 Explore all artists who have exhibited at the List in our
Artist Index
.
PORT is an exhibition of networked digital worlds on the Internet, organized by artnetweb. Scheduled, time-based Internet projects by individuals and groups will be projected into the physical gallery space and accessible over the Internet during the duration of the exhibition.
PORT has ended its stay at the MIT List Visual Arts Center. A printed catalogue is in preparation and this Web site will remain as documentation.
Thanks to everyone who participated. We are in the planning stages for future PORT projects and we hope we will be working with all of you again soon.
Below are links to thumbnails and screenshots of the projections as they were shown on the four screens of the List Center gallery. Click here for detailed information. 
Ebon Fisher I Wailing in the AlulA Dimension
A live CU-SeeMe broadcast view of the set for the AlulA Dimension. A couple of Alulians would be present, and periodically move forward near the camera, and emit a wailing/worbling sound and then return to silent climbing about the chamber.  
David Bartel with Äda'web I Arrangements
An international, participatory sculpture involving palettes of sound and color, gesture, and alphabetical graphics. It is a large scale, complex sculpture taking full advantage of distributed computing on the world wide web using ShockWave, Java, or a similarly flexible application. 
G.H Hovagimyan and Guests I ArtDirt Im-Port
Art Dirt Im-Port is a communication hybrid. Using simple Internet systems such as CU-SeeMe, RealAudio, Chat windows and good old phone calls artists are invited to send/perform/interface with Art Dirt. The concept is to mix a mass media format (talk show) with two-way interactive art performances. The world is in the ecstasy of communication.
Beyond the QE2 I Plastic Mother
Live audio and video internet broadcast. The theme deals with imagery and sounds generated by our synthetic society; colorful plastic renderings of animals and people; the idea of a maternal digital assistant with all the potential negative implications; earth is our mother turning plastic with new structures and waste. 
Benjamin Tremblay and William Tremblay I Telerobotic Camera
An infrared-sensitive monochromatic camera suited to the indirect lighting conditions of the PORT gallery. It is mounted on a custom-made robotic pan-and-tilt platform suspended at a height of eight feet from the floor in the center of the exhibit. On-line viewers manipulate the position of the camera through directional buttons on the Web page. 
Carmin Karmic and Leslie Everett I CyberDance Myths
This performance intends to provide a familiar reference point in cyberspace for gallery visitors. The sounds of chanting, primitive drumming, computer beeps and keyboard clicks, and amplified heartbeats will lure the visitor. Mythological symbols, icons, and images will be displayed and collaged via the Internet. 
Cary Adams Peppermint I Conductor #1: Getting in Touch with Chicken
An interactive performance and installation in which the artist will be placed inside of a box, assume the role of "conductor" and attempt to attain an energy that may complete a "circuit" with a chicken called "resistor" in a second box 10 meters away.
Marek Walczak with Mike Mittleman, Mark James, Jesse Gilbert, Henning Knüppel, and Sophia Warsh Leaf I MapDance
An on-line interactive 3D world using Blacksun's Cyberhub. Avatars created during PORT with an animation node added "dance" to a series of tunes that refer to a subject discussed on the Listserv or elsewhere.
John Hopkins I Eight Dialogues
A series of eight two-hour dialogues with a variety of people with whom the artist has either an intimate personal and/or professional relationship with, or with whom he would find the possibility of establishing a new dialogue. This Dialogue will be presented as both form and content on the projection screens. 
Ellipsis I ellipsis
Finding a way of meshing the synchronicity of a live performance with the asynchronicity of the net helps us to focus on the dismantling of this "illusion of the window of belief." Synchronous material on the net not only does not work very well, but is somewhat against the nature of the medium. so it is interesting to find ways to engage with realtime happenings in an asynchronous way. 
Floating Point Unit I emergent(c) room
Floating Point Unit uses and addresses the new media technologies with a special emphasis on distance performance and Internet broadcasting. The group is involved in the staging of media-saturated installation events which combine digital/analog electronics, inflatable structures, the human body, and video observation platforms. 
Lawrence Weiner with Äda'web I Homeport
There are nine hidden passageways in Homeport. Only one person at a time can pass through a porthole to embark on a voyage. These portholes are revealed when you use one of the secret words. 
Daniel O. Georges I Mapping Project
Changing construction on walls of the List Gallery built and altered according to instructions received from the listserv and chat channel.
Mythmachine I Mr. Z or I Was a Teenage Cryptologist
An attempt to show how perspectives converge over time to create a shared narrative from which we construct our own identity. An interactive event across three sites: a New York theater; the MIT List Center; and the Internet. 
Parkbench I touch
A performance studio at the crossroads of analog and digital: clay, fabric and graphite coexist with a digital video mixer, frame grabber and Sun workstation.
Ricardo Dominguez and Ron Rocco I Rabinal Achi/ZapatistaPortAction
A composite work weaving a history of the Zapatista's use of netwars, invisible theater and the emergence of the Zapatista's call for speed-democracies, with text, graphics, sound bits in an enactment of the Rabinal-Achi, a Mayan classic of highland Guatemala. 
Nathan Fruit, Chris Spain, Noah Wardrip-Fruin, and Duane Whitehurst I Raku Writing
A series of high heat, real time, collaborative writing performances.
Preme Murthy I rDNA (imagined)
A metaphorical interpretation of current experimentation in biotechnology to duplicate the human genome through a compilation of newly deciphered DNA sequences from laboratories all over the world. A biomorphic, imaginary form is created from a recombination of human DNA and experimental broadcasting technologies.
Sawad Brooks I Prosthesis to a Well
A potentially infinite and multi-participatory space which participants navigate by "caressing" (with a circular motion) the interface of the program. 
Jesse Gilbert and Marek Walczak with Henning Knueppel I Soundings
Soundings attempts to explore the boundaries between public and private space, as they relate both to experience on-line and in the physical world through the construction of an evocative RealAudio score, as well as an animated VRML 2.0 world. 
Adrianne Wortzel I Starboard
An episodic, interactive theatrical work originated by Adrianne Wortzel. A hybrid of scripting and improvisation, it provides a realtime performing space on-line and off, a writing space, an acting-out and re-acting space, as well as a place for realtime avatars to hold discourse on the nature of life and art. Combinations of motifs from prior episodes are blended back into the arena to spark new material. Themes include: "Recursive Nesting", "Clandestine Cross-Platform Meetings", The Ship's Detective, as well as rare interviews and in situ documents.
Flying Leap Studio / The School of the MFA, Boston I Virtual Streetcar
A streetcar that travels between walkthrough websites where riders can interact with each other using text chat or avatars. 
Helen Thorington I Turbulence
An open-ended sound composition centering around the idea of turbulence that will enlarge and alter as live improvisational performers interact with it.