Heimo Zobernig: chess painting
-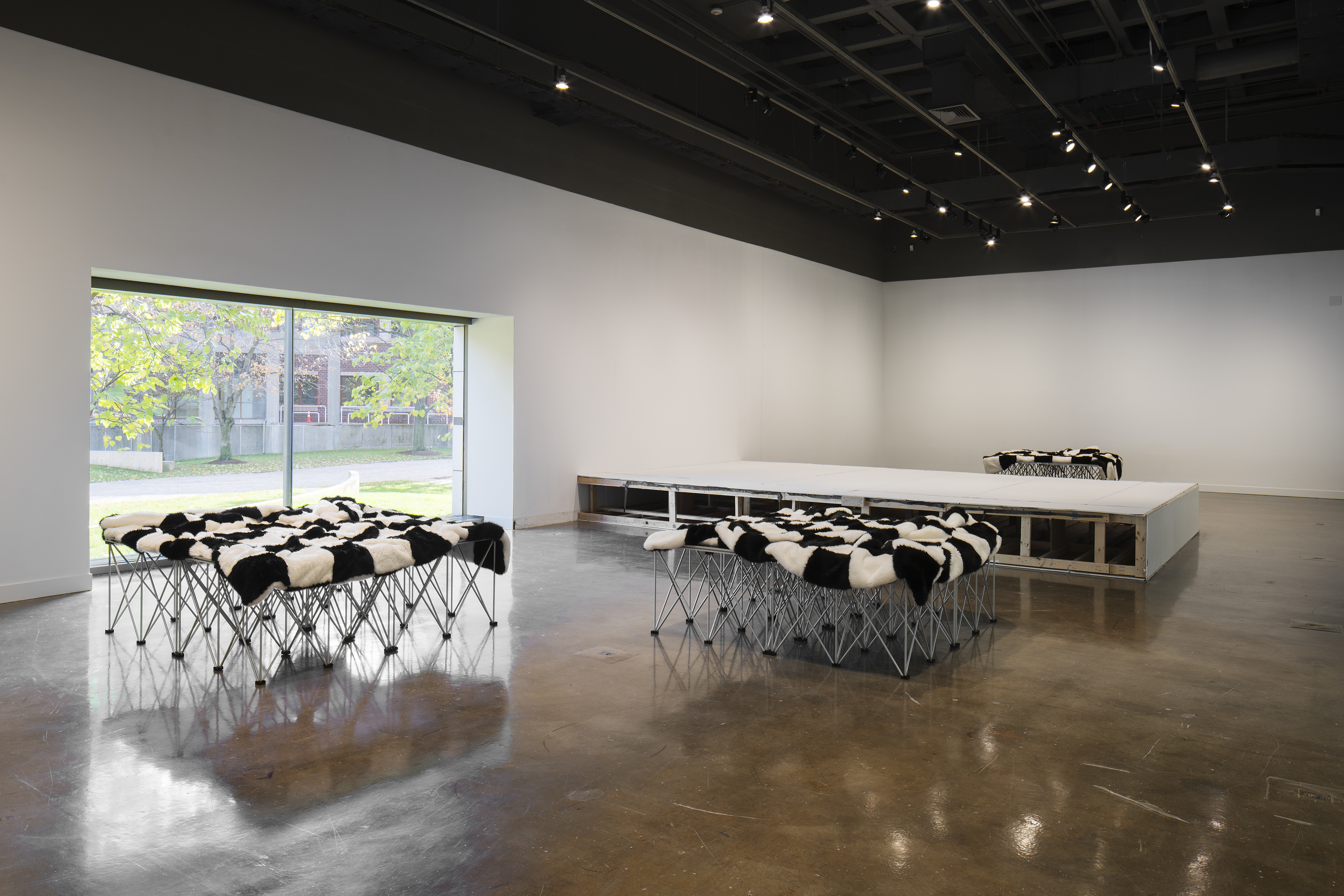 Explore all artists who have exhibited at the List in our
Artist Index
.
Since the 1980s, Vienna-based artist Heimo Zobernig (b 1958, Mauthen, Austria) has been working in sculpture, painting, installation, architecture, design, performance, and video.
He has built a rigorous practice that continually pushes back against the tropes of Modernism and seeks to reorient the role of the artist, the institution, the audience, and the artwork itself. His work interrogates traditions in art history, driven by a curiosity for material and gesture, ultimately questioning the institutional mechanisms that support the exhibition of artwork. Zobernig uses the museum and its architecture as a stage; he allows a viewer to confront the constructed, at times theatrical, experience of visiting an art exhibition. Methods of display are exaggerated and upended, architecture and its purpose is flipped and rearranged. He seamlessly moves between installation and intervention, blurring the line between what constitutes a wall versus a stage, a painting versus a sculpture and in doing so, what constitutes an artwork.
Also included in the exhibition will be a recent hybrid catalogue-artist book, Books & Posters, a comprehensive overview of all the artist's books, printed-matter editions, monographs, catalogues and posters designed and published by Zobernig since 1980.
The List Center show is Zobernig's first solo institutional exhibition in the US since 1996. It follows his recent representation of Austria at the 56th Venice Biennale (2015). Zobernig's most recent solo exhibitions include Malmö Konsthall, Sweden, (2016); Kunsthaus Bregenz, Austria (2015); kestnergesellschaft in Hannover, Germany (2014); Mudam Luxembourg (2014); Kunsthaus Graz, Austria (2013); Palacio de Velázquez/Museo Reina Sofía in Madrid (2012); and Kunsthalle Zürich (2011). He has been included in two earlier Venice Biennales (in 1988 and 2001), Documenta IX and X (in 1992 and 1997), and Skulptur Projekte Münster (1997).
Curated by Yuri Stone, Assistant Curator, MIT List Visual Arts Center; and Diana Baldon, independent curator. chess painting is an extension of a project initiated at the Malmö Konsthall, Sweden, in 2016.
Sponsors

Exhibitions at the List Center are made possible with the support of Fotene Demoulas & Tom Coté, Audrey & James Foster, Jane & Neil Pappalardo, Cynthia & John Reed, and Terry & Rick Stone. Additional funding for Heimo Zobernig: chess painting was generously provided by Petzel Gallery and Modica Carr Art Advisory. In-kind media sponsorship provided by 90.9 WBUR.

General operating support is provided by the Massachusetts Institute of Technology, the Council for the Arts at MIT, the Office of the Associate Provost at MIT, the MIT School of Architecture + Planning, the Massachusetts Cultural Council, and many generous individual donors. The Advisory Committee Members of the List Visual Arts Center are gratefully acknowledged.