Adel Abdessemed: Situation And Practice
-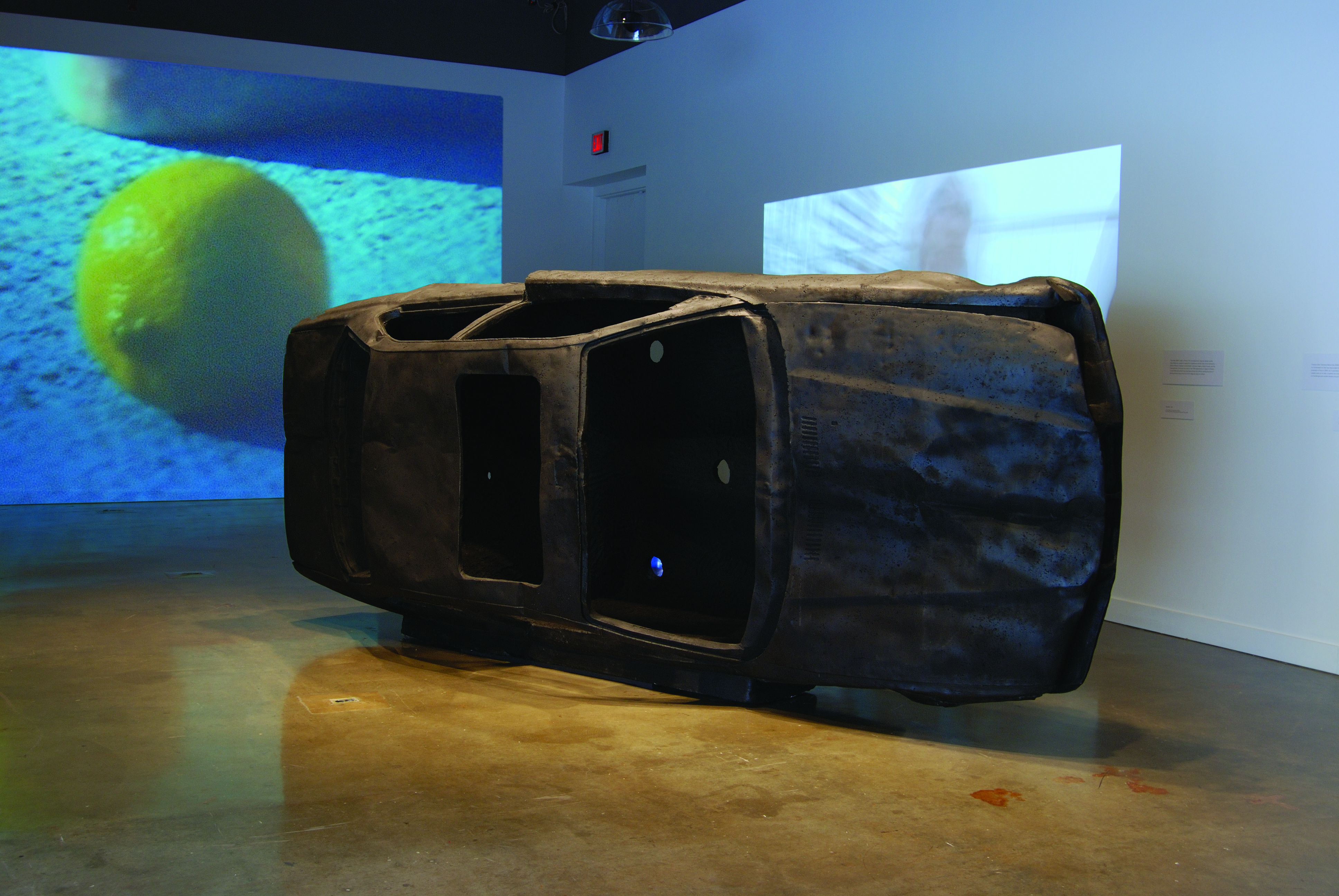 Explore all artists who have exhibited at the List in our
Artist Index
.
Artist Adel Abdessemed refuses to be limited to a single ideology or medium—he works across video, animation, performance, and sculptural installation. He passionately tackled religious, sexual and hallucinogenic taboos subjects in his early works and his later exhibitions have often focused on the theme of global violence. 
Although some consider his work to be performative, Abdessemed aggressively rejects this terminology, preferring simply to call his works "acts," recognizing the term's political implications. In an interview with Elisabeth Lebovici he stated, "I do not live between two cultures. I am not a post-colonial artist. I am not working on the scar and am not mending anything. I am just a detector…. In the public sphere, I use passion and rage. Nothing else, I don't do illusions." (1)
In Paris, Abdessemed extended his Rue Lemercier studio by appropriating that street and its neighboring market areas. There, working with a professional animal trainer, he has filmed a series of astonishing photographs of African wildlife loose on a Paris street (seven wild boars, a lion, and a snake); his mother carrying him like a small child; and his Paris dealer portrayed as a pickpocket. In Berlin, Abdessemed filmed stray cats warily risking human contact to lap up saucers of milk (Happiness in Mitte, 2003) and as a companion piece in Rue Lemercier he filmed Birth of Love (2006) in which another stray cat devours a mouse. In Trust Me (2007), another street act, a vampire sings the operatic but compressed melody lines of the national anthems of Russia, England, U.S., Germany, Algeria, Brazil, France, and the Internationale. This work is a possible reference to the 1998 assassination in Algeria of Berber Lounes Matoub by the Group Islamique Armée—the GIA—for setting the lyrics of a Berber protest song. (Abdessemed is a Chaoui Berber.)
Abdessemed's 2004 work, Habibi, is a mammoth (17 meters) suspended skeleton propelled by a jet engine. The artist says he has based it on himself; and "Habibi" is a masculine form of address for "Beloved." For his 2008 exhibition at Le Magasin in Grenoble, France, he created Messieurs les Volontaristes, a mammoth coffin (18 by 7 meters) drawn in space using metal tubes to outline its dimensions, which was conceived as the resting place for Habibi. 
Also at Le Magasin was Abdessemed's Telle mère, tel fils (over 20 meters long), which wove together reconstructed fuselages of three airplanes including their original tailfins and cockpits. An extension of an earlier work, Bourek, (a flattened and rolled airplane fuselage that was born out of a telephone conversation with his mother who was rolling out sheets of pastry by the same name and the desire to flatten the distance between them), Telle mère, tel fils is somehow a perfect metaphor for the nomadic life of today's global artists. 
For his exhibition at MIT's List Visual Arts Center, Abdessemed will include a mini-retrospective view of some of his street "acts" at MIT as well as several new works created specifically for this exhibition. He also may use a residency funded by the Nimoy Foundation to create new street acts in Cambridge. He says, "…if I like to make my works in a bar, in the street or in a bathroom, it's because art is an interpretation of daily life, of things you encounter. You can't claim that any given thing is superior to any other. Every thing counts [Tout compte]." (2)
About the Artist
Adel Abdessemed (born in Constantine, Algeria, 1971 grew up in Northern Algeria's Aurès mountain area. He attended the Fine Arts School in Batna, Algeria and the École Supérieure des Beaux Arts Algiers.  In 1992, a military coup toppled the Algerian government (from 1992-2000 violence is estimated to have claimed over 100,000 Algerian lives, and some rights watch groups claim the death toll to have been more than 200,000). In 1994, Adel Abdessemed left the country for France, where he enrolled in the École nationale des beaux arts in Lyon. 
In 1999, Abdessemed moved to Paris where he lived in the Cité des Arts and began to exhibit his work. He was awarded a residency at P.S.1 in New York in 2000-2001. He lived for a time in Berlin, but has resided in Paris since 2004. Abdessemed's solo exhibitions include FRAC Champagne Ardenne (2004) and Dvir Gallery, Tel Aviv (2006). In 2006 Abdessemed was included in Notre Histoire at the Palais de Tokyo in Paris. In 2006, he created a major exhibition of installations and photos at Le Plateau in Paris called Practice Zero Tolerance. His recent powerful solo exhibition at Le Magasin in Grenoble, France included Telle mère, tel fils. In 2007, he showed with Galerie Kamel Mennour (Paris) at the Armory Show in New York, was included in the Istanbul Biennial and in Robert Storr's Venice Biennale presentation Think with the Senses–Feel with the Mind. Art in the Present Tense, and returned to P.S.1 for a solo exhibition. In 2008 Abdessemed was featured in a solo exhibition at Christine König Galerie, Vienna. His work is in the collections of Mamco–musée d´art moderne et contemporain, Geneva, and Fundación NMAC–Montenmedio Arte Contemporáneo, Vejer de la Frontera, Cádiz. 
(1) See Elisabeth Lebovici, "Adel Abdessemed en/in Conversation avec/with Elisabeth Lebovici," in À L'attaque: Adel Abdessemed (Zurich: JRP/Ringier, 2007), 111.
(2) Guy Tortosa, "Interview d'Adel Abdessemed par Guy Tortosa," Le Journal des Arts, 24 January-6 February 2003, as reprinted in Adel Abdessemed: Global (Paris: co-published by Frac Champagne-Adenne and Galerie Kamel Mennour, 2005), 120. 
Sponsors

Support for Adel Abdessemed: Situation and Practice has been made possible by Étant donnés, The French-American Fund for Contemporary Art, David Zwirner Gallery New York, Cultural Services of the French Embassy in Boston, the Nimoy Foundation, Barbara and Julian Cherubini via the Fidelity Charitable Gift Fund, the Council for the Arts at MIT, and the Massachusetts Cultural Council.  Media Sponsor: Phoenix Media/Communications Group.