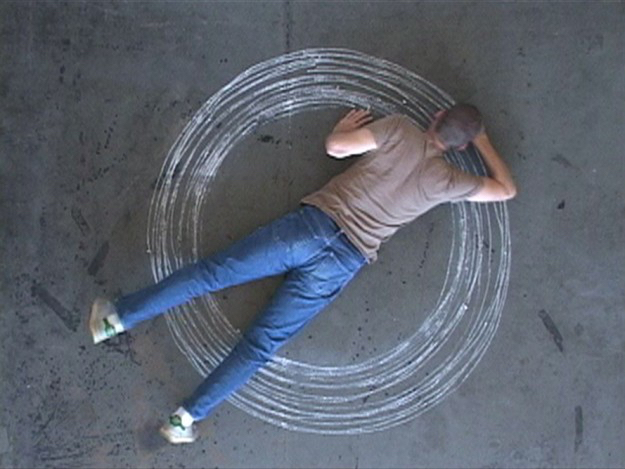 Explore all artists who have exhibited at the List in our
Artist Index
.
Mark is a video work from 2002 by the collaborative artist duo known as Type A, which is composed of Adam Ames and Andrew Bordwin who have been working as a team since 1998.
The two artists often perform in their works, reveling in stereotypical masculine behavior. More than fierce competitors, the artists also demonstrate the genuine affection that can occur between men who respect one another as "worthy enemies."
Ames and Bordwin often use an overhead camera in their collaborations to render normal human interactions schematic and analyzable. By placing the camera overhead, they redefine the studio floor, turning it into a rectilinear field waiting to be filled, much like traditional canvas or paper for a painting or drawing.
Mark is a rather subdued piece—slow-paced and methodical rather than explosive. The artists document the act of physically measuring themselves against one another by creating body-driven chalk drawings. Mark is as much a study of drawing as it is a video. First, Adam Ames uses his body as a human compass to draw a circle on their studio floor. Andrew Bordwin then does the same, but he is taller than Adam and his circle is bigger. Adam soon reappears to circumscribe himself again. After a period of time and numerous repetitions, the two circles merge, a symbol of their union. The artists then wash the floor together, working to prepare the ground so they can start other, new drawing games.
Merriam-Webster's Medical Dictionary defines the term "Type A" as "relating to, characteristic of, having, or being a personality that is marked by impatience, aggressiveness, and competitiveness and that has been implicated by some studies as a factor increasing the risk of cardiovascular disease."  While little about being a Type A personality sounds positive, those who exhibit these characteristics that can be very appealing both to other and non-Type A's. Type A encourage us to consider the positive and negatives aspects of masculine competition. 
Type A's recent solo exhibitions in 2006 include an artists' project at Addison Gallery of American Art, Andover, Massachusetts, and Contender, at the Santa Barbara Contemporary Arts Forum, Santa Barbara, California. Their work has been included in exhibitions at P.S.1 and Socrates Sculpture Park, both in Queens, New York, and the Walker Arts Center, Minneapolis, Minnesota.
Sponsors

This presentation of the Media Test Wall is generously supported by the Massachusetts Cultural Council and the Council for the Arts at MIT, and the Robert and Maurine Rothschild Fund.