Stan VanderBeek: The Culture Intercom
-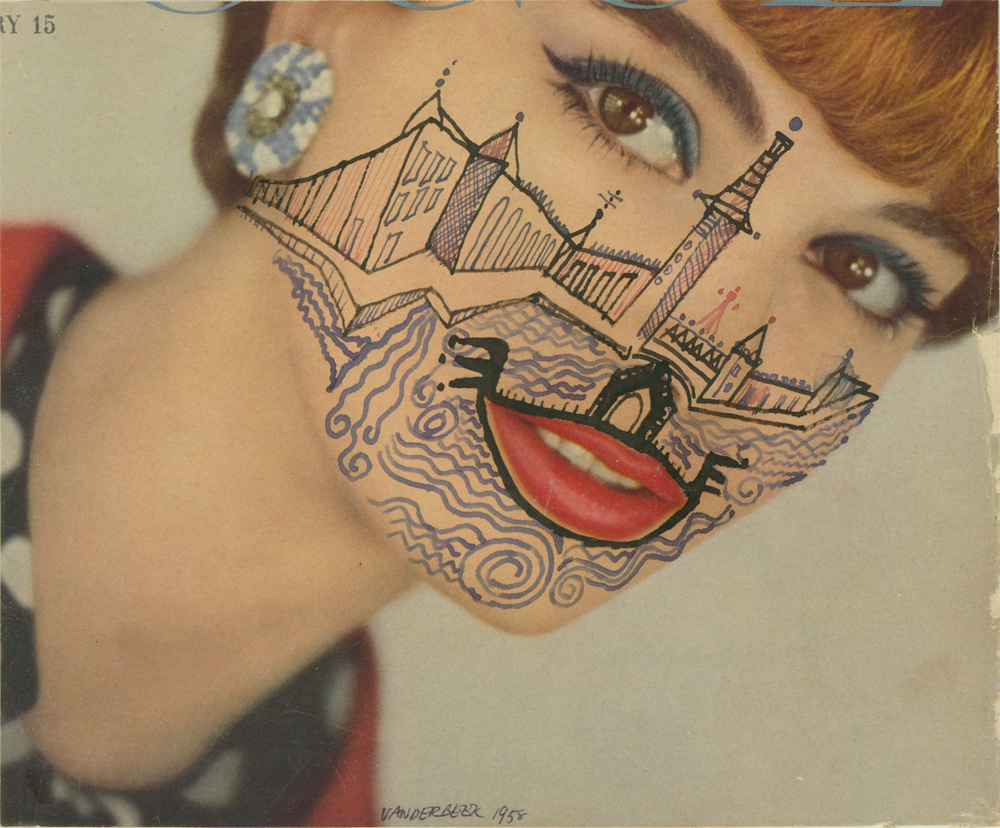 Explore all artists who have exhibited at the List in our
Artist Index
.
The MIT List Visual Arts Center and the Contemporary Arts Museum, Houston, present the first museum survey of the work of media art pioneer Stan VanDerBeek, exploring his investigation of art, technology, and communication.
Surveying the artist's remarkable body of work in collage, experimental film, performance, participatory and computer-generated art over several decades, Stan VanDerBeek: The Culture Intercom highlights the artist's pivotal contribution to today's media-based artistic practices. The exhibition features a selection of early paintings and collages, a selection of his pioneering animations, recreations of immersive projection and 'expanded cinema' environments, documentation of site-specific and telecommunications projects, and material related to his performance and durational work.
Describing himself as a "technological fruit picker," VanDerBeek consistently turned to new technological means to expand the emotional and expressive content of emergent technology and media. Emerging from the performance and intermedia tradition of Black Mountain College, VanDerBeek created technologically hybrid and participatory artworks through the 1960s and 1970s aimed at demonstrating the social and aesthetic possibilities of emergent media. His early drawings and collages, heavily influenced by DADA and the expressionism of the Beat Generation, already hinted at the expressive vocabulary the artist could elicit from the technology or artistic media he encountered. VanDerBeek's animations and short films, beginning in the late 1950s, made him a central figure in American avant-garde cinema. Combining stop-motion animation—drawn from collages of magazine illustrations and advertisements—with filmed sequences and found footage, films such as Achoo Mr. Kerrichev (1960) and Breathdeath (1963) fused avant-garde cinematic techniques with social critique and Cold War politics.
VanDerBeek's interest shifted to immersive and multimedia work, what he coined "expanded cinema" in the mid-1960s. His Movie-Drome (1963-1965), an audiovisual laboratory and theatre built in Stony Point, New York, to present multiple film projections. These so-called "movie-murals" and "newsreels of dreams" were part of the artist's research into developing new visual languages that could be used as a tool for world communication. VanDerBeek articulated these concerns, centered on the social potential of media, through a series of influential texts, expressing his critical assessment of the social and utopian character of technology and the responsibility of the artist in shaping its future.
Always at the forefront of new information, communication, and visualization technologies, VanDerBeek readily embraced computer graphics, image-processing systems, and various new technological forms through the late 1960s and early 1970s. At Bell Labs, working with the first moving-image programming language, he produced Poemfields (1966-1969), a series of computer-generated films. As a resident at MIT's Center for Advanced Visual Studies and at the public television station, WGBH, between 1969-1971, he began to develop new forms of interdisciplinary work and integrated forms of aesthetic information that now stand as significant experiments in early new media art. Telephone Mural (1970) used the fax machine to transmit images that could be collaged together into a large mural, executed at several museums simultaneously—highlighting how technology could free artistic expression over time and space.
Working with WGBH, VanDerBeek produced Violence Sonata (1970), a mix of live studio television transmission and prerecorded video work that questioned violence and race relations in America. VanDerBeek went on to conceive several complex cinematic and performance events at planetariums and museums before his untimely death in 1984, at the age of 53.
Beginning with a selection of early black-and-white photographs, small abstract paintings, and a series of watercolors, the exhibition will feature a one-hour program of more than a dozen of the artist's renowned animations, along with a group of existing collages from the films. VanDerBeek's series of computer-generated films, Poemfields (1966-1969), exploring early computer graphics and image-processing systems, will be included as multiple screen projections, along with Variations V (1966), VanDerBeek's multi-media collaboration with Merce Cunningham, John Cage, David Tudor, and Nam June Paik. The exhibition will recreate two of VanDerBeek's significant works: Movie Mural (1968), a multimedia installation comprised of several slide and video projections, and a version of the large fax murals created at MIT and the Walker Art Center in the early 1970s. Immersive, participatory, and media-based projects such as Violence Sonata (1970) and Cine-Dreams (1972) will be featured through rare footage, original drawings and texts, and extensive documentation.
Sponsors

Stan VanDerBeek: The Culture Intercom is organized by Bill Arning, Director, Contemporary Arts Museum Houston, and João Ribas, Curator, MIT List Visual Arts Center, with special thanks to the Estate of Stan VanDerBeek and London-based independent scholar Mark Bartlett.  The exhibition has been made possible by the generous support of the ART MENTOR FOUNDATION LUCERNE and The National Endowment for the Arts, a Federal agency, along with the Council for the Arts at MIT, the Massachusetts Cultural Council, Martin E. Zimmerman, the Union Pacific Foundation, the patrons, benefactors, and donors to the Contemporary Arts Museum Houston's Major Exhibition Fund.  The accompanying catalogue has been made possible by a grant from The Brown Foundation, Inc. Media sponsor: Phoenix Media/Communications Group.