Theodore Roszak: Working Drawings for MIT Bell Tower
-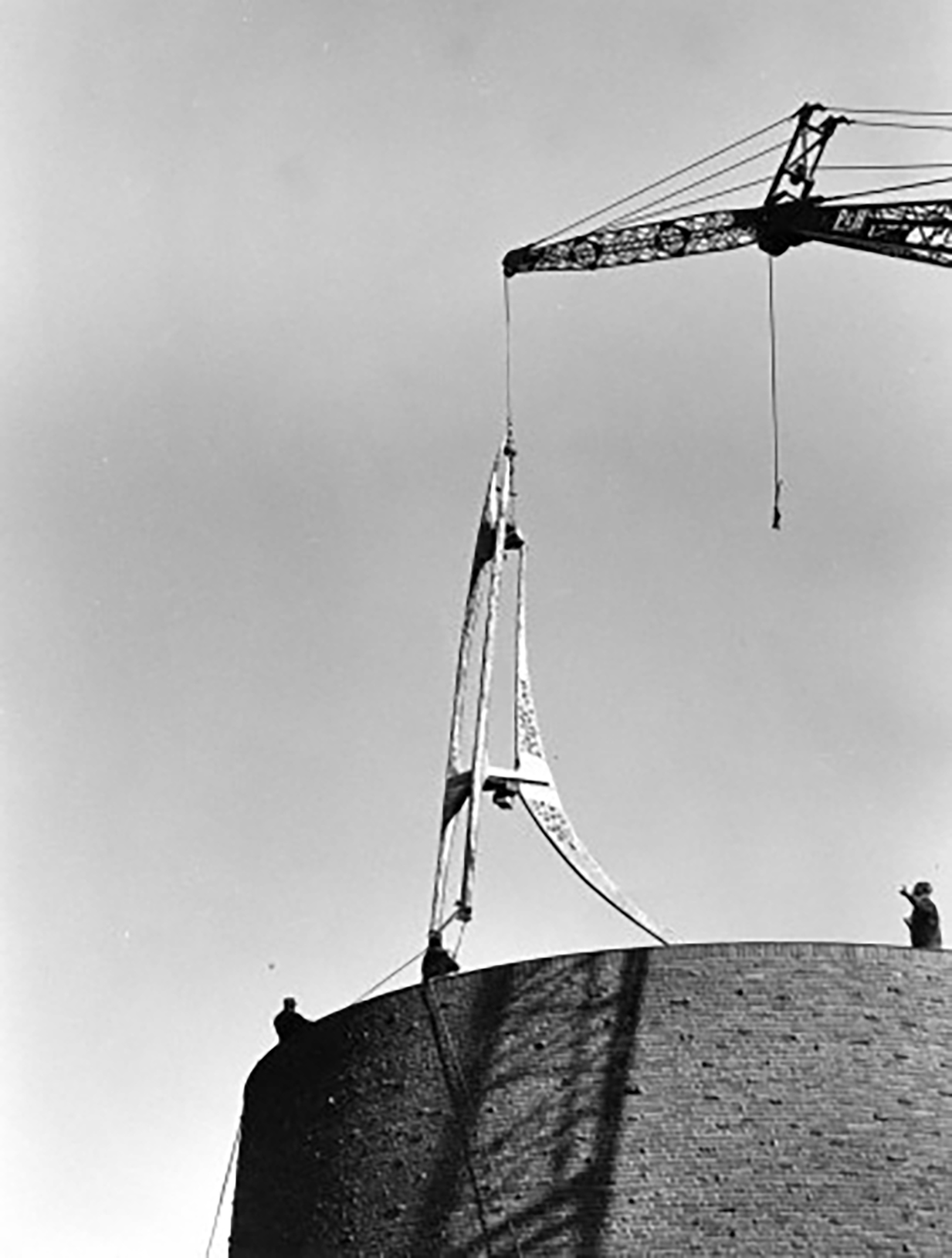 Explore all artists who have exhibited at the List in our
Artist Index
.
Sculptor Theodore Roszak's first major architectural commission — and one of his most significant works — was the bell tower for Eero Saarinen's non-denominational chapel at the Massachusetts Institute of Technology.
Roszak's Bell Tower for MIT Chapel (1953-55), perched atop a brick cylinder-shaped building, appears totemic and rocket-like. The 40 preparatory sketches on view in The Dean's Gallery offer many variations that the artist developed on his way to composing the final work — three smooth vertical thrusts rising from the encrusted arches of the base, that symbolizes the history and authority of what the artist believed at the time to be the three major religious persuasions, Judaism, Catholicism, and Protestantism. The work melds of Roszak's aesthetics with industrial materials and remains an icon of the MIT campus.
Born in Poland in 1907, acclaimed sculptor, painter, and printmaker Theodore Roszak explored both the intellectual and the aesthetic sides of industrial materials. Roszak first became interested in the arts in high school; he then studied at the Art Institute of Chicago full-time from 1925 to 1926. Influenced by American realist painters, he went to New York in 1926 to study at the National Academy of Design and to attend classes in logic and philosophy at Columbia University. In 1927 he resumed study at the Art Institute of Chicago and began to teach there. His first solo exhibition, consisting of lithographs, was held in 1928 at the Allerton Gallery in Chicago.
A European travel fellowship (1929-30) provided crucial exposure to Modernism, and in 1931 Roszak began to use industrial tools. His earliest sculptures were in clay and plaster, but from 1932 to 1945 he made constructions in painted wood, metals, and plastic, reflecting utopian Constructivist and Bauhaus ideals. These distinctive freestanding works, ranging in scale from two to nine feet in height, juxtaposed abstract geometric shapes in varied manners. Evoking a strong industrial quality and typically painted in primary colors, Roszak's sculptures from this period integrated Dadaism's machine aesthetic with the clear, precise formal principles of Constructivism.
By 1946 Roszak had become disillusioned with the violent use of technology in war; there was a dramatic shift of his style to expressionist welded, brazed metal sculptures, often of violent subjects. His later work included large drawings, many on cosmological themes. His work can be found in the collections of many museums, including The Hirshhorn Museum and Sculpture Garden, Metropolitan Museum of Art, National Gallery of Art (D.C.), Pennsylvania Academy of the Fine Arts, and the Whitney Museum of American Art. Theodore Roszak died in 1981 at the age of 84.
All images are protected by copyright law and thus cannot be reproduced or altered without the expressed, written permission of the artists.