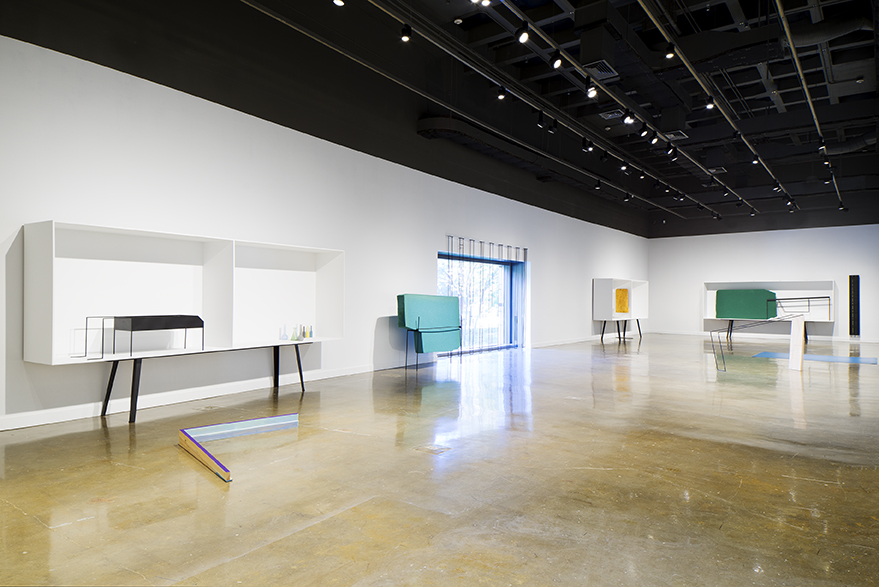 Explore all artists who have exhibited at the List in our
Artist Index
.
Combining traditional materials of sculpture such as plaster and wood with everyday objects like foam and linoleum, Thea Djordjadze (born 1971, Tbilisi, Georgia) creates installations of sculptural objects that are sited to respond to one another and the space of their installation.
Her work is characterized by tensions between materials and forms. Geometric constructions drawn from modernist architecture and design are exhibited together with clay sculptures and carpets that reveal their status as handmade. Her use of linoleum—an inexpensive floor covering widely used for kitchen floors in the early 20th century—further brings a sense of domesticity to the museum. Djordjadze's work often gestures towards exhibition furniture, including plinths and vitrines, while simultaneously upending the conventions of museum display, such as when a foam slab approximating the dimensions of a mattress is displayed on its side supported by a thin steel structure.
About the Artist
Thea Djordjadze (born 1971, Tbilisi, Georgia) studied under Rosemarie Trockel at the Kunstakademie Düsseldorf and currently lives and works in Berlin. Her recent exhibitions include the Georgian Pavilion at the 2013 Venice Biennale; Kölnischer Kunstverein, Germany; Malmö Konsthall, Sweden; Kunsthalle Basel, Switzerland; and a major solo installation at Documenta 13 in Kassel, Germany. Selected group exhibitions include the 2003 Venice Biennale; the 5th Berlin Biennial for Contemporary Art in 2008; Centre Georges Pompidou, Paris; Hayward Gallery, London; and Contemporary Art Museum St. Louis.
Thea Djordjadze is curated by Paul C. Ha, Director, and Alise Upitis, Assistant Curator, MIT List Visual Arts Center
Sponsors

Support for this exhibition has been generously provided by Julian & Barbara Cherubini, Embassy of Georgia to the U.S., the Council for the Arts at MIT, the Office of the Associate Provost at MIT, the Massachusetts Cultural Council, the MIT List Visual Arts Center Advisory Committee, and the Friends of the List. Special thanks to Sprüth Magers Berlin London.