Shahzia Sikander: Pursuit Curve
-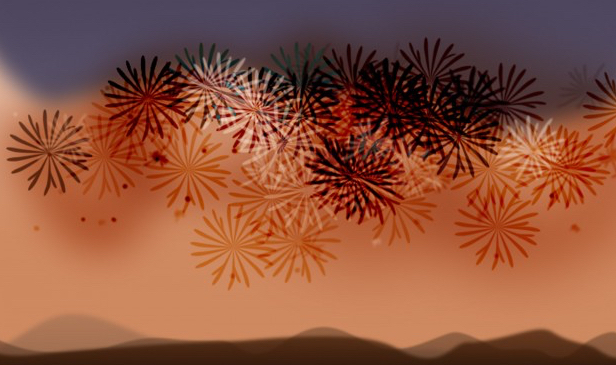 Explore all artists who have exhibited at the List in our
Artist Index
.
Shahzia Sikander's Pursuit Curve is a digital animation in four sequences, accompanied by the work of composer David Abir. The above still image is from the third sequence.
Starburst forms emerge from a dot of color and freeze in the sky over pulsating mountain forms. As day turns to night the scene is accompanied by sounds of rumbling bass tones. In another sequence, clustered inked cutouts nested in a sphere vibrate and shift with increased rapidity until the shapes are revealed as an assemblage of undulating turbans.
A pursuit curve is a mathematical function constructed by analogy to having points representing pursuer and pursued. A pursuit curve is a line traced by the pursuer. For instance, if a cat chases a mouse, the pursuit curve is the mathematical representation of the path the cat takes while running after the mouse. However, Sikander's work is not explicitly narrative. Rather, it attempts to dislodge designation to any particular reference. She creates a dialogue with tradition that destabilizes interfaces of East and West, narration and abstraction, creating a space for questions of identity. Thus while the turbans can be read as symbols with complicated cultural associations, the multitude is also an abstract and formal feature. Similarly, the starburst shapes in the still above could be read as fireworks or bombs, scientific patterns or bleeding lacerations.     
About the Artist
Shahzia Sikander was born in Lahore, Pakistan, in 1969. She received a BFA from the National College of Arts in Lahore in 1992 and an MFA from Rhode Island School of Design in 1995. Her solo exhibits include those at Aldrich Contemporary Museum, Ridgefield; The San Diego Museum of Art, California; Whitney Museum of American Art, New York; Hirshhorn Museum, Washington D.C.; The Kemper Museum of Contemporary Art and Design, Kansas City; and the Irish Museum of Modern Art. She has also been included in exhibitions at Museum of Fine Art, Boston; Museum of Modern Art, New York; P.S.1 Contemporary Art Center, Queens; LA County Museum of Art, Los Angeles; The Drawing Center, New York; Palais de Tokyo, Paris; and Museum of Contemporary Art, Helsinki. Her work has also been selected for the Istanbul, Seville, Taipei, Istanbul, Venice and Whitney Biennials. She is the recipient of several awards for her work, including a Core Fellowship from the Museum of Fine Arts, Huston; The Louis Comfort Tiffany Foundation Award; The Joan Mitchell Award; South Asian Women's Creative Collective Achievement Award; National Medal of Honor, Government of Pakistan; and the prestigious John D. and Catherine T. MacArthur Foundation Fellowship in 2006. Sikander is currently based in New York.
Sponsors

This presentation of the Media Test Wall is generously supported by the Massachusetts Cultural Council, the Council for the Arts at MIT, and the Robert and Maurine Rothschild Fund.