No Wrong Holes: Thirty Years of Nayland Blake
-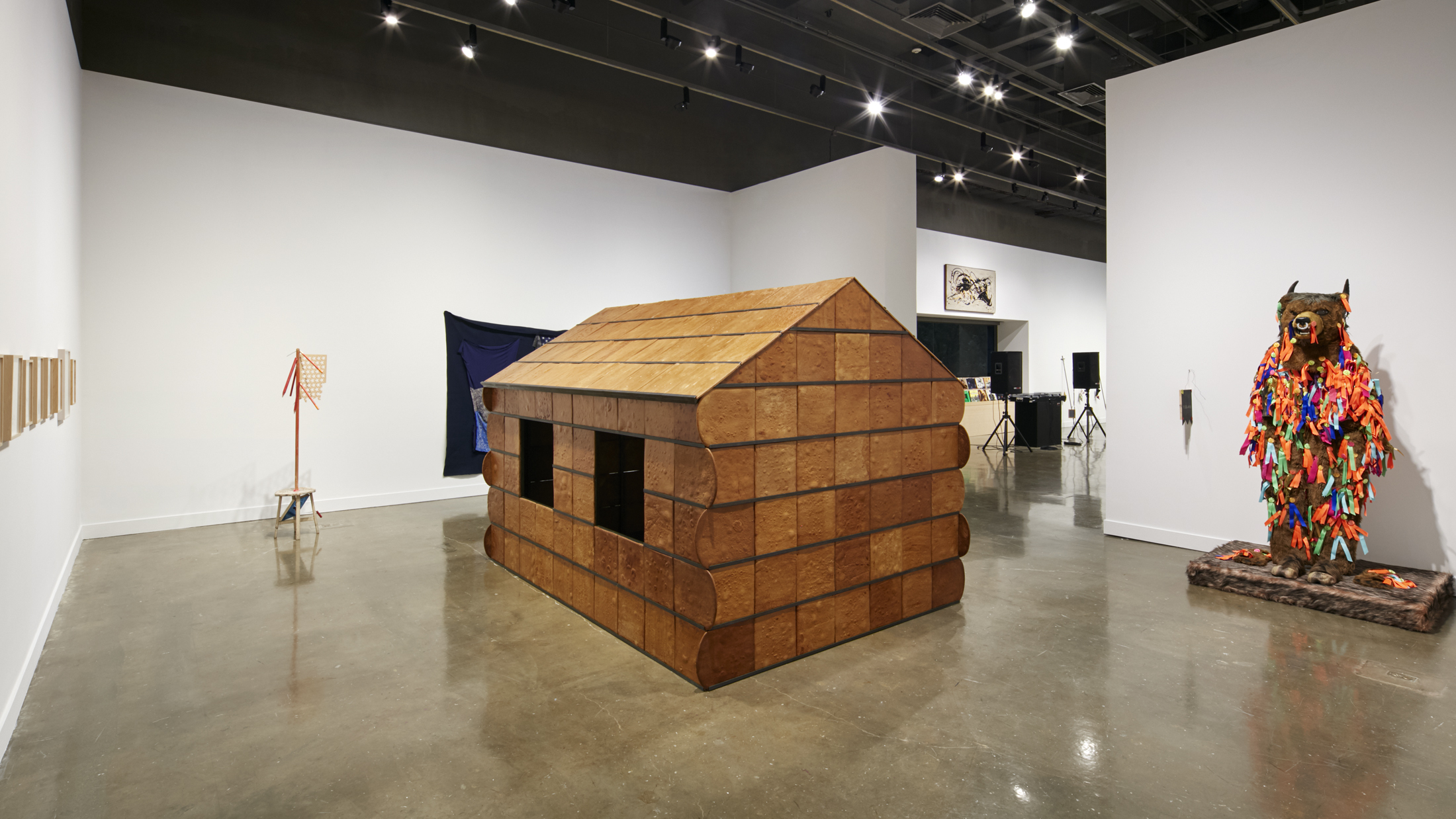 Explore all artists who have exhibited at the List in our
Artist Index
.
For over thirty years, artist, educator, and curator Nayland Blake (b. 1960 United States; lives and works in New York) has been a critical figure in American art, working between sculpture, drawing, performance, and video. 
No Wrong Holes marks the most comprehensive survey of Blake's work to date and travels to the List Center from the Institute of Contemporary Art, Los Angeles.
Heavily inspired by feminist and queer liberation movements, and subcultures ranging from punk to kink, Blake's multidisciplinary practice considers the complexities of representation, particularly racial and gender identity; play and eroticism; and the subjective experiences of desire, loss, and power. The artist's sustained meditation on "passing" and duality as a queer, biracial (African American and white) person is grounded in post-minimalist and conceptual approaches made personal through an idiosyncratic array of materials (such as leather, medical equipment, and food) and the tropes of fairy tales and fantasy. The exhibition pays particular focus to work Blake produced while they lived on the West Coast, first in the greater Los Angeles area as a graduate student at CalArts, followed by a decade in San Francisco—years bookended by the advancement of the HIV/AIDS epidemic in the 1980s and the "culture wars" of the 1990s.
No Wrong Holes: Thirty Years of Nayland Blake is organized by the Institute of Contemporary Art, Los Angeles and curated by Jamillah James, Curator. 
The List Center presentation of No Wrong Holes: Thirty Years of Nayland Blake is organized by Selby Nimrod, Assistant Curator, MIT List Visual Arts Center.
For Your Listening Pleasure: Sets from Ruins of a Sensibility
We hope you'll join us in "spinning" a selection of tracks hand-picked by artist Nayland Blake, director Paul Ha, and our List Center installation team from Blake's extensive record collection currently featured in their gallery installation "Ruins of a Sensiblity 1972-2002".  Listen to the playlists here and check out our Instagram stories to see some of the music in action!
Sponsors

No Wrong Holes: Thirty Years of Nayland Blake is made possible thanks to lead support from The Andy Warhol Foundation for the Visual Arts. Generous support is provided by the City of Los Angeles Department of Cultural Affairs, Beth Rudin DeWoody, Marieluise Hessel, Linda Janger, Matthew Marks Gallery, and Friends of Nayland Blake: Karyn Kohl, Stephen J. Javaras and Robert A. Collins, and Marla and Jeffrey Michaels.

 Additional support is provided by the ICA LA's Curator's Council, Fieldwork, and 1717 Collective.

Exhibitions at the List Center are made possible with the support of Karen & Gregory Arenson, Fotene & Tom Coté, Audrey & James Foster, Idee German Schoenheimer, Joyce Linde, Cynthia & John Reed, and Sara-Ann & Robert Sanders. Additional support for the List Center's presentation of No Wrong Holes: Thirty Years of Nayland Blake was generously provided by Matthew Marks Gallery.

General operating support is provided by the Massachusetts Institute of Technology; the Council for the Arts at MIT; Philip S. Khoury, Associate Provost at MIT; the MIT School of Architecture + Planning; the Mass Cultural Council; and many generous individual donors. In-kind media sponsorship provided by 90.9 WBUR.  The Advisory Committee Members of the List Visual Arts Center are gratefully acknowledged.