Matthias Mansen: About the House
-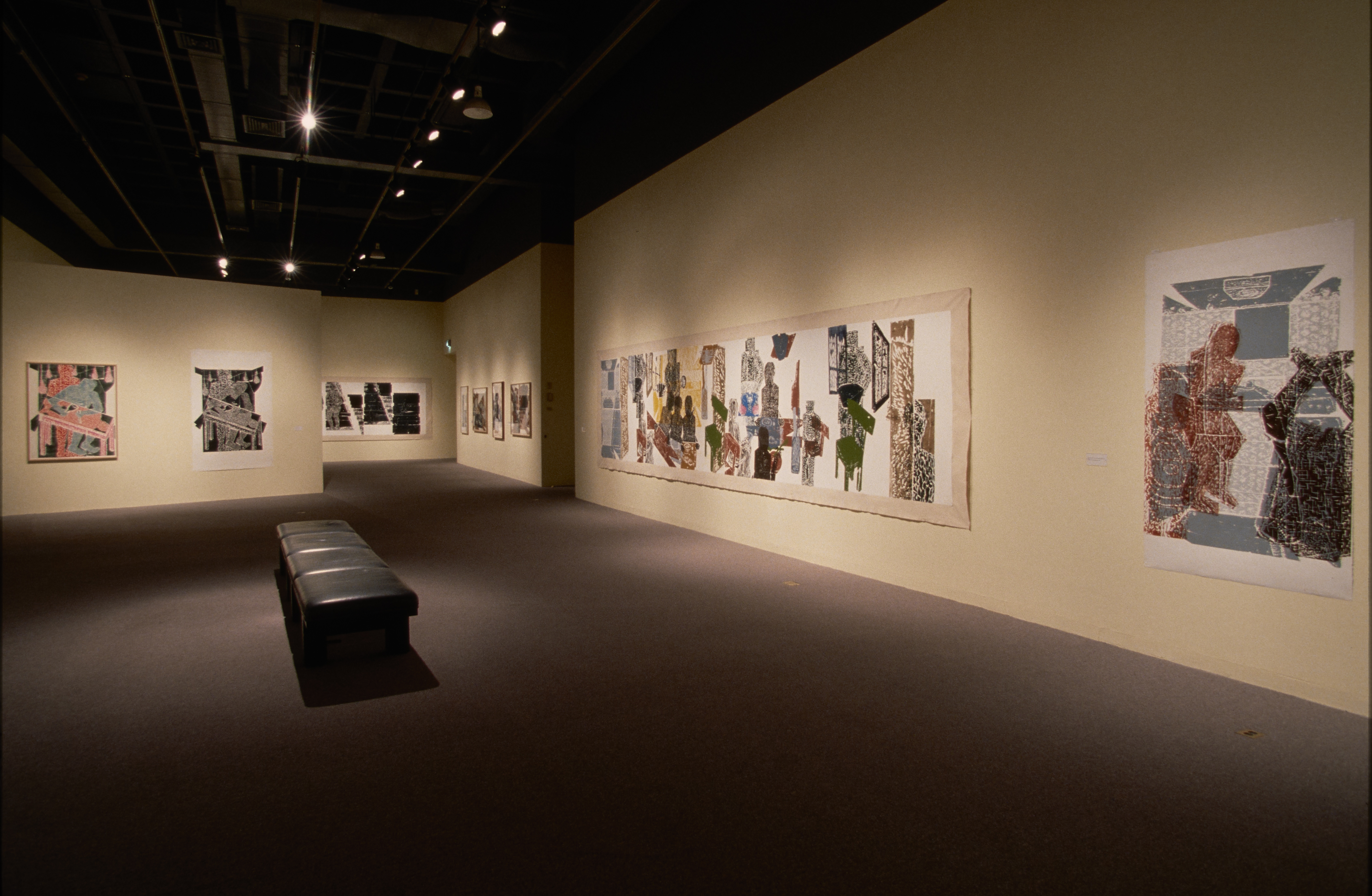 Explore all artists who have exhibited at the List in our
Artist Index
.
The MIT List Visual Arts Center will begin its 1998-99 exhibition season on Friday, October 9 with a public opening reception from 5:30-7:30 p.m. for Matthias Mansen: About the House.
The exhibition is presented concurrently with the List's other fall exhibition, Lewis deSoto: Recital. The exhibition focuses on a group of woodblock prints on the subject of the domestic interior.
The exhibition originated at the Kunsthalle Recklinghausen, Germany. The List Visual Arts Center will be the exhibition's only U.S. venue, as well as Mansen's first solo exhibition in the U.S. In addition, the exhibition will be augmented at the List Center with selected work by Mansen drawn from Boston-area museums and private collections.
Mansen is well-known in Europe for his skill in the traditional medium of woodblock printing, which is the oldest printing medium, or mode of mechanically reproducing a mark or image. It was introduced in Europe in the 15th century, and in use in China and Japan in the 8th or 9th centuries. Mansen has been working with woodblock printing almost exclusively since his student days. The artist is attracted to the expressive nature of the woodblock medium as well as the representational and formal limitations imposed by its coarse resolution.
The work seen in About the House focuses on a specific body of work the artist made while living in New York from 1989 to 1992, plus recent work drawn from Boston collections. Working serially, Mansen's subject matter focuses on the everyday experience of life, and includes peopled domestic interiors, still lifes, landscapes and urban scenes. The unassuming subject matter is animated by the work's large scale, graphic nature, bold color, and by Mansen's achievement of a sense movement and process in a medium more often characterized by its deliberateness. To capture a sense of movement, Mansen employs numerous separately carved woodblocks, which he prints individually, one atop the other, frequently in contrasting colors. When working with a series of several thematically-linked prints, he will add or move elements from print to print, so that figures or perspectives "metamorphose" cinematically as they are viewed in sequence.
About the Artist
Matthias Mansen was born in 1958 in Ravensburg, Germany. He attended the Akademie der Bildenden Kunst (1978 - 1984) in Karlsruhe, where he studied with Markus Lupertz and began working with woodblock printing. He has lived and worked in London (where he studied at St. Martin's School of Art under an artist fellowship), Paris, New York, and Berlin. His work is represented in museum collections in the U.S. and Germany, including the Museum of Fine Arts, Boston; Museum of Modern Art, New York; Baltimore Museum of Art; National Gallery of Art, Washington, D.C.; Staatsgalerie, Stuttgart; Kupferstichkabinett, Staatliche Museen Preussischer Kulterbesitz, Berlin; Kupferstichkabinett, Staatliche Kunstsammlungen, Dresden; Stadelsches Kunstinstitut und Stadtische Galerie, Frankfurt am Main.
A catalogue entitled Matthias Mansen: About the House New York 1989-1992 published by the exhibition's three German touring venues, Kunsthalle Recklinghausen, Stadtisches Kunstmuseum Spendhaus Reutlingen, and the Kunstverein Gottingen, will be available at the List Arts Center during the exhibition. The full-color catalogue, containing offset lithographs of the artist's work, is $35.