Matthew Day Jackson: The Immeasurable Distance
-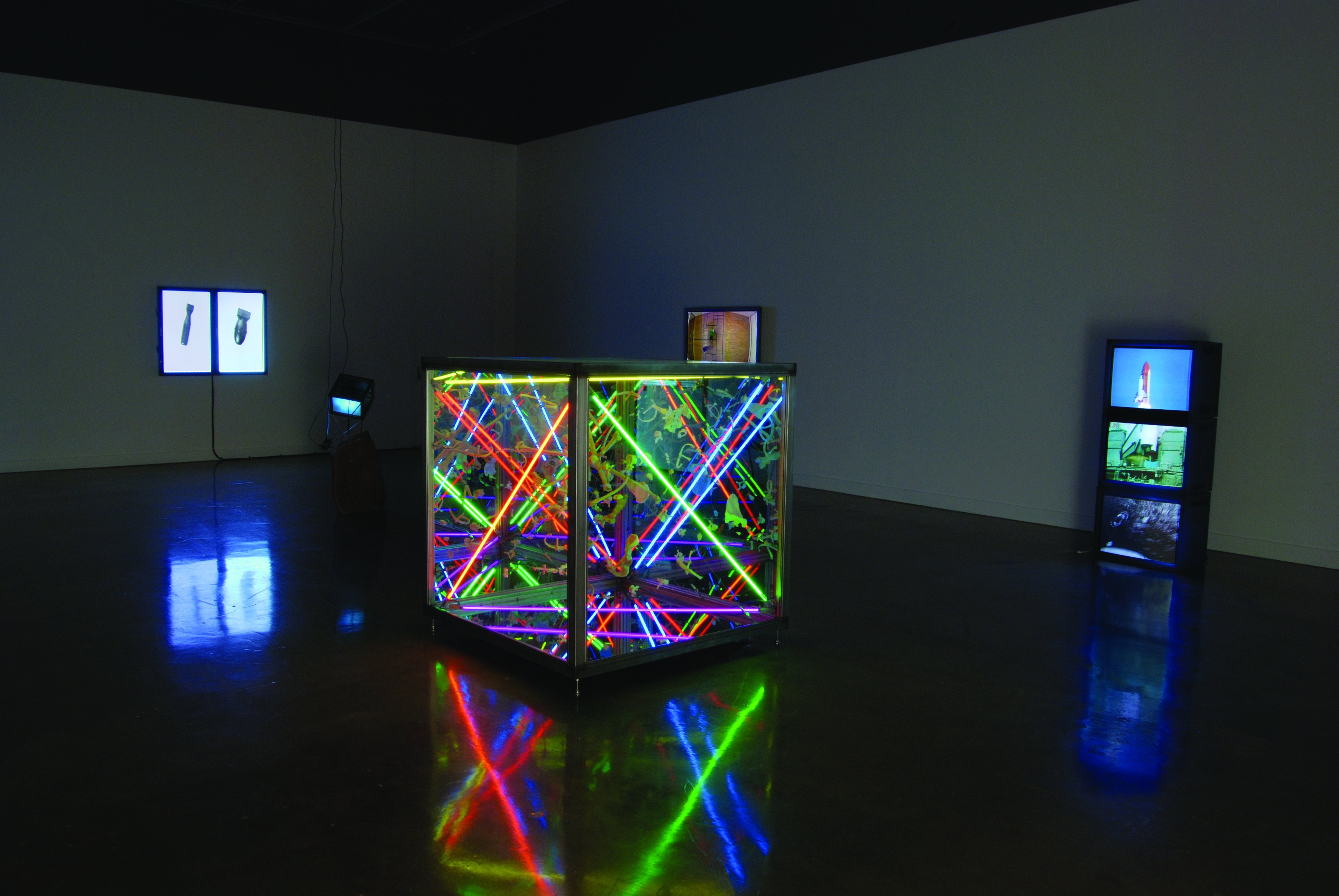 Explore all artists who have exhibited at the List in our
Artist Index
.
The MIT List Visual Arts Center is pleased to present Matthew Day Jackson: The Immeasurable Distance, a solo exhibition that includes works based on Jackson's artist's residency at MIT.
Jackson's complex research, histories, and hagiographies are manifested in sculptures, constructed paintings, objects, books, and videos. In this exhibition, organized by Bill Arning, Jackson continues his investigations into human consciousness and explores how positive evolutionary developments in human thought and culture occur under physical or mental stress. Other works explore how constructive and destructive technological developments often stem from a similar impetus: to expand human experience despite all odds, proving that progress is possible, whatever the risk. Drag racing, the Apollo space missions, test-pilot culture, the nuclear legacy in terms of both science and culture, commingle with iconic twentieth-century figures like visionary Buckminster Fuller, Big Daddy Don Garlits, Eleanor Roosevelt…even the artist's mother. Jackson relates these modern myths using his iconic players as mischievous tricksters to question what it means to live at a time when technology has rewritten philosophy and religion.
One aspect of the exhibition focuses on Jackson's intense interest in the 1969 Apollo 11 space voyage, the first mission to land a human on the surface of the moon. MIT developed the computer codes that brought the astronauts safely to the moon's surface-a 1400-page document called Luminary 1A, which is in the collection of the MIT Museum. Within the codes are quotes from Shakespeare, quotations from the radical politics of the 1960s ("Burn Baby Burn"), and strange asides to future readers (Look around and see where you are). In collaboration with the MIT Museum, the artist had a facsimile edition of the document digitally scanned and bound as a series of antique-style books that will be available for viewers to peruse. The team that wrote the computer commands developed this code while working on the Polaris missile system, thus the commands are an example of the reuse of weapons technology.
Jackson's Study Collection is an enormous stainless steel shelf-unit (inspired by the artist's visits to the technological artifacts in MIT Museum's basement storeroom). It will include a small-scale rocket model as well as models of all of the missile systems from V1, V2, Fat Man, Little Boy, Thor, Titan, Cruise missiles, and other thought-artifacts created in the artist's studio. Study Collection will also include another series of models that show the artist's skull morphing into the skull of Phineas Gage, an unfortunate railway-worker whose actual skull is in Harvard's Warren Medical Museum. Study Collection features a 3-D digital scan of a 3-foot damping rod that shot through Gage's skull making him a living oddity and example of the mind/body split.
It is quite fitting that the exhibition will be on view during MIT's celebration of the 40th anniversary of the Apollo 11 mission, scheduled for June 11 and 12, 2009. The surviving astronauts from Apollo 11 will convene at MIT for a public forum, at a time when the crucial symbolic function of manned space travel has reemerged in national politics. A collaborator on the project is David A. Mindell from MIT's Program in Science, Technology, and Society whose 2008 MIT Press book Digital Apollo discusses how the technology for the mission was written to give the human astronauts a function as pilots-rather than as redundant passengers or as they derogatorily referred to the role they were assigned, "spam in a can."
Jackson grapples with such big themes as technology, nature, and God. In his most recent works, the artist considers how scientific discoveries granting mankind seemingly godlike powers can be applied for constructive, destructive, or morally ambiguous ends. Even the most seemingly pure progressive thinking can contain the seeds of its own nemesis, while weapons also can be repurposed for peaceful ends. No venue could be more appropriate for interrogating this situation than MIT, where the positive and negative applications of science are in a complex century-long dance.
About the Artist
Born in 1974 in Panorama City, CA, Matthew Day Jackson lives and works in Brooklyn, NY. Jackson first gained art world attention through his entry in the 2005 exhibition Greater New York at P.S.1 in New York City. His work, Sepulcher (2004), was a Viking burial ship with sails made from the artist's punk rock T-shirts stitched into a giant, Mondrian-like painting. For the 2005 Whitney Biennial of American Art, Jackson contributed Chariot, The Day After the End of Days (2005-2006), a pioneer covered wagon floating above a bed of fluorescent tubes. 
Jackson's solo exhibitions include Drawings from Tlön, Nicole Klagsbrun, New York, NY (2008); Terranaut, Peter Blum Gallery, New York, NY (2008); Diptych, Mario Diacono at Ars Libri, Boston, MA (2007); The Lower 48, Perry Rubenstein Gallery, New York, NY (2007); Paradise Now!, Portland Institute of Contemporary Art, Portland, OR (2006); and By No Means Necessary, The Locker Plant, Chinati Foundation, Marfa, TX (2004). 
Selected group exhibitions include Art Focus 5, 2008, Jerusalem, Israel; Heartland, Vanabbemuseum, Eindhoven, The Netherlands, (2008); Martian Museum of Terrestrial Art, Mission: to interpret and understand contemporary art, Barbican Gallery, London, UK (2008); Matthew Day Jackson, Jen Liu, David Maljkovic: The Violet Hour, Henry Art Gallery, University of Washington, Seattle, WA (2008); The Old, Weird America, Contemporary Arts Museum, Houston, TX (2008); 1st Athens Biennale, Athens, Greece (2007); 2nd Moscow Biennale, Moscow, Russia (2007); 3rd Beijing Biennale, Beijing, China (2007); Huma Bhabha and Matthew Day Jackson: Sculptures and New Print Editions, Peter Blum Gallery, New York, NY; Perry Rubenstein Gallery, New York, NY (2007); To Build a Fire, Rivington Arms, New York, NY (2007); Uncertain States of America–American Art in the 3rd Millennium, Herning Kunst museum, Denmark, Centre for Contemporary Art, Ujazdowski Castle, Warsaw, Poland (2007); Whitney Biennial, Day for Night, Whitney Museum of American Art, New York, NY (2006); and Greater New York, P.S. 1 Contemporary Art Center, New York, NY (2005).
Sponsors

Support for Matthew Day Jackson: The Immeasurable Distance has been provided by the Council for the Arts at MIT and the Massachusetts Cultural Council.  Special thanks to the Peter Blum Gallery, New York, NY and Phoenix Media/Communications Group.