Matthew Angelo Harrison: Robota
-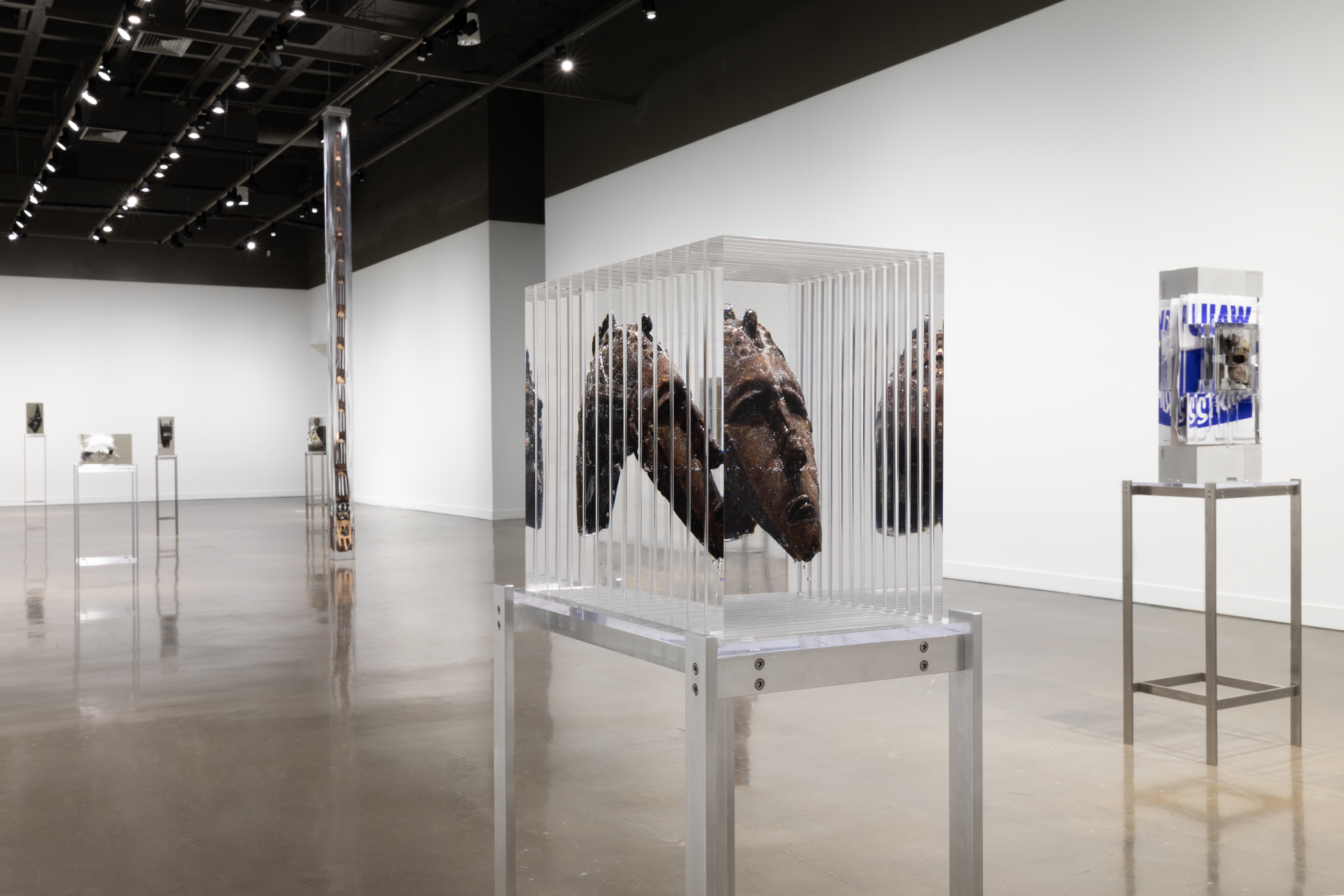 Explore all artists who have exhibited at the List in our
Artist Index
.
In spring 2022, the MIT List Visual Arts Center will present a major exhibition of work by Matthew Angelo Harrison.
In his sculptures and installations, Detroit-based artist Matthew Angelo Harrison traces intersections of labor, technology, and cultural heritage. The objects he creates, as well as those that he incorporates into his works, often speak to the impact of colonialism, capitalism, and racism while subtly addressing the aspects of identity formation and desire that underlie our relationship to objects. Harrison's experience working as a clay modeler at Ford Motor Company established a fundamental framework that has endured in his interest in the prototype—a design stage the artist describes as "an in-between state as both a reality and a possibility," and a concept that remains central to his artistic practice.
Harrison's List Center exhibition includes a recent body of work from the artist's Dark Silhouette series, which initially featured animal skeletal remains or wood sculptures from West Africa encased in vitrine-like solid resin blocks that he carves into using CNC routers that he designs and builds. In a recent turn, Harrison has centered material traces of Detroit's auto industry and its labor organizing in his crystalline encapsulations. In examining artifacts of union organizing under the exhibition title Robota, Harrison attends to the devaluation of human labor amid the technological promise of robotics in the auto industry and furthers his exploration of the materiality of Blackness, labor, and technology. Read in dialogue with his encapsulations of African sculptures, these recent works, with allusions to robotics, speak to contemporary expansionist and imperialist desires and remind us how such projects are predicated on delineating the categories of human and non-human.
Matthew Angelo Harrison: Robota is organized by Natalie Bell, Curator, MIT List Visual Arts Center.
Harrison's exhibition is complemented by the artist's first monograph, coedited by Natalie Bell and Elena Filipovic, designed by Practise, and co-published by MIT Press, MIT List Visual Art Center, and Kunsthalle Basel. Contributors include Taylor Renee Aldridge, Bell, Jessica Bell Brown, DeForrest Brown Jr., and Filipovic. It is available for purchase here.
Matthew Angelo Harrison (b. 1989, United States; lives and works in Detroit) completed his BFA at the School of the Art Institute of Chicago in 2012. Solo exhibitions include Kunsthalle Basel (2021), the Broad Museum at Michigan State University (2018), Atlanta Contemporary (2017), and Museum of Contemporary Art Detroit (2016). Harrison's work has been included in important group exhibitions at the Whitney Museum of American Art and ICA Philadelphia (2019); the New Museum and MCA Chicago (2018); and The Studio Museum in Harlem (2017).
Sponsors

Exhibitions at the List Center are made possible with the support of Fotene & Tom Coté, Audrey  & James Foster, Idee German Schoenheimer, Joyce Linde, Cynthia & John Reed, and Sara-Ann & Robert Sanders. This exhibition is also supported by generous donors to the 2020 McDermott Award Gala, hosted by the Council for the Arts at MIT.

General operating support is provided by the Massachusetts Institute of Technology; the Council for the Arts at MIT; Philip S. Khoury, Associate Provost at MIT; the MIT School of Architecture + Planning; the Mass Cultural Council; and many generous individual donors. In-kind media sponsorship provided by 90.9 WBUR. The Advisory Committee Members of the List Visual Arts Center are gratefully acknowledged.

Additional support is generously provided by the Henry Moore Foundation and Jessica Silverman, San Francisco. The exhibition's publication is made possible through the generosity of Pamela Joyner & Fred Giuffrida and through the support of the Jane Farver Memorial Fund at MIT List Visual Arts Center.