List Projects 24: Sharona Franklin
-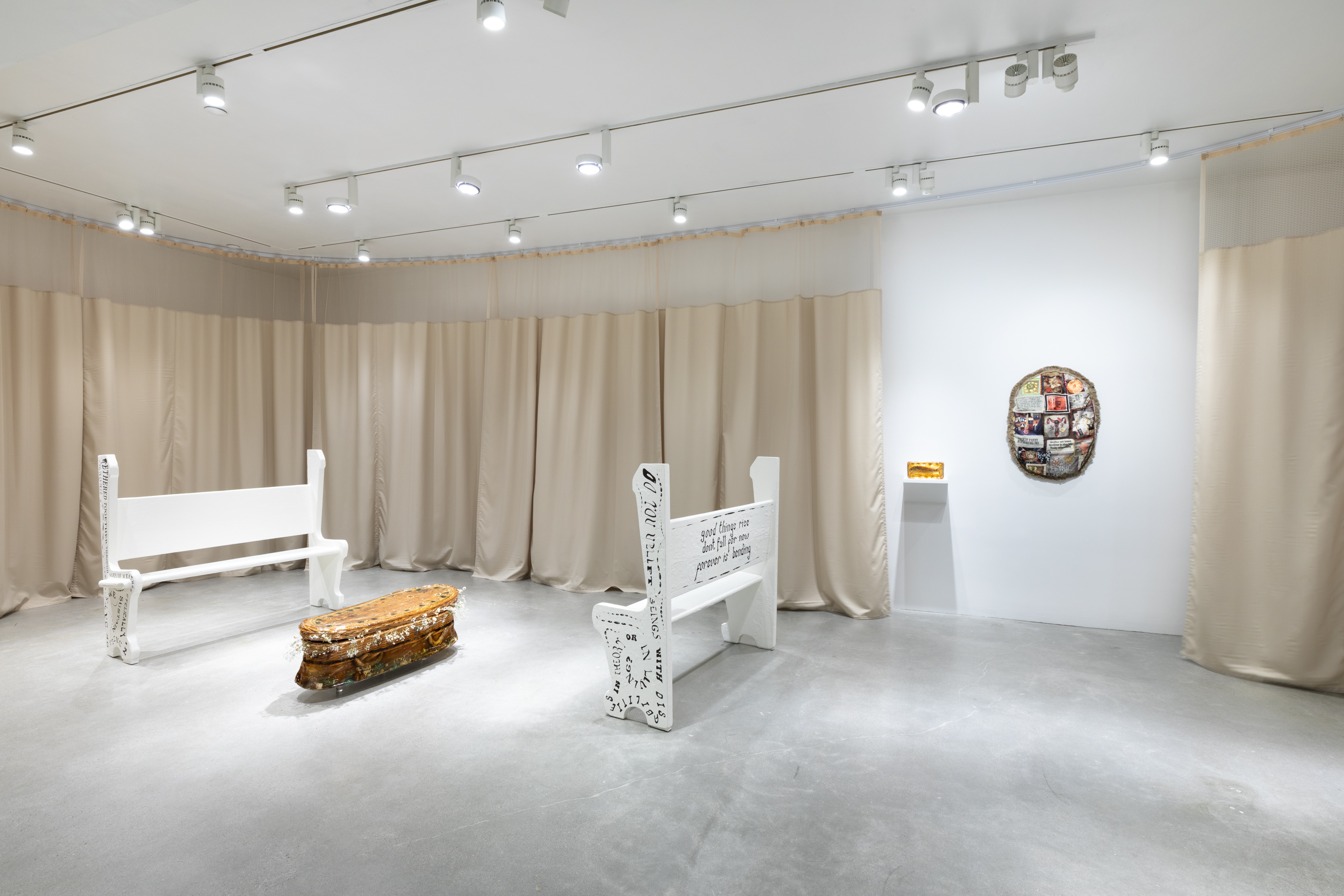 Explore all artists who have exhibited at the List in our
Artist Index
.
Sharona Franklin works across a wide array of traditional and non-traditional media including sculpture, textile, social media platforms, and publications.
Invested in bioethics and disability activism, Franklin probes the psychic, social, and biomedical conditions of living with chronic degenerative diseases influenced by both genetic and environmental factors. Many of her works draw on vernacular craft traditions and botany while also referencing pharmacology, creating tensions between the domestic or handmade and the techno-scientific. Sculptures made of gelatin encase medicinal plants and flowers, syringes, food items, autobiographical ephemera, hardware, and prescription pills. A recent series of digitally printed textiles and ceramic plates feature text and patchworked images that document her "bioshrines"— arrangements of materials Franklin uses for the ongoing performance work that is her self-administration of antibody treatments. (She also shares images of her bioshrines in social medial posts under the hashtag #newpsychedeliaofindustrialhealing.) For her first institutional solo exhibition, Franklin will present an ambitious new installation that draws on her rich and characteristically heterodox use of materials to connect her extensive research into bioethics and environmental harm with holistic propositions for remediation and care.
Sharona Franklin (b. 1987) is a Canadian multidisciplinary disabled artist, writer, and advocate. Recent exhibitions and projects include a city-wide public art project with the City of Vancouver, Canada; an online solo exhibition with Printed Matter / St. Marks, New York; The Audain Gallery of Simon Fraser University, Vancouver; La Casa Encendida, Madrid; Kings Leap, New York; Unit 17, Vancouver; G44 Center for Contemporary Photography, Toronto; New Image Art Gallery, Los Angeles; and Flux Factory, New York. Recent publications include Injustice in Biopharm (Cassandra Press, 2019) and Rental Bod (Peace Library Publications, 2016).
List Projects 24: Sharona Franklin is organized by Selby Nimrod, Assistant Curator, MIT List Visual Arts Center.
Sponsors

Exhibitions at the List Center are made possible with the support of Fotene & Tom Coté, Audrey & James Foster, Idee German Schoenheimer, Joyce Linde, Cynthia & John Reed, and Sara-Ann & Robert Sanders. Additional funding for List Projects 24: Sharona Franklin  is provided by the National Endowment for the Arts.

General operating support is provided by the Massachusetts Institute of Technology; the Council for the Arts at MIT; Philip S. Khoury, Associate Provost at MIT; the MIT School of Architecture + Planning; the Mass Cultural Council; and many generous individual donors. In-kind media sponsorship provided by 90.9 WBUR. The Advisory Committee Members of the List Visual Arts Center are gratefully acknowledged.