Mary Lucier: Arabesque (2004)
-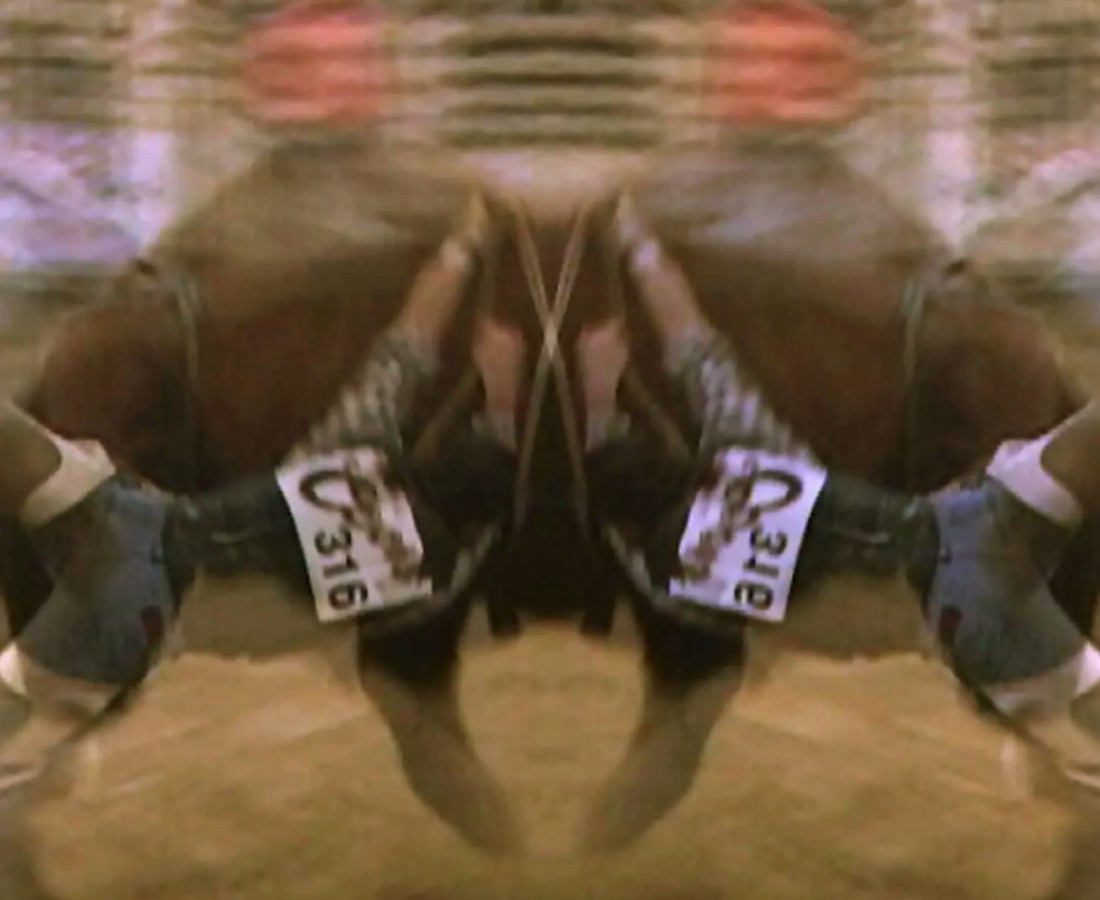 Explore all artists who have exhibited at the List in our
Artist Index
.
Mary Lucier's single-channel video work, Arabesque, is part of her larger five-channel installation, The Plains of Sweet Regret (2004), which was originally commissioned by the North Dakota Museum of Art.
In Arabesque's opening sequence, a bull ridden by a cowboy charges out of a holding pen into a rodeo arena. The heaving animal throws—and nearly tramples and gores—the rider until rodeo clowns manage to rescue him. The bull then kicks free of its traces, lopes away, and stops to survey the situation. 
Three more sequences featuring different bulls and riders follow. However, the image is now split, mirrored, and slowed. Lucier's Rorschach Test footage doubles, converges, and separates in a kind of measured ballet. Throughout the video, the artist underscores her kaleidoscopic, slow motion images with George Strait's plaintive country-western song, "I Can Still Make Cheyenne," in which a woman loses her man to the rodeo life as he travels the circuit without her. Lucier's Arabesque is a moving and beautiful dance of color and sound. 
About the Artist
Mary Lucier was born in Bucyrus, Ohio in 1944. She received a B.A. from Brandeis University in 1965, and moved to New York City in 1974, around the time that she began working in video. She has been the recipient of many prestigious awards including the Skowhegan Medal for Video, a Guggenheim Fellowship, and an American Film Institute Independent Filmmaker Grant. She has also received grants from the National Endowment for the Arts and the New York State Council on the Arts. She has been artist-in-residence at Capp Street Project, San Francisco, and the Television Laboratory at WNET/Thirteen, New York; and has taught at New York University, the San Francisco Art Institute, the Cleveland Institute of Art, Minnesota College of Art and Design, and the School of Visual Arts, New York. Lucier's solo exhibitions include those at North Dakota Museum of Art, Grand Forks; the Lab at Belmar, Lakewood, Colorado; The Carnegie Museum of Art, Pittsburgh; Wadsworth Atheneum, Hartford; Capp Street Project, San Francisco; Museum of Contemporary Art, Los Angeles; Dallas Museum of Art; and Madison Art Center, Wisconsin. Her work has also been exhibited in group shows at festivals and institutions including the American Film Institute National Video Festival, Los Angeles; Whitney Museum of American Art Biennial Exhibition, New York; Stedelijk Museum, Amsterdam; The Museum of Modern Art, New York; Artspace, Sydney; Walker Art Center, Minneapolis; and the San Francisco Museum of Modern Art. Lucier lives and works in New York City.
Sponsors

This presentation of the Media Test Wall is generously supported by the Massachusetts Cultural Council, the Council for the Arts at MIT, and the Robert and Maurine Rothschild Fund.