List Projects: Sergei Tcherepin
-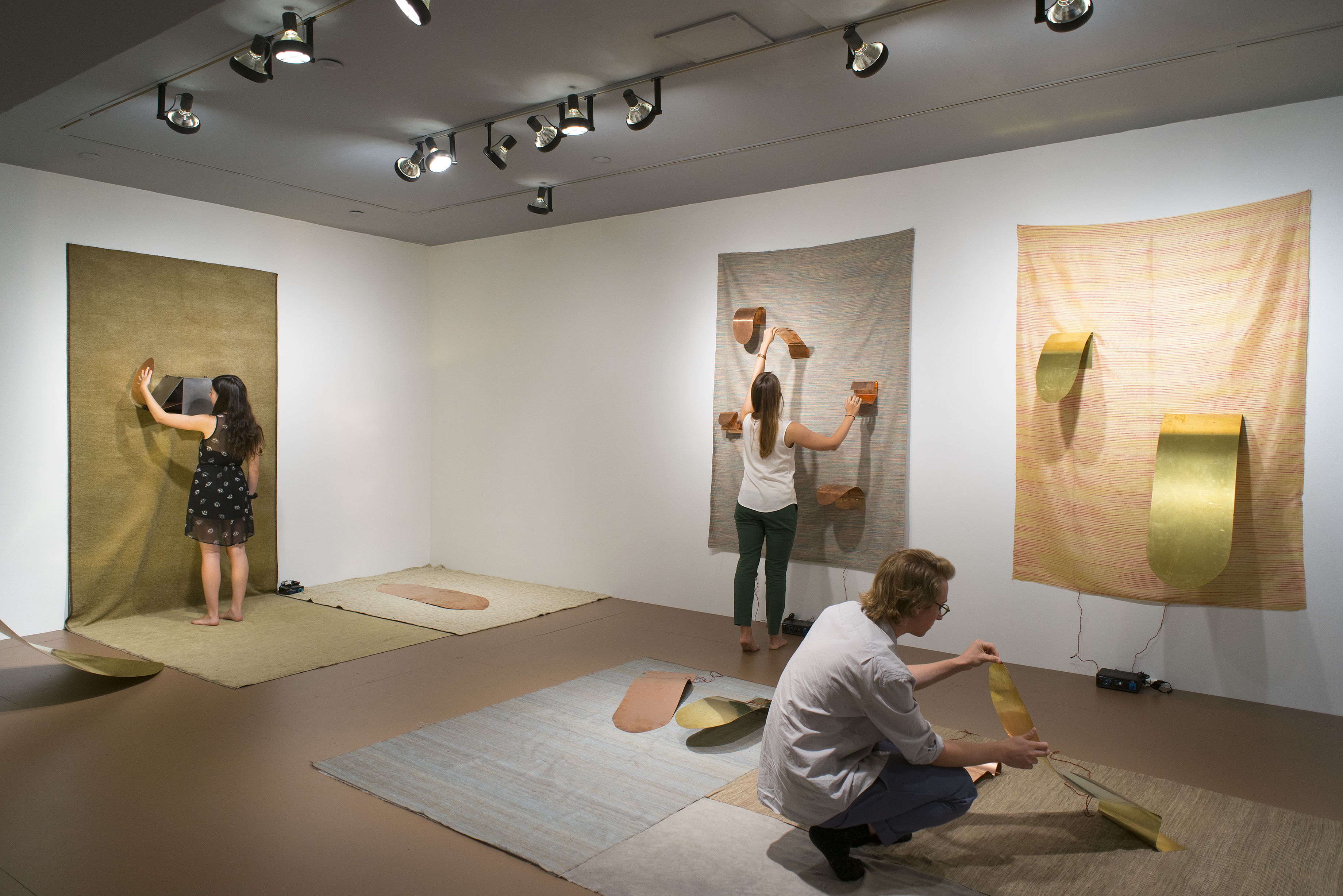 Explore all artists who have exhibited at the List in our
Artist Index
.
Sergei Tcherepnin composes multiple-channel sound pieces that are actualized through sculptural forms, things which exist simultaneously as speakers and instruments.
He explores the capacity for visitors to affect and be affected by sound through their bodies as much as through their auditory systems, and his environments allow for sonic discords and dissonances as well as emergent unities that nevertheless support the heterogeneity of their components.  
Subharmonic Lick Thicket, the title of Tcherepnin's work for the List, incorporates sound recordings emanating from a floor built above the List's existing Bakalar Gallery floor. This becomes a physical music: through transducers, Tcherepnin's composition transforms the floor itself into a vibrating speaker. Sound is sensed through one's bone, skin, and body-mass, and the body becomes a reservoir of potentials for different patterns of listening. In turn, the gallery is transformed into a space of overlapping physiological registers: the floor becomes a "bone" that speaks in tones, thumps, and grumbles, its voice transmitted not through the air but directly from floor to human, from "bone to bone." Fabric elements turn into skins that mediate sound, and metal forms derived from the shape of the tongue and mouth emerge from the floor and walls. These forms are physical sound systems that speak, characters that at times invite, at times rebuff, interaction, with each state a point of departure for other trajectories of listening.
About the Artist
Sergei Tcherepnin was born in Boston in 1981, and currently lives and works in New York. He received a BFA from Bard College and subsequently received his MFA from the Milton Avery Graduate School of the Arts, Bard College, Annandale-on-Hudson, New York in 2011. His recent performances and installations include: Roulette, New York; The Museum of Modern Art, New York; Pavilion of Georgia at the 55th Venice Biennale; Murray Guy, NY; The Kitchen, NY; Yvon Lambert, Paris; Karma International, Zurich; Guggenheim Museum, NY; and the 30th São Paulo Biennial, Brazil. He is participating in the 2014 Whitney Biennial and is a recipient of 2014 Villa Romana Fellowship in Florence, Italy. The List's presentation of Tcherepnin's work will be the artist's first solo museum exhibition.
List Projects: Sergei Tcherepnin is curated by List Assistant Curator Alise Upitis.
Sponsors

Support for the List Center's projects is generously provide by the Council for the Arts at MIT; the Office of the Associate Provost at MIT; the Massachusetts Cultural Council; TOKY; the MIT List Visual Arts Center Advisory Committee; and the Friends of the List.  Special thanks to Murray Guy, New York, and Karma International, Zurich.