List Projects: Adam Pendleton
-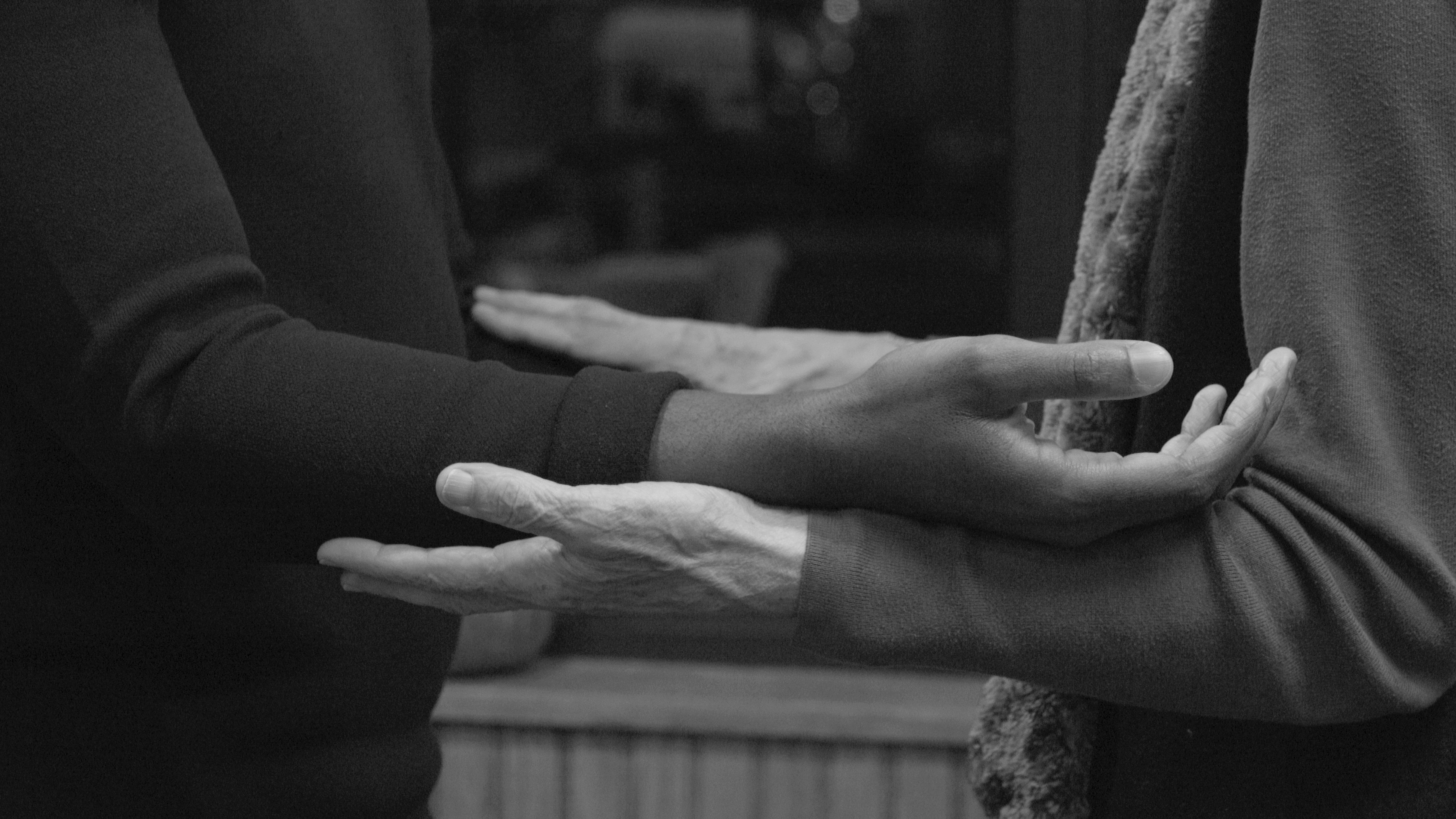 Explore all artists who have exhibited at the List in our
Artist Index
.
Adam Pendleton's multi-disciplinary practice across painting, sculpture, video, and performance searches for "radical juxtapositions."
Appropriating found images and text, Pendleton brings together often divergent ideas to destabilize the present and envision new aesthetic, cultural, and political futures. Since 2008, Pendleton's fragmentary, visionary process has been driven by a conceptual paradigm the artist termed "Black Dada," which takes inspiration from Amiri Baraka's 1964 poem "Black Dada Nihilismus." List Projects: Adam Pendleton presents his most recent video portrait of the dancer, choreographer, filmmaker, and writer Yvonne Rainer. Just Back from Los Angeles: A Portrait of Yvonne Rainer (2016–17) centers around a meal Pendleton and Rainer share at a New York City diner. Over the course of their meal, the video records their unscripted conversation punctuated by poignant moments where each artist leads the other. Rainer leads Pendleton in partnered movement exercises. Pendleton invites Rainer to read from a script which combines her writing with accounts and discussions of inequality, racism, and anti-black violence by such voices as Stokely Carmichael, Malcolm X, and Keeanga-Yamahtta Taylor. Including footage from Rainer's 1978 documentation of Trio A, Just Back from Los Angeles stages an inter-generational dialogue across lines of sexual and racial difference that provoke critical inquiry into the artists' shared questions of poetics and politics.
 Adam Pendleton (b. 1984, Richmond, VA) was the subject of a recent solo survey exhibition organized by the Contemporary Art Center New Orleans entitled Adam Pendleton: Becoming Imperceptible, which also traveled to the Museum of Contemporary Art, Denver, and the Museum of Contemporary Art, Cleveland. Pendleton's solo and group presentations include the Belgian Pavilion at the 56th Venice Biennale (2015), the 11th Gwangju Biennale (2016), and Performa 07 (2007), as well as exhibitions at Kunsthalle Wien (2017), the Baltimore Museum of Art (2017), Tensta Konsthall (2016), and Whitechapel Gallery (2015), among others. His work is included in several public collections including The Museum of Modern Art, New York; the Studio Museum in Harlem, New York; the Carnegie Museum of Art, Pittsburgh; and the Tate, London. The artist lives and works in New York.
Just Back from Los Angeles: A Portrait of Yvonne Rainer was a Performa Commission curated by Adrienne Edwards.
List Projects: Adam Pendleton is curated by Paul C. Ha, Director, MIT List Visual Arts Center, with Jamin An, Curatorial Fellow, MIT List Visual Arts Center.
Sponsors

Exhibitions at the List Center are made possible with the support of Fotene Demoulas & Tom Coté, Audrey & James Foster, Jane & Neil Pappalardo, Cynthia & John Reed, and Terry & Rick Stone. 

General operating support is provided by the Massachusetts Institute of Technology, the Council for the Arts at MIT, the Office of the Associate Provost at MIT, the MIT School of Architecture + Planning, the Mass Cultural Council, and many generous individual donors. The Advisory Committee Members of the List Visual Arts Center are gratefully acknowledged.