List Projects: Kambui Olujimi
-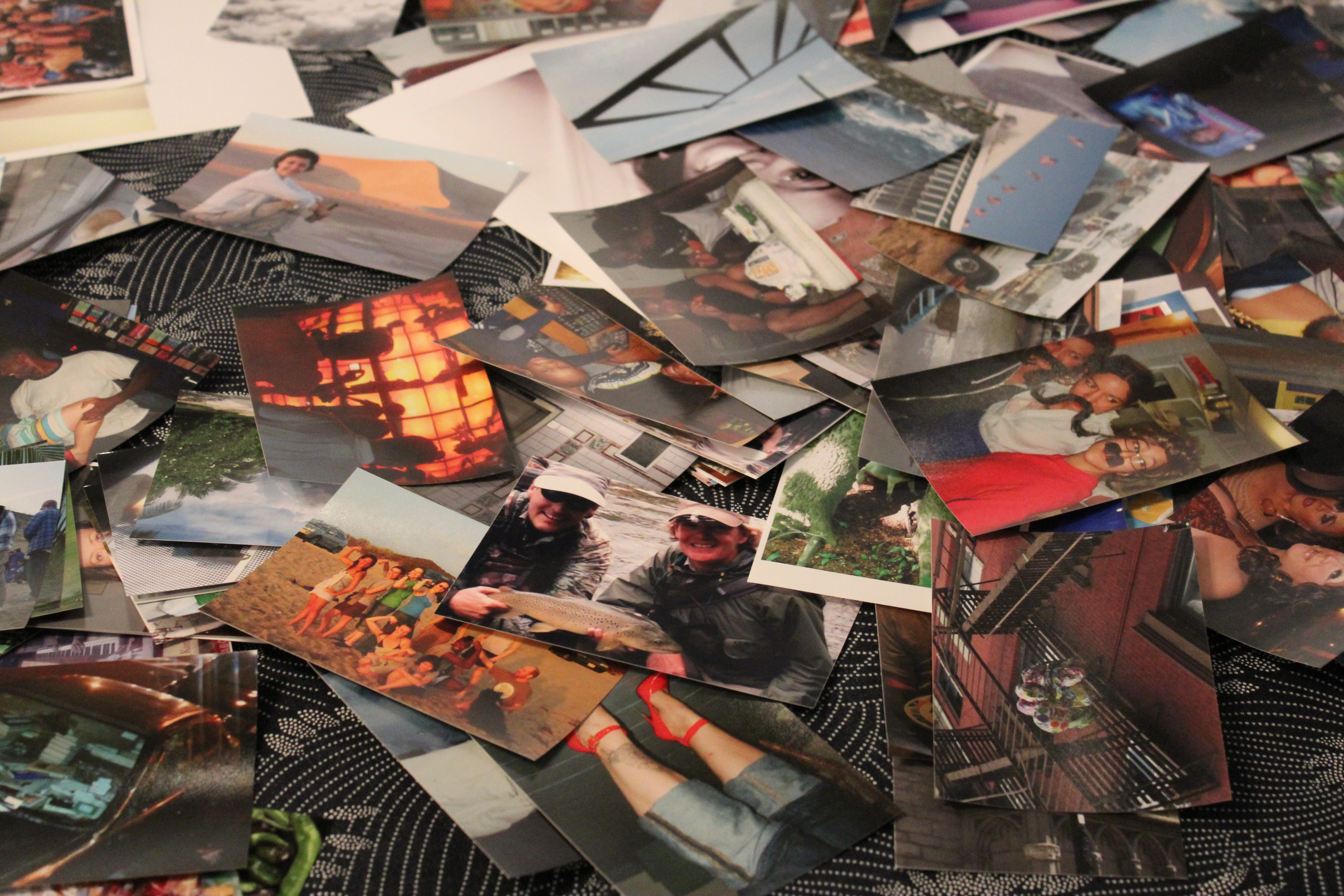 Explore all artists who have exhibited at the List in our
Artist Index
.
Kambui Olujimi works in a variety of media, ranging from film to installation to photography.
His past projects have often included viewer participation in projects that explore social practices such as dream interpretation, penny wishing, and photo sharing. List Projects: Kambui Olujimi features A Life in Pictures, an interactive installation functioning as a social space where visitors will be invited to exchange their own photos with selections from the artist's photo archive. For this project, Olujimi will provide over two thousand of his own photographs to exchange with visitors' pictures from their lives. Participants will be asked to record and share their thoughts about the personal photos that they have contributed and the ones they've exchanged from Olujimi's archive. The picture exchange mimics the way the public shares images online but that exchange is recontextualized by creating a physical space for individuals to give and receive photographs. A Life in Pictures allows visitors to interject moments from their own lives into a larger shared life in pictures.
To investigate questions of community exchange through art making, the exhibition involves targeted collaborations with the MIT and local communities, including the MIT Center for Civic Media, the Cambridge Citywide Senior Center, Lincoln-Sudbury Regional High School, and 826 Boston, a non-profit writing center. Olujimi will also lead an Independent Activities Period (IAP) class at MIT exploring intersections between photography and storytelling.
About the Photographic Exchange
Kambui Olujimi is providing over two thousand of his own photographs to be exchanged with your photos when you come to the exhibition.  The gallery space functions as the point of exchange.  Olujimi describes this project as "a living organism."  When you visit the exhibition, you create and drive your own experience in the gallery.  You can participate in the photo exchange, have a conversation with other visitors in the space, or record your own stories, thoughts, and reflections about the project.
When visiting the gallery you are encouraged to participate by either bringing physical copies of your own photos to the gallery or printing them in the gallery.  If you are bringing photographs, there is no limit to how many you can bring; however, you can only take one photo from the artist's archive. Your photographs can be any size or shape and will be anonymously added to the archive unless you choose to mark the image in some way with identifying information.
If you would like to print your photographs in the galleries, you can send your images to a special email account set up for the show:  lvac.alp [at] gmail.com (lvac[dot]alp[at]gmail[dot]com)  in advance of your visit or you can send an image during your visit from your own mobile device, tablet, or laptop.
The exhibition is interactive so you are encouraged to touch, hold, and pick up photos from the artist's archive as you decide which picture you would like to leave with.
Olujimi is interested in the stories, memories, and associations we have with images so as  part of the exhibition you also have the opportunity to share why you decided to bring and take specific photos (if you choose to do so.)
About the Artist
Brooklyn artist Kambui Olujimi (b.1976) received his BFA from Parsons School of Design, NY and MFA from Columbia University, NY.  He has had solo exhibitions at the de Saisset Museum, CA; apexart, NY; and Art in General, NY. His works have been featured in group exhibitions at the Museo Nacional Reina Sofia, Madrid; Studio Museum in Harlem, NY; and the Museum of Modern Art, NY. Olujimi has been awarded fellowsips from the Skowhegan School of Painting and Sculpture, Santa Fe Art Institute, The apexart Outbound Fellowship to Kellerberrin, Austalia, and was a two-year fellow at the Fine Arts Work Center in Provincetown, MA. The artist has recently been awarded the Artist Files grant from A Blade of Grass, NY.
List Projects: Kambui Olujimi is curated by List Director Paul C. Ha
Sponsors

Support for this exhibition has been generously provided by the Council for the Arts at MIT, the Massachusetts Cultural Council, TOKY, the Office of the Associate Provost at MIT, the MIT List Visual Arts Center Advisory Committee, and the Friends of the List.