Alicja Kwade: In Between Glances
-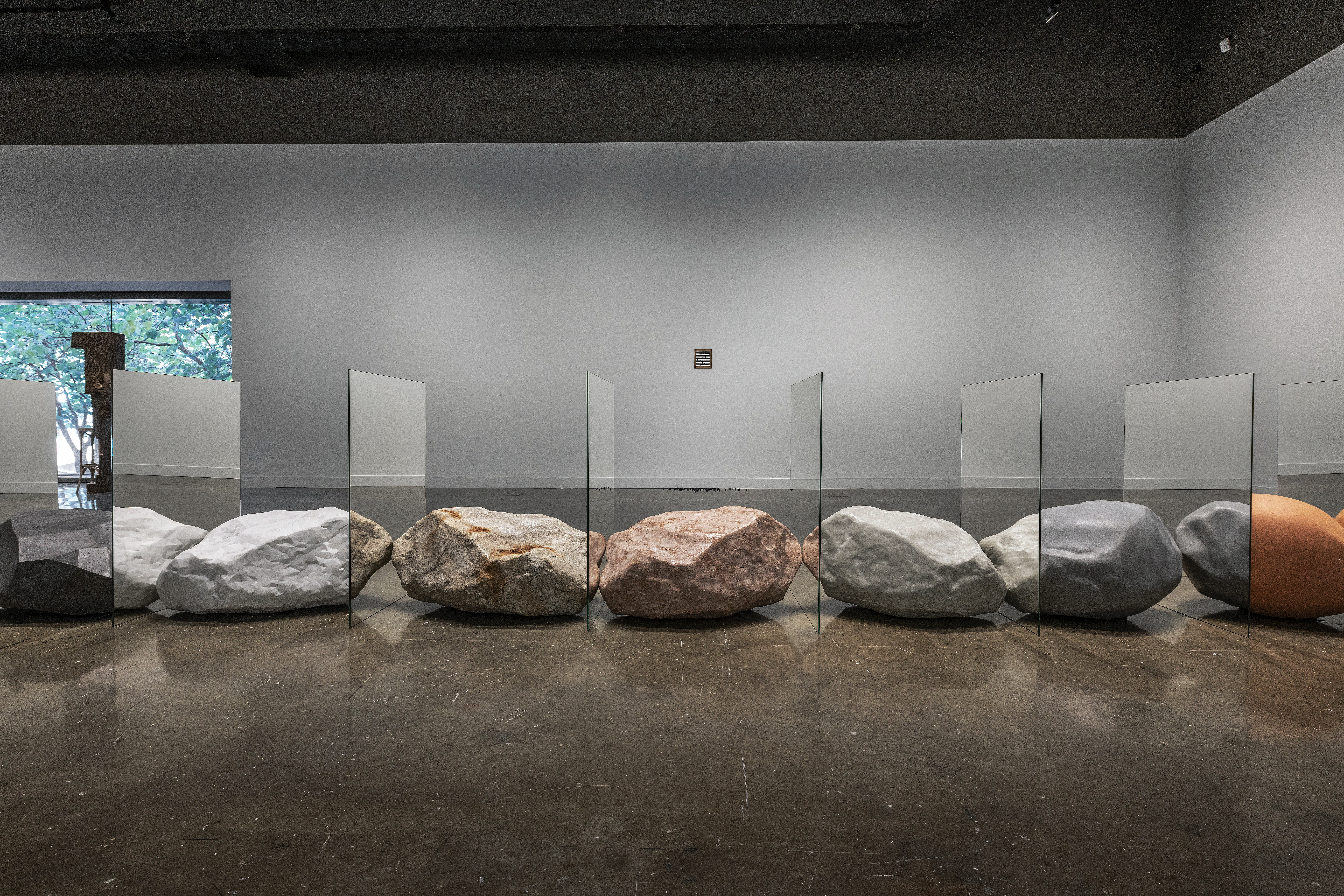 Explore all artists who have exhibited at the List in our
Artist Index
.
Working primarily in sculpture and installation, Berlin-based artist Alicja Kwade explores structures of reality such as time and space, as well as systems of value, that determine how we perceive the world and decide what constitutes the real. She is best known for her sculptural works which use common, yet symbolically resonant materials like rocks, lamps, and clocks. Typically working in a site-specific mode, viewers encounter these and other found objects transformed by Kwade to mysterious effect. Roadside pebbles are cut and polished like precious gems. Lit and unlit lamps mysteriously channel light across glass walls. Normally obdurate building materials droop and sag. Kwade's alchemical treatment of familiar things complicate, and at times cast suspicion on, our perceptual faculties. Throughout her work, she strategically blurs received distinctions between past and present, fact and fiction, and high and low value.
For her List Center exhibition In Between Glances, Kwade has realized Light Touch of Totality (2019) a major new sculptural commission. Comprised of five stainless steel rings each with a diameter of approximately 16 feet and positioned at varying angles, the sculpture is adorned with over 1,400 strands of beads made from wood and lapis lazuli, which create a curtain-like effect on portions of its imposing frame. This ambitious new work is presented alongside a focused selection of recent sculptures that illustrate Kwade's current inquiries into processes of transformation that act on matter and information, as well as her ongoing investments in the concepts of parallel worlds and non-linear time.
The exhibition continues outside the galleries and includes:
Against the Run (2019), outside the MIT Medical Building
Sited on a patch of lawn adjacent to the Upper Courtyard, MIT's newest Percent-for-Art commission, Against the Run, is a freestanding clock with a restrained modern design. At first glance, Kwade's sculpture fits seamlessly into the surrounding architecture. Closer inspection reveals the clock's unusual feature: although the minute and hour hands tell the correct time, its face rotates to the left while the second hand ticks counterclockwise one beat before returning to the twelve o'clock position. This jerky punctuation appears to jostle the entire dial counter-clockwise with each movement of the second hand—quite literally against the run of time. While the way we measure time is linear, Against the Run suspends the notion of its ever-forward movement, proposing alternate systems of timekeeping.
LinienLand (2019), Augmented Reality installation at three sites across campus
LinienLand was a temporary intervention in Augmented Reality (AR)  sited in multiple locations around MIT: McDermott Court, the Upper Courtyard, and Lobby 7. This immersive work consisted of a gridded architecture approximately 36 feet in height, in which massive spheres rotated like planets in orbit. Kwade considers the structure as a possible multiverse in which each quadrant represents a parallel world within a mathematical, human-made linear system.
Produced in collaboration with Acute Art, this work presents a first immaterial development of Kwade's ongoing project LinienLand. This iteration moved the project towards a new perceptual experience of art in an increasingly information-based world.
Alicja Kwade (b.1979, Poland, lives and works in Berlin) has had exhibition in museums worldwide including Kunsthal Charlottenborg, Copenhagen (2018); Museum Haus Konstruktiv, Zürich (2018); YUZ Museum, Shanghai (2017); Whitechapel Gallery, London (2016); Kunstmuseum St. Gallen, Switzerland (2015), and many others. In 2017, Kwade mounted a large-scale installation title WeltenLinie (One in a Time) as part of the 57th Venice Biennale exhibition. Her work is part of many public collections, such as Kunstsammlung Nordrhein-Westfalen, Düsseldorf; Reykjavik Art Museum, Iceland; and Wrocław Contemporary Museum, Poland.
 The List Center presentation of Alicja Kwade: In Between Glances is organized by Henriette Huldisch, Director of Exhibitions & Curator, MIT List Visual Arts Center.
Sponsors

Exhibitions at the List Center are made possible with the support of Fotene & Tom Coté, Audrey & James Foster, Idee German Schoenheimer, Joyce Linde, Cynthia & John Reed, and Terry & Rick Stone. In-kind media sponsorship provided by 90.9 WBUR. 

Additional funding for Alicja Kwade: In Between Glances is provided by VIA Art Fund and Deutschlandjahr USA | Year of German-American Friendship. Year of German-American Friendship is funded by the German Federal Foreign Office, implemented by the Goethe-Institut, and supported by the Federation of German Industries (BDI).  Additional support for the exhibition is generously provided by 303 Gallery, New York; König Galerie, Berlin and London; and the Polish Cultural Institute New York.

General operating support is provided by the Massachusetts Institute of Technology; the Council for the Arts at MIT; Philip S. Khoury, Associate Provost at MIT; the MIT School of Architecture + Planning; the Mass Cultural Council; and many generous individual donors. The Advisory Committee Members of the List Visual Arts Center are gratefully acknowledged.