List Projects 21: Rami George
-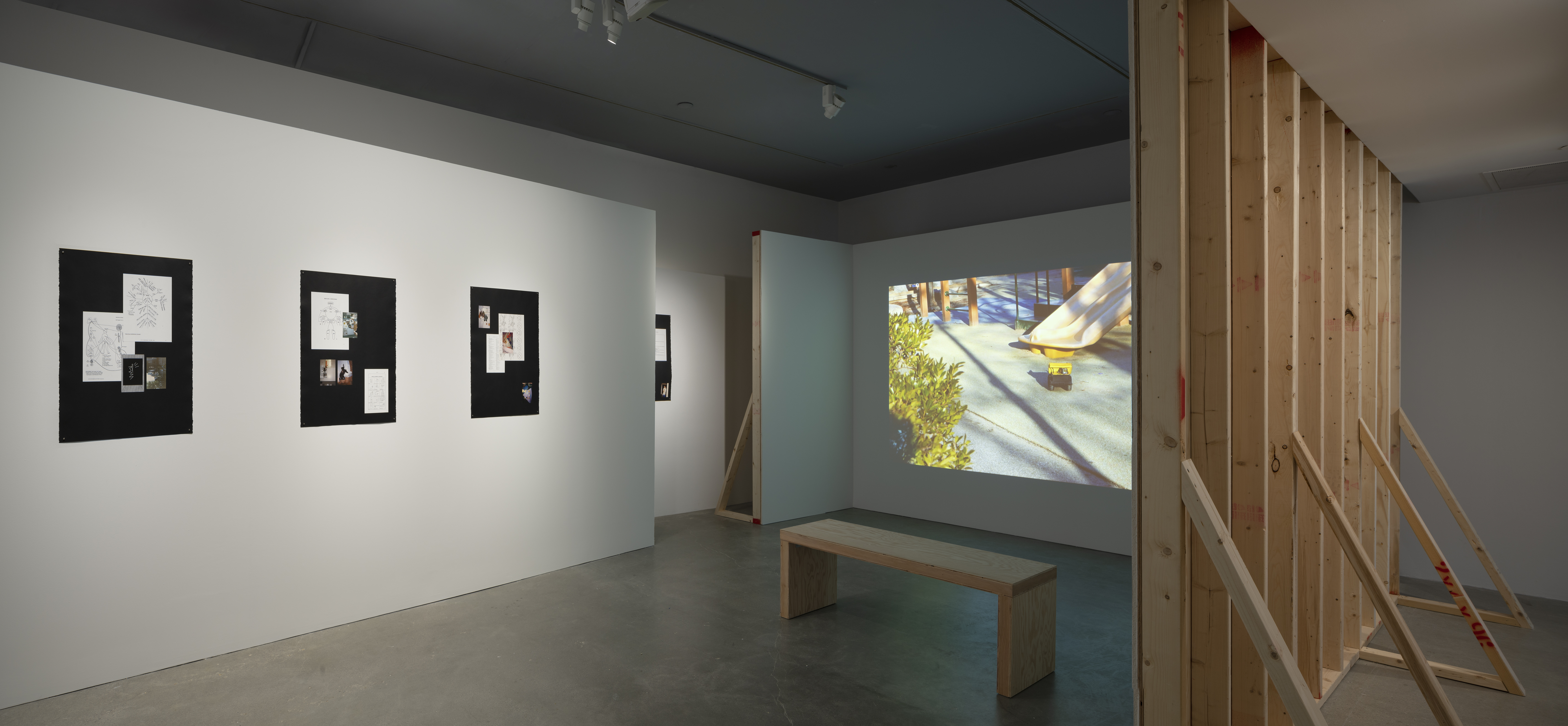 Explore all artists who have exhibited at the List in our
Artist Index
.
Working in installation and video, and with found images and texts, Rami George uses autobiography to reveal broader untold histories and reappraise enduring civic and social issues.
For their first institutional solo exhibition, George presents a new body of work that extends their ongoing inquiry into their family's entanglement with the Samaritan Foundation, a New Age spiritual cult that was active in the 1990s. In 1993, George's mother became engrossed in the group's doctrine and took her two children from their home in Somerville, Massachusetts, to join the Foundation's commune in an abandoned prison in Guthrie, Oklahoma.
Within an exhibition architecture loosely based on the floorplan of the Seminar Room that was part of the group's encampment, George premieres the video essay Untitled (with my father) (2020) alongside an earlier video, Untitled (Saturday, October 16, 1993) (2015), and a group of new works on paper that collage dowsing charts and other instructive texts generated by the Samaritan Foundation with family photographs. Bringing together the Samaritans' teachings with legal documents and recollections from the artist's father, George's new works look beyond the artist's early memories, and media-driven narratives of the group's activities to complicate the notion of an authoritative account of events or a coherent, objective truth. At the same time, George's works invite larger questions around the social formations of so-called intentional communities and probe how trauma, idealism, and a desire for refuge or belonging circulate within these groups and might motivate those affiliated with them.
Rami George (b. 1989, Somerville, MA) lives and works in Philadelphia. Their work has been presented in group exhibitions and screenings at Anthology Film Archives, New York; Centre for Contemporary Arts, Glasgow; the Curtis R. Priem Experimental Media and Performing Arts Center at Rensselaer Polytechnic Institute, Troy, New York; Grand Union, Birmingham; the Institute of Contemporary Arts, London; the Institute of Contemporary Art, Philadelphia; LUX, London; the Museum of Contemporary Art Chicago; and others. George received a BFA from the School of the Art Institute of Chicago and their MFA from the University of Pennsylvania.
List Projects 21: Rami George is organized by Selby Nimrod, Assistant Curator, MIT List Visual Arts Center.
Sponsors

Exhibitions at the List Center are made possible with the support of Karen & Gregory Arenson, Fotene & Tom Coté, Audrey & James Foster, Idee German Schoenheimer, Joyce Linde, Cynthia & John Reed, and Sara-Ann & Robert Sanders.  Additional support for List Projects 21: Rami George is provided by John Makhoul. Additional funding for List Projects is provided by The Andy Warhol Foundation for the Visual Arts.

General operating support is provided by the Massachusetts Institute of Technology; the Council for the Arts at MIT; Philip S. Khoury, Associate Provost at MIT; the MIT School of Architecture + Planning; the Mass Cultural Council; and many generous individual donors. In-kind media sponsorship provided by 90.9 WBUR. The Advisory Committee Members of the List Visual Arts Center are gratefully acknowledged.