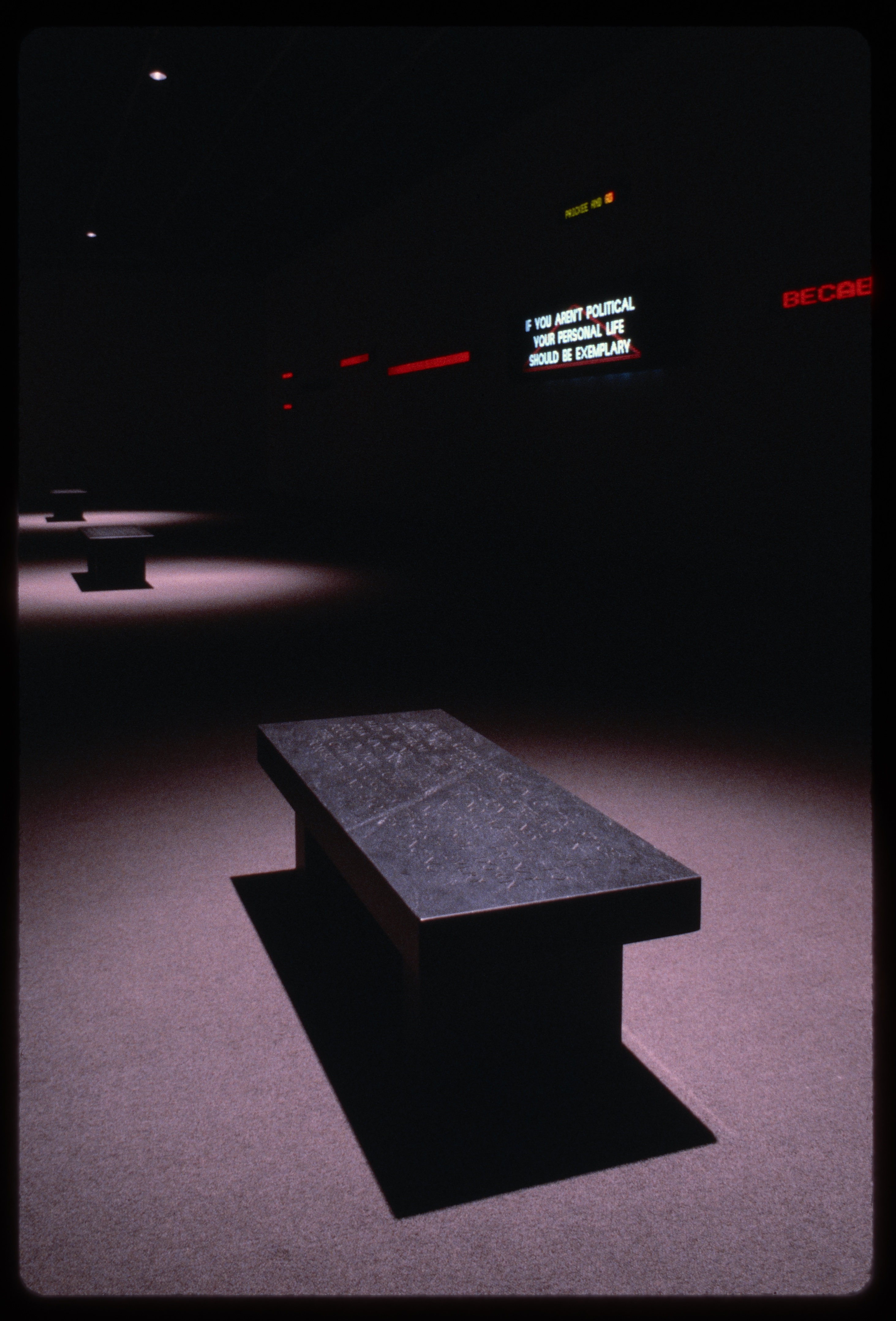 Explore all artists who have exhibited at the List in our
Artist Index
.
Originally from the Midwest, Jenny Holzer creates work which deals with the values and attitudes of the American public.
Rarely does she use her own voice or promote her own opinions; instead she prefers to incorporate a range of speech patterns and social, cultural, or political views in her work. Her diverse writings range from punchy one-liners to scathing 100-word essays to measured elegies.
Holzer's art has piqued curiosity and controversy both inside and outside the art world since it first began cropping up anonymously in the streets of New York in 1977. Initially her texts appeared on paper posters pasted on surfaces usually blanketed with commercial advertising and graffiti. In this exhibition her writings appear as works on granite benches and electronic signs in the gallery, on official looking cast metal plaques placed around the MIT campus, as well as on cable television, electronic signs, and a billboard for the larger community.
A uniquely public artist, Holzer distributes her work on posters, plaques, stickers, billboards, moving electronic signs, T-shirts, caps, and television spots. The viewer is left to construct her own interpretation of the work, as it is often encountered without the structure of the formal art institution or museum setting.
Jenny Holzer's messages will appear at unannounced intervals during the exhibition on electronic signs throughout the Greater Boston area. Locations include Filene's Basement; Stocks and Bonds Deli and Lounge; the School of the Museum of Fine Arts, Boston; Winter Hill Federal Savings Banks at Davis Square and at Broadway School Street, Somerville; North Shore Plaza, Peabody; South Shore Plaza, Braintree; Hanover Mall, Hanover. Holzer's work will also appear on a billboard on Massachusetts Avenue near Blanche Street in Cambridge. The artist will also produce spots for American Cable Systems of Cambridge, which will air periodically during the exhibition.
This exhibition was organized by Joan Simon for the Des Moines Art Center. A 96-page illustrated catalogue also accompanies the exhibition and features an essay by the curator, an interview with the artist, and a bibliography, chronology, checklist, and index.
Jenny Holzer will speak about her work and the work of other socially concerned artists who operate in public space on Tuesday, October 27, 1987 at 7pm in Bartos Theater, List Visual Arts Center. This event is free and open to the public.