Allison Katz: Diary w/o Dates
-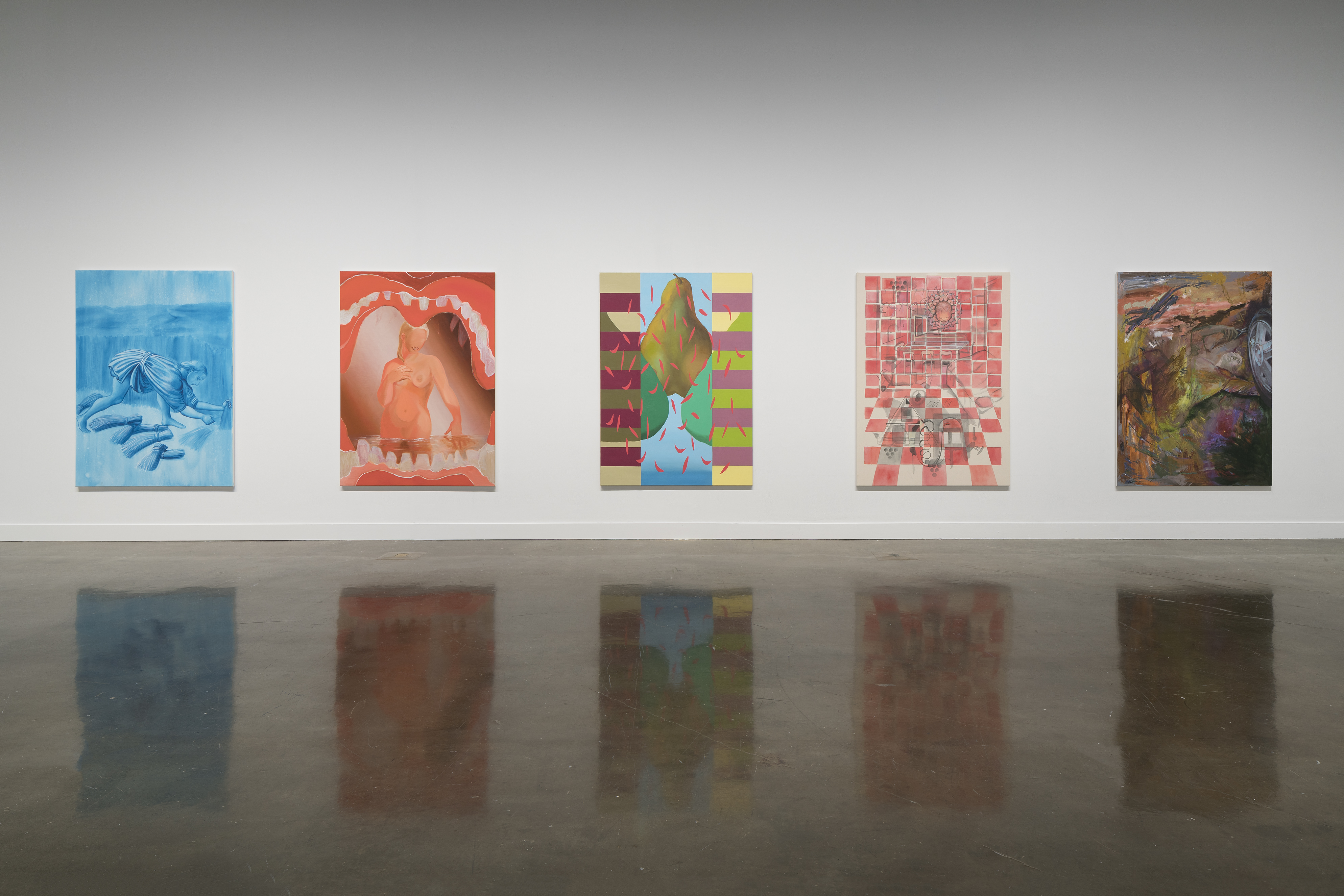 Explore all artists who have exhibited at the List in our
Artist Index
.
Diary w/o Dates, the first solo exhibition in the US by Canadian-born, London-based artist Allison Katz draws a parallel between the grid of the calendar and the grid of the canvas.
Katz sees a resemblance between the structured intervals of time and the physical constraints of a painting. She plays within the borders of each—the cells of the day, week, and months in a year and the four stretcher-bars that determine the limits of a painting—letting that which is beyond the grid encroach. She asserts that painting and time are similarly expansive and constantly in flux. This most recent body of work is a suite of twelve paintings that construct a mythical present, simultaneously referencing the past while proposing the future. Katz engages self-portraiture, negotiating memory and projection, complicating the viewer's relationship to the narrator and how a diaristic premise functions in relation to belief and doubt. Content is generated from multiplicity, with sources lifted from family, history, the city, the natural world, the mirror, and the mask. Katz warps the reproduction of time, echoing the irrational (dis)order in which we apprehend our own personal histories, drives, and destinations.
 Allison Katz (b. 1980, Montreal; lives and works in London) has mounted solo exhibitions at the Kunstverein Freiburg in Germany (2015) and the ICA Studio in London (2015). Her work has been included in group exhibitions at Tate St. Ives, Cornwall, UK (2017), South London Gallery, UK (2014) and SculptureCenter, New York (2014) in addition to recent collaborations with DAS INSTITUT at the Serpentine Gallery, London (2016) and Fredrik Vaerslev at Bergen Kunsthall, Norway and Le Consortium, France (2016 - 2017). Diary w/o Dates is Katz's first solo institutional exhibition in the United States.
Allison Katz: Diary w/o Dates is curated by Yuri Stone, Assistant Curator, MIT List Visual Arts Center. This exhibition is organized in collaboration with the Oakville Galleries, Ontario.
Sponsors

Exhibitions at the List Center are made possible with the support of Fotene Demoulas & Tom Coté, Audrey & James Foster, Jane & Neil Pappalardo, Cynthia & John Reed, and Terry & Rick Stone.  Special thanks to Philip S. Khoury and the Office of the Associate Provost.  In-kind media sponsorship provided by 90.9 WBUR.

General operating support is provided by the Massachusetts Institute of Technology; the Council for the Arts at MIT; Philip S. Khoury, Associate Provost at MIT; the MIT School of Architecture + Planning; the Mass Cultural Council, and many generous individual donors. The Advisory Committee Members of the List Visual Arts Center are gratefully acknowledged.