Against Nature: Japanese Art in the Eighties
-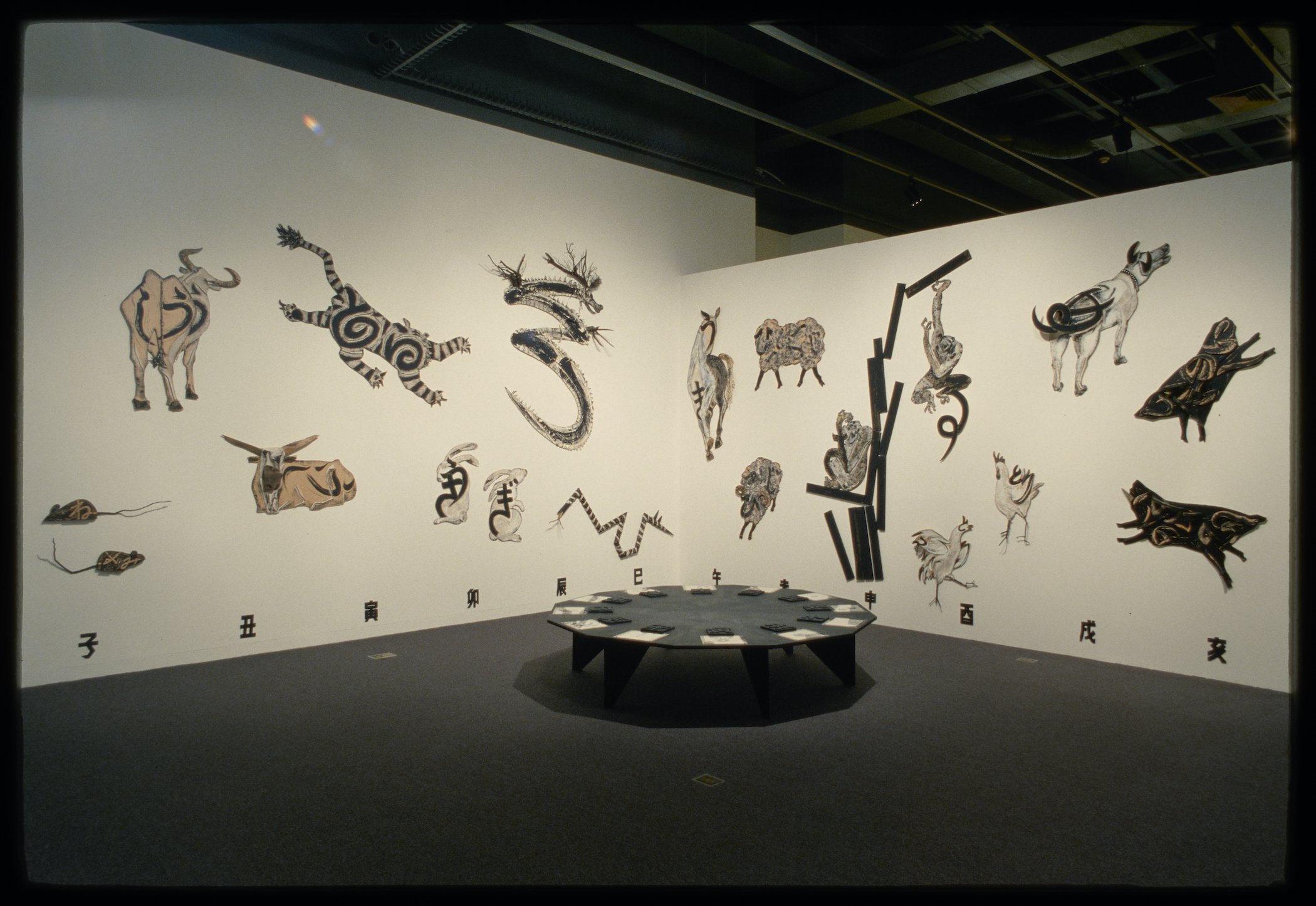 Explore all artists who have exhibited at the List in our
Artist Index
.
This exhibition constructs a view of the tensions informing Japanese art today. After World War II, Japanese economic and social values changes radically; so did aesthetic concerns.
As conventional social structures collapsed, design became democratized. Today, one block of downtown Tokyo jams together the kitsch aesthetic, the microchip, and the Shinto shrine. The traditional nature worship of Japanese aesthetics and philosophy has given way to modern-day developers who pay $43,000 for a piece of Tokyo the size of a newspaper. 
The current generation of young artists has confronted the Japanese craft tradition while adapting the strategies of contemporary Western art to the imperatives of their own inspirational sources. They are equally willing to reject the style of Western art and to subvert the traditions which constrained its elders. Although some of the installations formally approximate those made in the West, these works reflect a particularly Japanese sense of space and its meaning. A group of aesthetic urges that define paradoxical pairings inherent in Japanese culture are at the core of their argument: small vs. large; Japanese-Isolationist vs. Asian-global; clean and pure vs. ugly and vulgar; time stopped vs. time progressive; and bucolic vs. urban. 
These polarities evoke issues of nature and culture, national identity and private individuality, which confront us in our present-day culture as well. The time is ripe to question a concept of nature that is both outmoded and unnecessarily superficial. The artists included in Against Nature attack outdated views, both foreign and domestic, of Japan and its artistic heritage as rooted in the soil of an agrarian land. As the exhibition title suggests, present-day Japanese reality is considerably more complex.
Against Nature was organized jointly by the MIT List Visual Arts Center, the Grey Art Gallery at New York University, and The Japan Foundation, Tokyo. The four curators were Kathy Halbreich, Curator of Contemporary Art at the Museum of Fine Arts, Boston and former director of the MIT List Visual Arts Center; Thomas Sokolowski, director of the Grey Art Gallery at NYU; Shinji Kohmoto, curator at the National Museum of Modern Art, Kyoto; and Fumio Nanjo, director of the Institute of Contemporary Art, Nagoya. 
Against Nature premiered in the United States at the San Francisco Museum of Modern Art from June 15 – August 6, 1989. Its national tour then takes it to:
Akron Art Museum, Akron, Ohio | September 9 – November 5, 1989
MIT List Visual Arts Center, Cambridge, Massachusetts; Bank of Boston Art Gallery | December 8 – February 11, 1990
Seattle Art Museum, Seattle, Washington | March 22 – May 13, 1990
The Contemporary Arts Center, Cincinnati, Ohio. | June 8 – July 27, 1990
Grey Art Gallery, New York University | September 11 – October 18, 1990
Contemporary Arts Museum Houston, Texas | November 16, 1990 – February 12, 1991
Publication available. Accompanying the exhibition is a 90-page, bilingual, full color catalogue with essays by two Japanese scholars of popular culture and a lively and wide-ranging roundtable discussion among the four curators on binational art and cultural topics and preconceptions. 
Sponsors

The national tour of Against Nature is sponsored by a grant from the AT&T Foundation. Generous financial assistance was also provided by The Japan Foundation; the National Endowment for the Arts; The Massachusetts Council on the Arts and Humanities; The Japan-United States Friendship Commission; The Asian Cultural Council; Bank of Boston; and Heineken, Japan.