2018 Student Lending Art Program Exhibition
-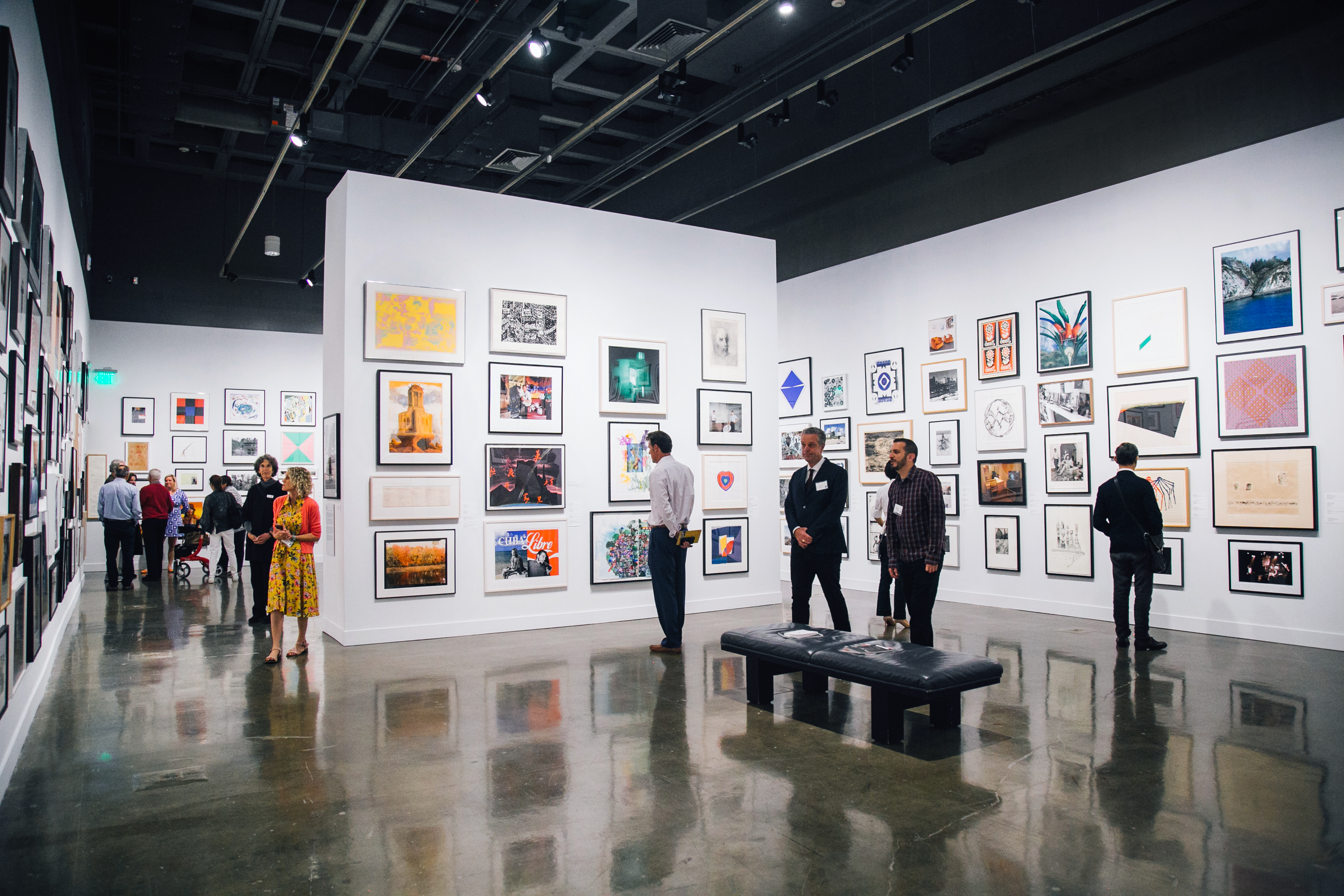 Explore all artists who have exhibited at the List in our
Artist Index
.
The MIT List Visual Arts Center presents the 2018 Student Lending Art Program Exhibition and Lottery.
The exhibition features over 600 original works of art, primarily prints and photographs drawn from the List Center's Student Lending Art Collection. This annual exhibition, on view September 4-16 is free and open to the general public as well as the MIT community.
View our new online web portal for the  List Center's Student Lending Art Program.  Explore the collection by viewing a selection of works available for borrowing.  Learn more about artworks in the collection through the words and experiences of MIT students who've participated in the program.
Since 1977 the Student Lending Art Program Exhibition and Lottery has provided MIT students the enviable opportunity to borrow, appreciate, and live with a museum quality work of original art for the academic year. Works from the collection are distributed through a lottery system.  Remaining unclaimed works are available for students to take home on a first come, first serve basis, once the exhibition closes. 
MIT students check our FAQ page for more details on how to participate in the lottery and borrow a work of art.  
 The exhibition includes recently acquired works by Edgar Arceneaux, Rosa Barba, Nicole Eisenman, Cerith Wyn Evans, Alicia Kwade, Steve Locke, Barry McGee, Nick Mauss, Charlotte Moth, Albrecht Schnider, Myron Stout, and Rosemarie Trockel. In addition MIT students have the opportunity to borrow favorite works by artists such as Berenice Abbot, Louise Bourgeois , Harold "Doc" Edgerton, and Cindy Sherman, among many others. 
Beyond allowing students to borrow artwork, the Student Lending Art Program engenders a set of values centered on generosity. This year visitors to the exhibition can explore these ideas further in Between Us, a special project organized by artist Graham Yeager. The interactive project engages visitors to think about the difficulties and ease of collaboration while having a fun exchange with new and old friends.
Sponsors

The collection began with the Catherine N. Stratton Collection of Graphic Arts, the List Student Lending Collection, and the Ronald A. Kurtz Student Loan Collection, established in 1966, 1977, and 1985 respectively.

The List Center actively collects new works each year with leadership support provided by the Alan M. May Fund and the John Taylor Endowment.

In 2017–2018 the List Center received gifts of art from Karen & Gregory Arenson, Hope & Mel Barkan, Lynn Hauser & Neil Ross, Arlette & Gus Kayafas, and Beth & Richard Marcus.

Additional funds for acquisitions were provided by Karen & Gregory Arenson, Idee German- Schoenheimer, Alberta Gerschel & Peter Wasserman, Joan L. Lewis, Anne & Kurt Locher, and the Friends of Boston Art.

Support for the program is provided by the Office of Graduate Education, Vera G. List, MIT's Campus Activities Complex, MIT List Friends of Boston Art, Stanhope Framers, and the Council for the Arts at MIT.