Upper Courtyard, 1985
Richard Fleischner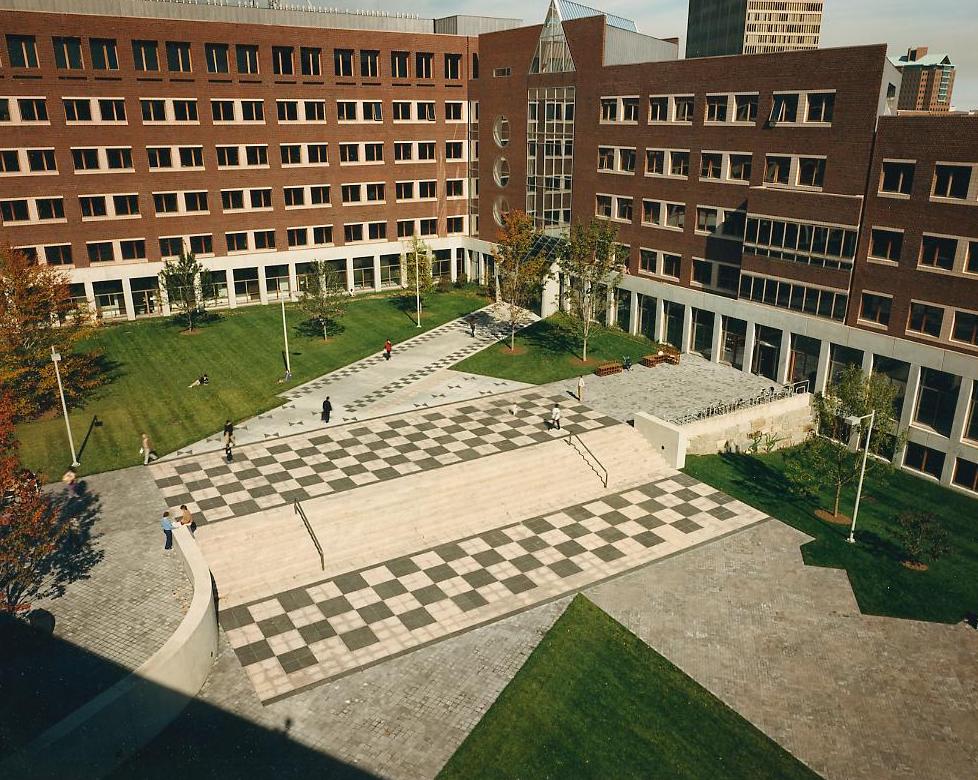 Richard Fleischner's works often bridge art and landscape design, and his early environmental sculptures served as site markers that emphasized geometric relationships between manmade and natural elements while choreographing human activity within a demarcated space.
Fleischner was one of three artists chosen in 1980 to work with architect I. M. Pei to develop public art in conjunction with the Wiesner building. An initial idea for a sculpture garden near the building gradually expanded as the artist became increasingly engaged with the architects and occupants of adjacent buildings. The resulting landscaped courtyard, completed in 1985, encompasses the space bound by Ames and Amherst Streets.
The artist's work involved resolving complex pedestrian traffic patterns and changes in grade among the buildings, and using paving stones, steps, plantings, furniture, and sculptures to create spaces for socialization and leisure. Fleischner's group of granite forms based on cubes function as sculptures, furniture, and barricades protecting the building from snowplows. Wooden benches provide additional seating while checkered patterns visually differentiate walkways. Finally, Fleischner sited Henry Moore's Working Model for Reclining Figure (Lincoln Center) (1963) as a focal point on the grassy lawn among the beech trees.
Richard Fleischner (b. 1944) was born in New York. He received both his BFA and MFA degrees from the Rhode Island School of Design. A sculptor, painter, installation artist, and photographer, Fleischner began working environmentally in the 1970s. His landscapes and large-scale public sculptures emphasize the relationship of man-made forms to the natural world with motifs such as mazes, corridors, boxes, and fields that merge with or provide contrast to environmental features such as trees, hills, sod, and plants. Fleischner's sculptures and environments have been constructed at numerous public and private sites, including Brown University, Harvard University, and Cambridge's Alewife Station. Richard Fleischner lives and works in Providence, Rhode Island.
Audio
Listen: Richard Fleischner on Upper Courtyard