New Media Lab, 2010
Fumihiko Maki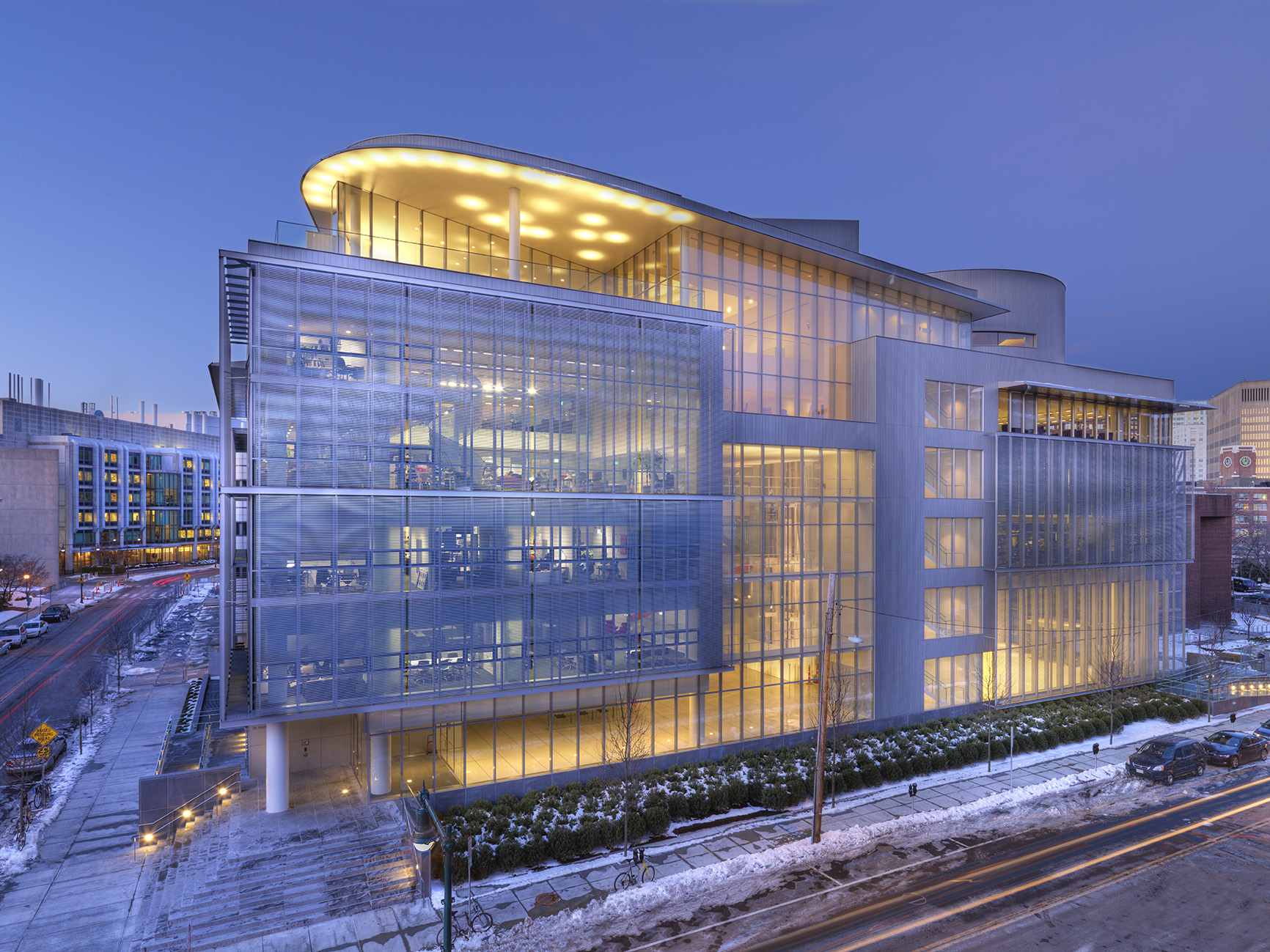 Fumihiko Maki was born in Tokyo, Japan in 1928.  He began his study of architecture as an undergraduate at the University of Toyko, where he participated in Kenzo Tange's Research Laboratory (1948-52). He continued his studies at the Cranbrook Academy of Art in Bloomfield Hills, Michigan (1953), and Harvard University's Graduate School of Design (GSD) in Cambridge, Massachusetts (1954), earning Master of Architecture degrees at both institutions.
From 1956 to 1962, he taught at Washington University's School of Architecture in St. Louis, Missouri, followed by brief a teaching stint in the Department of Urban Design at his alma matter, the GSD (1962-65). During this time he worked for two firms, first Skidmore, Owings, and Merrill and later, Sert, Jackson, and Associates. In 1965 Maki returned to Japan to open his own firm, Fumihiko Maki and Associates. There he resumed his teaching career, taking a position as professor of architecture at the University of Tokyo. Since then he has also been visiting professor and critic at a number of institutions, including Columbia University, the University of California, Berkley, the University of California, Los Angeles, and the GSD. 
Maki's first major commission as an architect was Steinberg Hall, an arts center built in 1956 on the Washington University campus that today houses the Mildred Lane Kemper Art Museum. In addition to completing in 2010 the MIT Media Lab and SA+P Extension (Building E14), Maki's commissions have been mainly for large scale public works and institutional edifices including the Hillside Terrace Apartment Complex in Tokyo (1969-92), Akibadai Culture and Gymnastics Hall in Fujisawa (1984), the Wacoal Media Center (Spiral Building) in Tokyo (1985), National Museum of Modern Art in Kyoto (1986), TEPIA Science Pavilion in Tokyo (1989), Makukari Messe Convention Center in Chiba Prefecture (1989-1998), the Tokyo Metropolitan Gymnasium in Tokyo (1990), the Yerba Buena Center for the Arts in San Francisco (1993), the Isar Büro Park in Munich (1993-95), and the Yokohama Island Tower in Yokohama (2003), among many others.
Maki is also well known for his commitment to research in urban design. He was a founding member of the techno-organicist Metabolist movement in Japan, publishing the piece "Some Thoughts on Collective Form," with Otaka Masato in the seminal pamphlet Metabolism in 1960 (which was subsequently reprinted in 1965 in the volume edited by MIT professor Gygöry Kepes, titled Structure in Art and in Science).In 1993 Maki was awarded the Pritzker Prize, the highest honor in the field of architecture.  Other projects include the Aga Khan Museum in Toronto, a contribution to the United Nations complex in New York City, and Tower Four of the new World Trade Center, also in New York City.