New Media Lab, 2010
Fumihiko Maki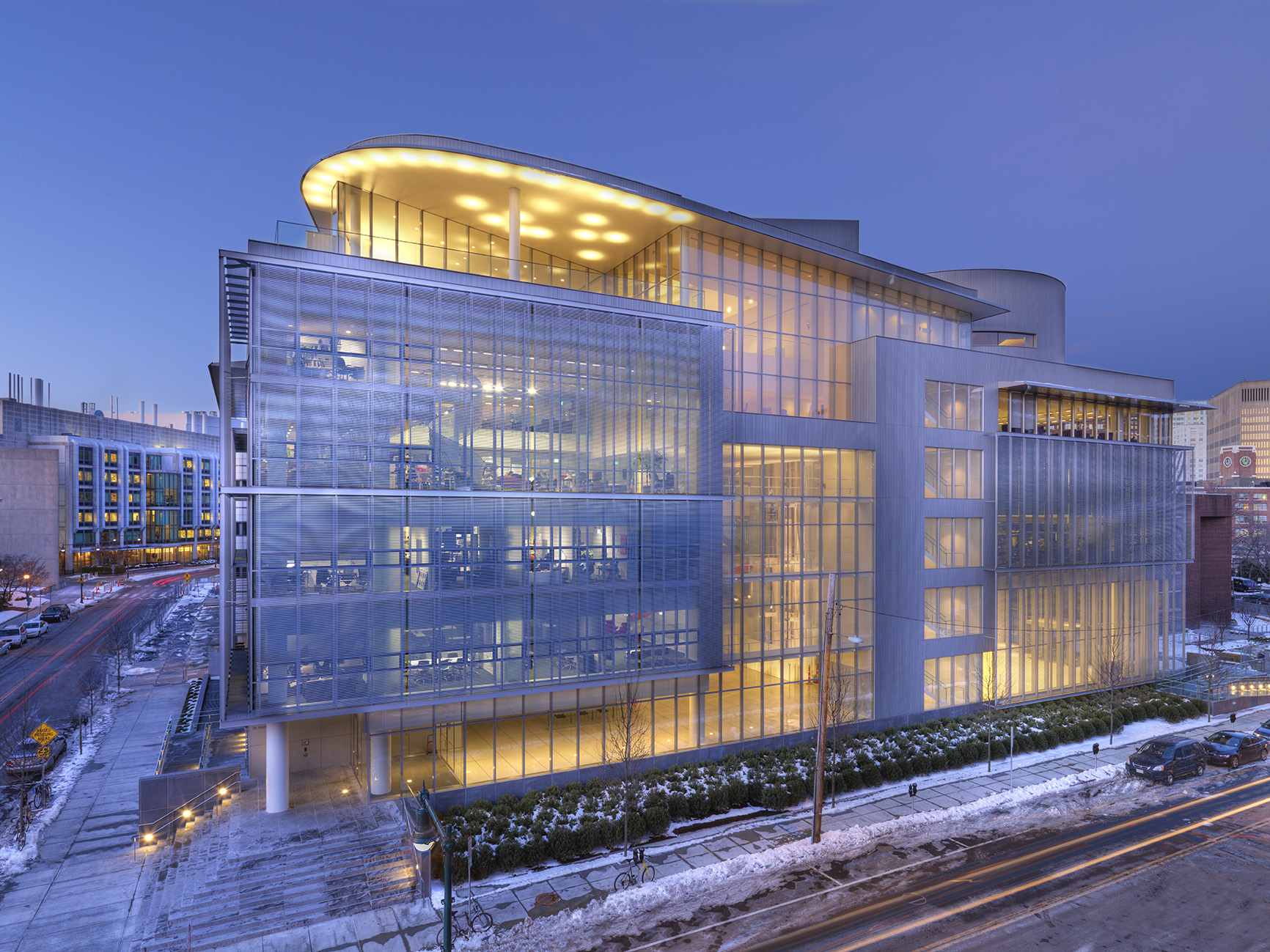 The MIT Media Lab's orientation toward innovation and cross-disciplinary collaboration is made evident in Fumihiko Maki's extension, which grows out of I. M. Pei's Wiesner Building, the original home of the research center.
The ethos of transparency undergirds the entire complex's interior—most labs feature double-height ceilings and glass-paned walls, making visible the dynamic work taking place throughout the building. The light-filled atrium features a gallery space and a glass elevator with exposed shafts that moves through the core of the structure, further emphasizing the permeability between floors. A curtain wall composed of slender aluminum pipes covers much of the facade, acting as a veil-like surface that allows interior light to emanate through to the exterior. 
On the upper floors of the atrium, three of the stairways are emblazoned in red, yellow, and blue, boldly slicing across the largely glass, monochromatic, rectilinear environment. The visual flashes are a nod to the primary colors used by artists of the early twentieth-century Dutch art movement De Stijl and also parallel Kenneth Noland's painted panels in the interior of the Wiesner Building. The top floor houses an auditorium, event space, and wood-paneled terrace with a glass barricade that offers unobstructed views of downtown Boston. 
Fumihiko Maki was born in Tokyo, Japan, in 1928. He began his architecture studies as an undergraduate at the University of Tokyo, where he participated in Kenzo Tange's Research Laboratory, and earned masters of architecture degrees at Cranbrook Academy of Art and Harvard Graduate School of Design. In the early years of his career, he taught at Washington University of St. Louis and Harvard Graduate School of Design and worked at architecture firms Skidmore, Owings, and Merrill and Sert, Jackson, and Associates. 
After studying and working in the States, Maki returned to Japan and played a critical role in the formation of the Metabolism Group, an architectural movement that sought to use biological metaphors to express urban growth and postwar renewal in the form of megastructures, utopian city planning initiatives, and modular, flexible housing units. In 1965, Maki opened his own firm, Fumihiko Maki and Associates, and soon after became a professor at the University of Tokyo, where he continued to teach until 1987. 
Notable projects by Maki include work at Expo '70 in Osaka; Spiral Building, Tokyo; Makuhari Messe, Chiba; Yerba Buena Center for the Arts, San Francisco; the Mildred Lane Kemper Art Museum, St. Louis; 51 Astor Place, New York; Tower 4 of the new World Trade Center, New York; and the Aga Khan Museum, Toronto. In 1993, Maki was awarded the Pritzker Prize, the highest honor in the field of architecture.