Here-There, 1985
Kenneth Noland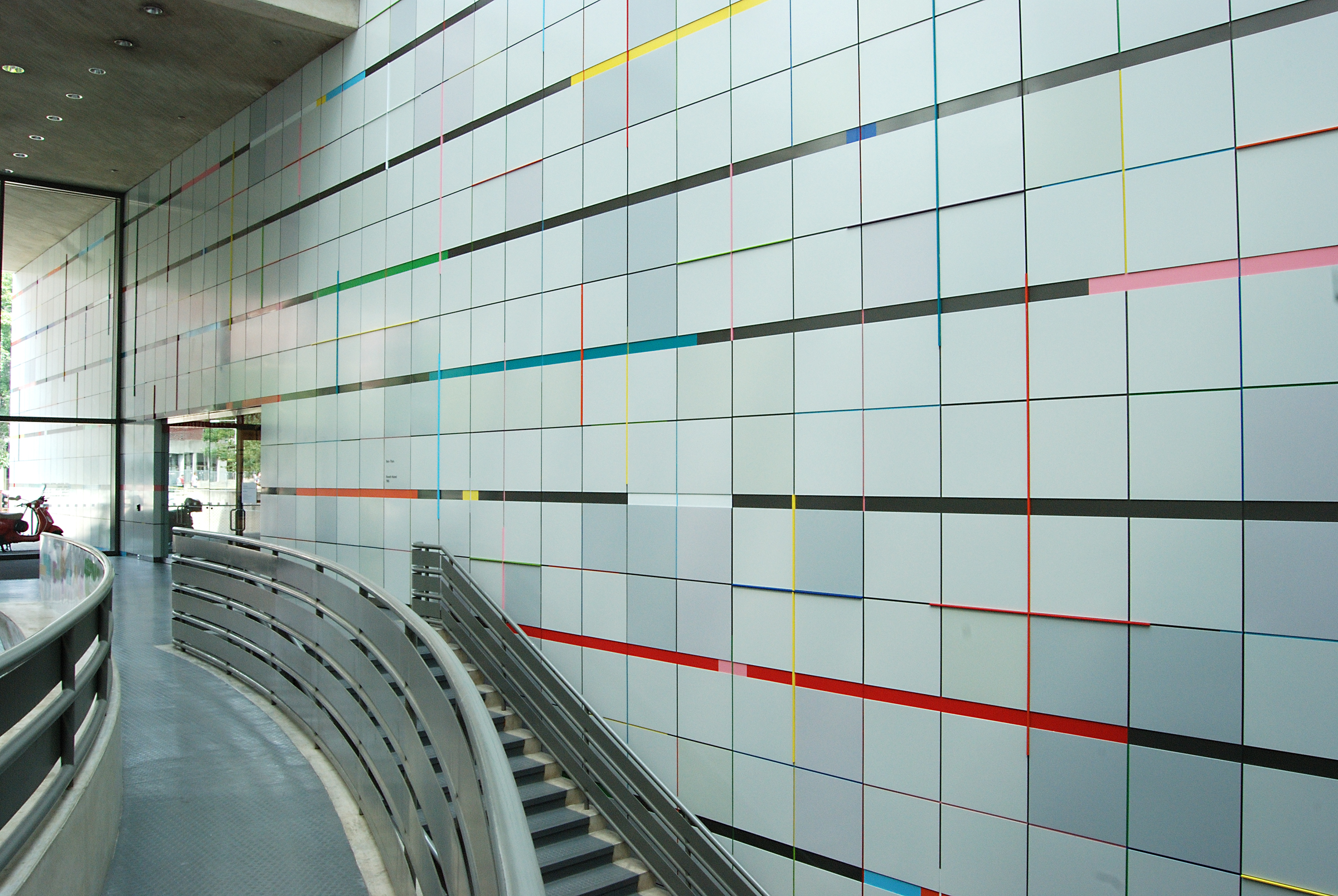 Kenneth Noland was a well-known abstract color field painter who, when invited to work with architect I. M. Pei on MIT's Wiesner Building, had never executed an architectural commission.
As a studio painter, his challenge was to consider the scale and three-dimensional space of the building, and he worked closely with Pei to develop his ideas.
The resulting mural, Here-There, was painted directly on the metal panels of the building's five-story atrium. The palette, dominated by primary colors, extends on to the building's exterior walls, and is varied enough to suggest movement across the grid of panels.
Noland created further contrast by varying the depth and width of the painted elements, which serve as spacers between the aluminum squares and which, in some places, slightly protrude from the wall. This feature is only evident from a close distance—a perspective made possible by the layout of the stairs and balconies of Pei's architecture. While most of the visual activity occurs within these gaps in the structure, the immense expanse is also broken up by slight variations in the hues of the aluminum panels, which form Tetris-like blocks within the mural. 
Kenneth Noland (1924–2010) was born in Asheville, North Carolina. After a stint with the United States Air Force, he attended Black Mountain College, where he learned Bauhaus theories of art and design from Ilya Bolotowsky, Josef Albers, and Ossip Zadkine. He continued to study sculpture under Zadkine in Paris in the late 1940s. After leaving Europe in 1949, Noland resumed summer courses at Black Mountain College, where he met Helen Frankenthaler, Clement Greenberg, and David Smith. In the early 1950s, after exposure to Frankenthaler's stained canvases, Noland and his close friend Morris Louis began experiments with non-gestural, color-intensive painting as an alternative to Abstract Expressionism. (Greenberg dubbed this "color field painting.") Noland developed a style of pictorial flatness that emphasized the canvas itself and the use of uniform color values. He worked with a number of motifs, such as circles, chevrons, ellipses, diamonds, and flares. He continued to experiment through the 1970s and '80s with horizontal bars of color, gridded forms, and irregularly shaped canvases.
Noland's works are included in many public collections, including the Art Institute of Chicago; Baltimore Museum of Art; Corcoran Gallery of Art, Washington, D.C.; Fogg Art Museum, Cambridge, Massachusetts; Hirshhorn Museum, Washington, D.C.;  Metropolitan Museum of Art, New York; Museum of Fine Arts, Boston; Museum of Modern Art, New York; Tate Gallery, London; Whitney Museum of American Art, New York; and National Gallery of Art, Washington, D.C. In 1977, Noland was elected to the American Academy and Institute of Arts and Letters. He served as Milton Avery Professor of the Arts at Bard College, Annandale on Hudson, New York, and he received the North Carolina Award in Fine Arts and an honorary doctorate of fine arts from Davidson College, North Carolina. He died at his home in Port Clyde, Maine, in 2010. 
Audio
Listen: Patricia Fuller on Kenneth Noland's Here-There