Lower Courtyard, 2010
Richard Fleischner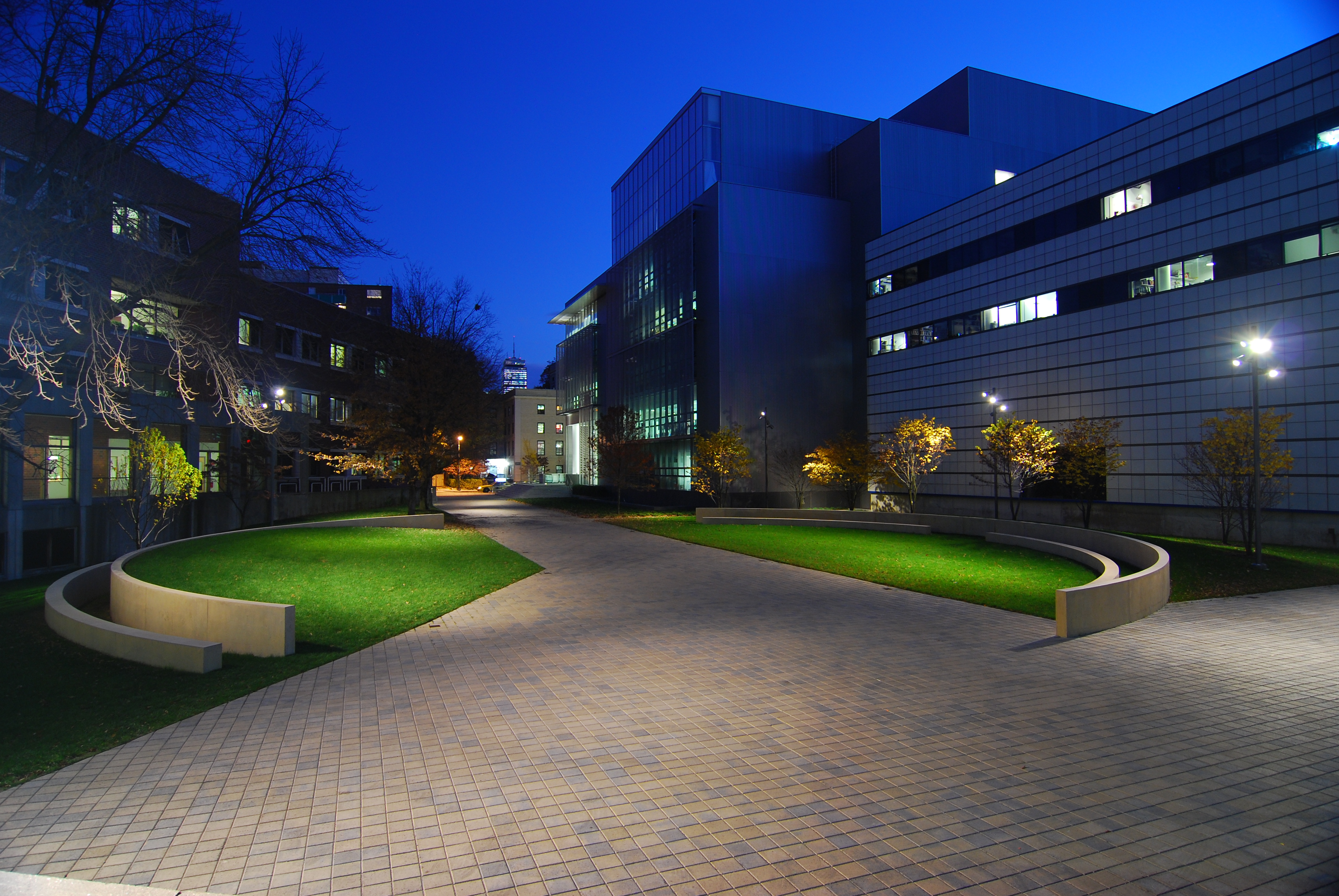 Richard Fleischner's works often bridge art and landscape design, and his early environmental sculptures served as site markers that emphasized geometric relationships between manmade and natural elements while choreographing human activity within a demarcated space.
Fleischner was one of three artists chosen to work with architect I. M. Pei from 1980 to 1985 to develop public art in conjunction with the new Wiesner building. The resulting landscaped courtyard, completed in 1985, encompassed the space bound by Ames and Amherst Streets. Decades later, the expansion of MIT's Media Lab, designed by Fumihiko Maki and completed in 2010, substantially altered the spatial relationships and circulation patterns of the lower plaza bounded by Ames, Amherst, and Carleton Streets. With the addition of E14, Fleischner was asked to conceive a new sculpture in response to the new architectural configuration. He proposed an elegant pair of double arcs, which imply a larger circle, in beige cast concrete. Their heights seem to vary because of the subtly shifting grass planes that surround them, a common element in the artist's prior outdoor projects. The arcs provide seating and serve as an informal gathering space bracketing the main pathway through the plaza. The gaps between the benches, in combination with the angles of the walkway, subtly reorient passersby to the surrounding buildings, which bear a similar emphasis on basic geometric forms.
Richard Fleischner (b. 1944) was born in New York. He received both his BFA and MFA degrees from the Rhode Island School of Design. A sculptor, painter, installation artist, and photographer, Fleischner began working environmentally in the 1970s. His landscapes and large-scale public sculptures emphasize the relationship of man-made forms to the natural world with motifs such as mazes, corridors, boxes, and fields that merge with or provide contrast to environmental features such as trees, hills, sod, and plants. Fleischner's sculptures and environments have been constructed at numerous public and private sites, including Brown University, Harvard University, and Cambridge's Alewife Station. Richard Fleischner lives and works in Providence, Rhode Island.