Health Services Building and Whitaker College, 1982
Mitchell/Giurgola and Gruzen & Partners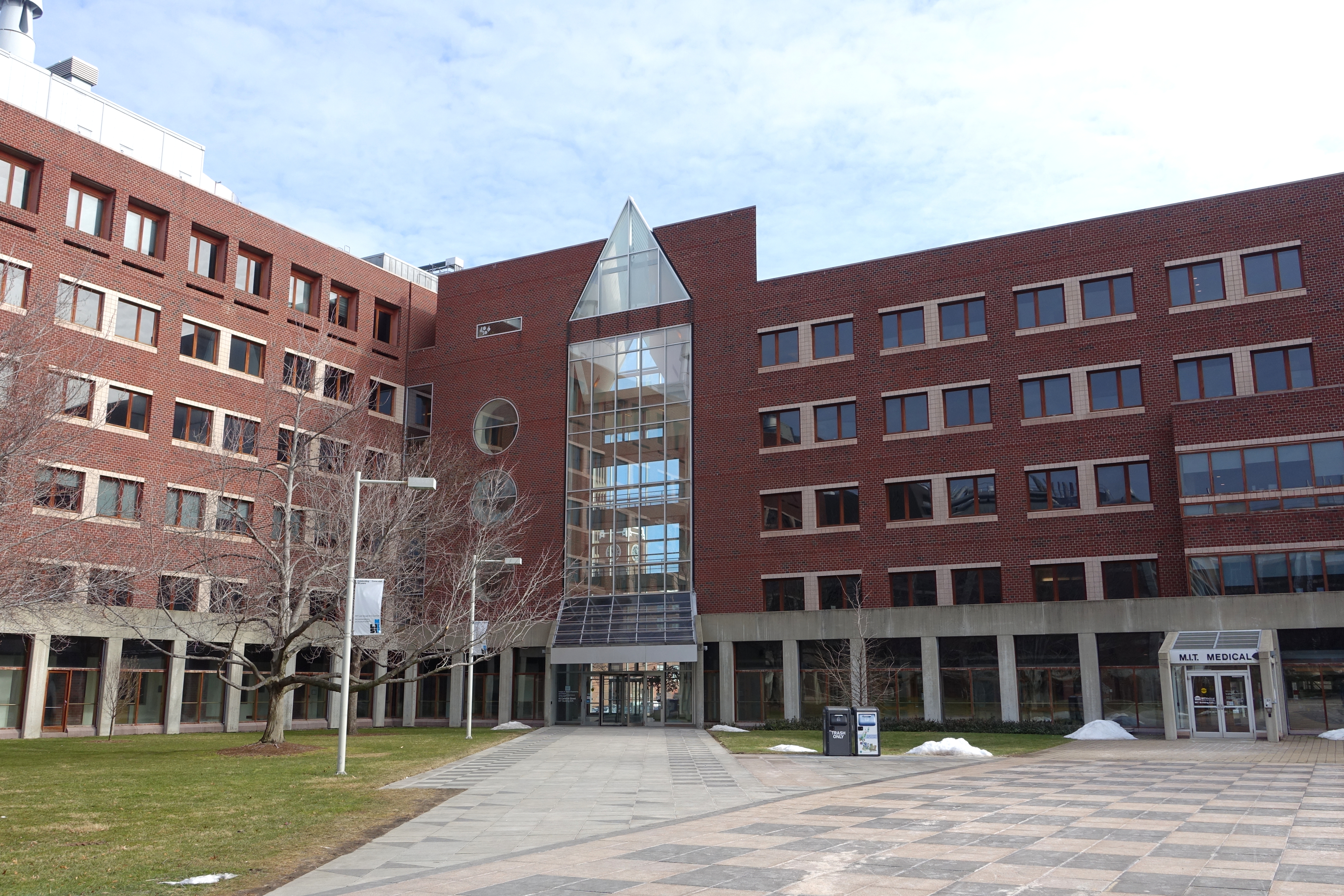 Mitchell/Giurgola and Gruzen and Partners designed the Health Services Building (Building E23) and Whitaker College (Building E25), two buildings joined in a V-like formation that look out onto a courtyard designed by Richard Fleischner.
The juncture point hosts the main entrance of the complex, which also allows for pedestrian access to Carleton Street and Kendall Square on the opposite side of the building.
Three circular windows, which resemble the arrangement of traffic lights, are placed alongside the central glassed entrance, which extends upward into the brick facade. The narrow volume is topped off by a triangular glass prism, whose peak emerges above the flat roof, bringing light into the atrium from above. The assemblage of window forms in this welcome area sets it apart from the rest of the L-shaped complex, where the regular arrangement and shape of the windows gesture to the functional nature of the medical and administrative spaces that extend from the entrance. A glass-walled corridor supported by concrete columns runs across the ground floor, creating a colonnade-like space. The flattening of classical architectural tropes and the playful ornamentation of the mismatched windows speak to Romaldo Giurgola's engagement with the values of postmodern architecture. 
The renowned Philadelphia-based firm Mitchell/Giurgola was founded in 1958 by partners Romaldo Giurgola (1920–2016) and Ehrman B. Mitchell (1924–2005). Italian-born Giurgola, the firm's primary designer, was a deep admirer of fellow architect and Philadelphia School member Louis Kahn, and published a book on the latter's work with Jaimini Mehta in 1975. Other designs by Mitchell/Giurgola include the Wright Brothers National Memorial Visitor Center, North Carolina; the Australian Parliament House, Canberra; United Fund Headquarters Building, Philadelphia; Boston Public Library, South End Branch; and Columbus East High School, Indiana. 
In the 1980s, Gruzen and Partners was led by Jordan L. Gruzen (1934–2015) and longtime partner Peter Samton, who met at MIT in 1952 as first-year students in the School of Architecture and Planning (then led by Pietro Belluschi and Lawrence B. Anderson). Originally, the firm was founded by Gruzen's father, Barnett Sumner Gruzen (1903–1974), who partnered with Hugh A. Kelly (1888–1966) to open Kelly and Gruzen in New Jersey in 1936. They became Gruzen and Partners in 1967, at which point they had offices in offices in San Francisco, Newark, Washington, DC, and New York City. Prominent landmarks designed by the firm in the 1970s and eighties include Chatham Towers, Chatham Green, One Police Plaza, Metropolitan Correction Center, and Arthur A. Schomburg Plaza and Towers, all in Manhattan. The firm's later names include Gruzen Samton Steinglass, Gruzen Samton, and the current IBI Group-Gruzen Samton.