William Kentridge: WEIGHING… and WANTING
-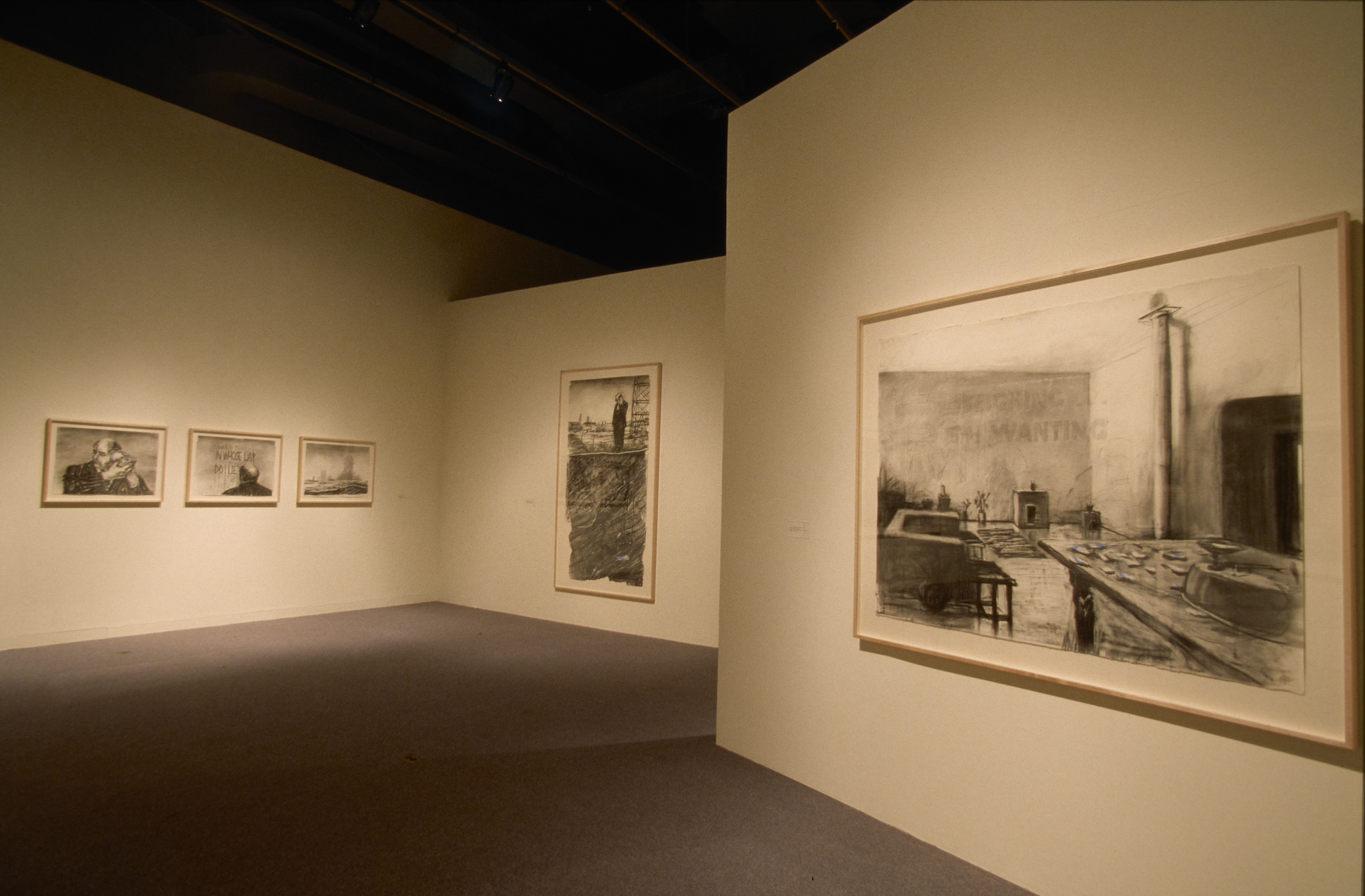 Explore all artists who have exhibited at the List in our
Artist Index
.
William Kentridge: WEIGHING…and WANTING is an installation of charcoal, pastel and gouache drawings and a film transferred to laser disk which is based on the drawings.
Kentridge's homeland, South Africa, figures largely in his artwork, which allegorically renders the charged relationship between oppressor and the oppressed in reference to South Africa's apartheid era, which lasted from 1948 to 1994. Kentridge has said of his work, "I have never tried to make illustrations of apartheid, but the drawings and films are certainly spawned by and feed off the brutalized society left in its wake. I am interested in a political art, that is to say an art of ambiguity, contradiction, uncompleted gestures, and certain endings; an art (and a politics) in which optimism is kept in check and nihilism at bay."
The drawings and the film that comprise WEIGHING … and WANTING, all dated 1997, center around Kentridge's character Soho Eckstein, a broad-shouldered, white South African industrialist whose self-assured place in the world has been dismantled by the ascendancy of the African National Congress and condemnation of apartheid. Eckstein's story is related through his personal meditations on a failed love affair, the Johannesburg landscape which stands as a silent witness to the atrocities of the apartheid era, and his own internal psychic landscape, represented by images of MRI brain scans. The title of the exhibition refers to a biblical episode in which a disembodied hand appears before King Belshazzar of Babylon and writes a message on the wall. It reads, "You have been weighed in the balance and found wanting, for you have not humbled your heart before God, so your kingdom has come to an end."
The film in the exhibition, shown via a laser disc projection on the gallery wall and flanked by two drawings, is actually an animation of the drawings, made by the artist erasing and making additions to the drawings and filming the transformations throughout the process. The result is a jumpy, crude animation of the roughly rendered figures and elements of the drawings.
About the Artist
William Kentridge was born in 1955 in Johannesburg, South Africa where he still resides. His work has been seen recently at the Drawing Center, New York; Palais des Beaux-Arts, Brussels; Documenta X, Kassel; SITE Santa Fe, New Mexico; and the 1995 and 1997 Johannesburg Biennials at the Africus Institute of Contemporary Art, Newtown, Johannesburg.
WEIGHING…and WANTING was organized by the San Diego Museum of Contemporary Art.