Virtuoso Illusion: Cross Dressing and the New Media Avant-Garde
-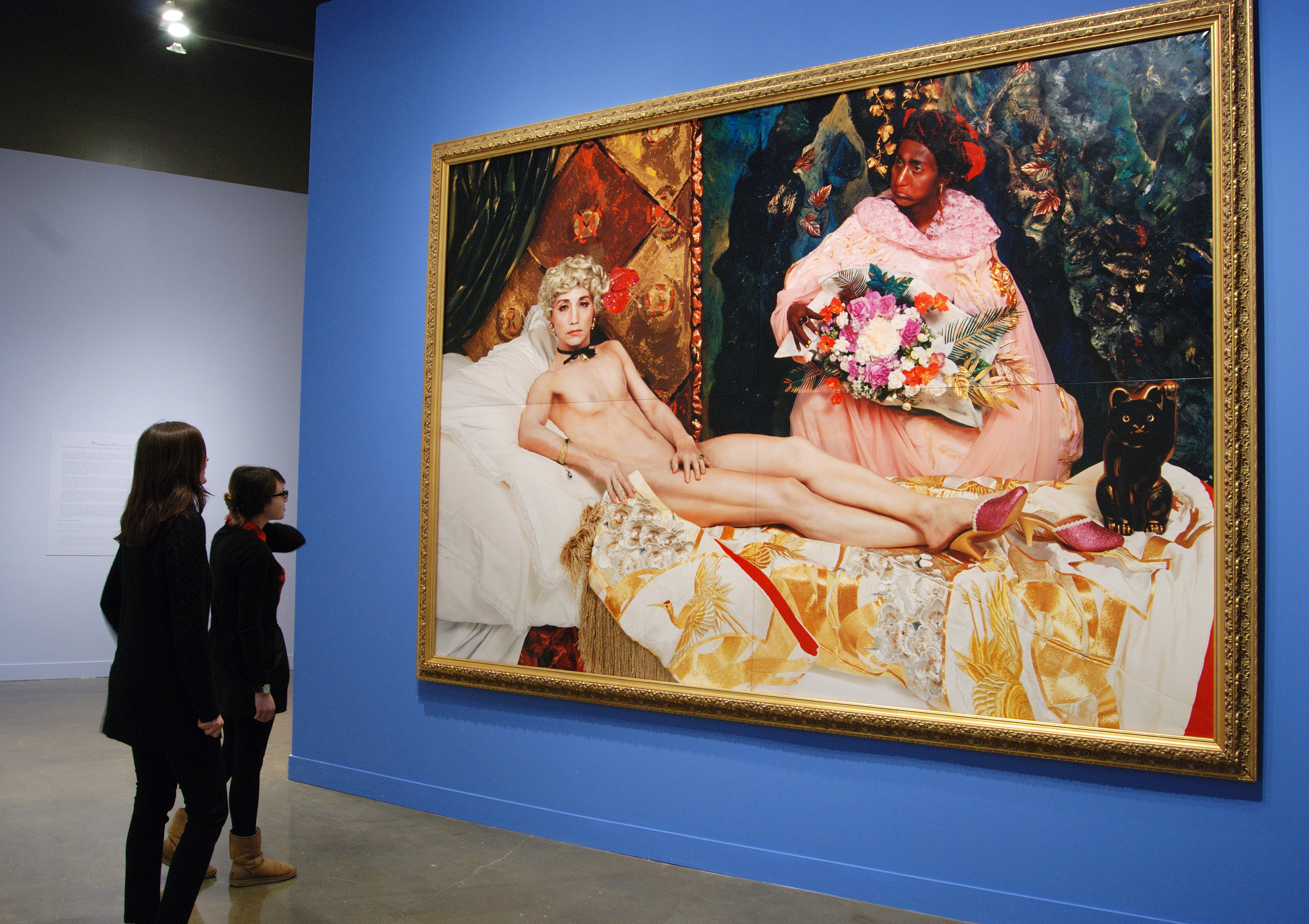 Explore all artists who have exhibited at the List in our
Artist Index
.
Virtuoso Illusion: Cross Dressing and the New Media Avant-Garde explores what has traditionally been called gender crossing or cross-dressing (drag) as a tactic for media artists that has been central to the development of the current avant-garde.
The show explores how experimental art has been invigorated and advanced by artists who cross dress for many different reasons as part of their conceptual process. It is not intended as an exploration of identity issues specifically, but more as an in depth look at current and historical strategies of cross dressing as an art of the irrational, the unexpected. This exhibition is organized by guest curator Michael Rush, former director of the Rose Art Museum at Brandeis University.
For several artists working today, cross dressing is not even an apt term. For video artist Ryan Trecartin, for example, gender appearances are just that, appearances. In his dizzyingly fast-paced videos, sexual leaps are one part of a multitasking language system that communicates multiple perspectives on his characters' lives. For performance artist John Kelly, drag (a term he does use) is a theatrical tool applied to a character, like any other tool he might use in a non-drag performance. In Michelle Handelman's work, lesbians, drag queens, women playing men playing women create a post-gender scenario not so different from many second-life experiments on the web.
Cross dressing has a storied history in the development of post Dada art. For Marcel Duchamp and Man Ray, the transgressive act of dressing as a woman was a strategy intended to both shock the bourgeoisie as well as to inflate the sexually intense agendas of the Surrealists whose mostly male cohort felt some threat from an emerging feminism in 1920's Paris. Less attended to until recently were the artfully ambiguous photos of Claude Cahun whose multiply-gendered self portraits were surely as subversive as anything concocted by Duchamp and Ray. In mid century, Pierre Molinier advanced the wildly varied sexual identities of the Surrealists with his photomontages and self-portraits.
As sexual representations became increasingly liberated in the 1960's with artists like Jack Smith, Kenneth Anger, Andy Warhol and a host of others, cross dressing became a hallmark of both gay liberation and the subversive intentions of the avant-garde. In each major historical advancement of experimental art, cross dressing has been present as a strategy that has expanded the possibilities of the perception-bending intentions of artists (as opposed to merely gender-bending).
In the same way that Bruce Nauman's Spinning Spheres, 1970, Peter Campus's aen, 1977, or Michael Snow's Wavelength, 1977, upended viewers' visual perceptions and re-defined relationships between the moving image and the body, so, too, do videos such as Ryan Trecartin's K-Corea INC. K (Section A), 2009, Kalup Linzy's Conversations Wit de Churen III: Da Young & Da Mess, 2005, and Katarzyna Kozyra's Summertale, 2008, subvert viewers' expectations of narrative through the wonder and estrangement of the creators' use of cross dressing. In their virtuosic performances (and, in Trecartin's case, digital manipulations), these artists train the eye anew, exposing viewers to radical information that can shock, exhilarate, and transform.
Sponsors

Support for Virtuoso Illusion: Cross-Dressing and the New Media Avant-Garde has been provided by the Council for the Arts at MIT, the Massachusetts Cultural Council, and Martin E. Zimmerman. Media sponsor: Phoenix Media/Communications Group