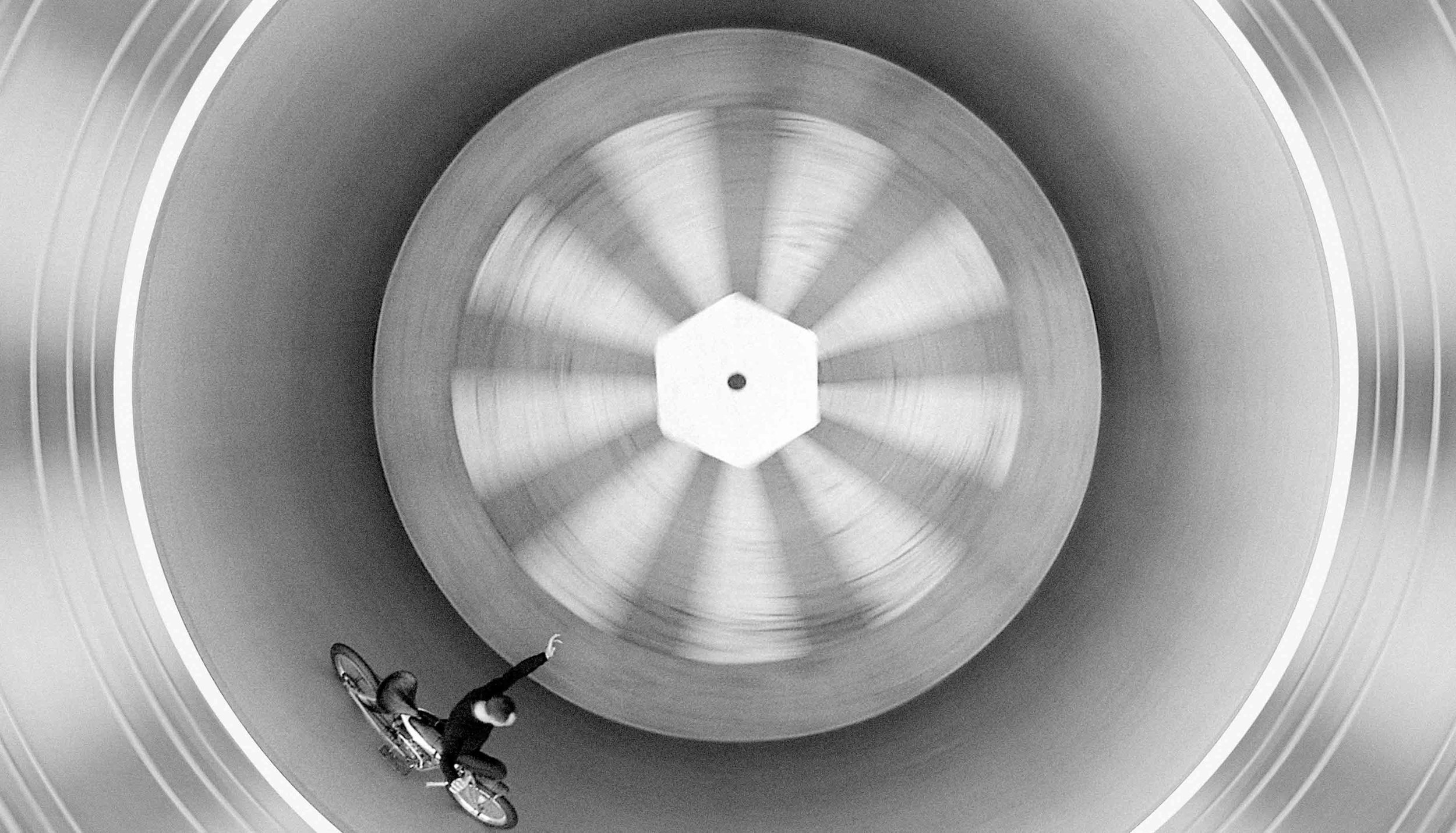 Explore all artists who have exhibited at the List in our
Artist Index
.
Videos by: Spencer Baker, Marco Brambilla, Rico Gatson, Jeroen Kooijmans, Ursula Scherrer & Michael J. Schumacher, Hiroshi Ono, Hussein Chalayan & Marcus Tomlinson, Koki Tanaka, Magnus Wallin, and Bruce Yonemoto
Spinning examines the use of spinning movements and circular/spherical figures in contemporary video which inquires the symbolism behind them and the fascination by many artists and scholars, with the spinning sphere as the animating form of the universe with the greatest degree of completeness and uniformity. The program presents ten short videos, and the artists include Spencer Baker, Marco Brambilla, Rico Gatson, Jeroen Kooijmans, Ursula Scherrer & Michael J. Schumacher, Hiroshi Ono, Hussein Chalayan & Marcus Tomlinson, Koki Tanaka, Magnus Wallin, and Bruce Yonemoto.
Wall of Death
Marco Brambilla's Wall of Death (2001) centers on a carnival act – a motorcyclist spinning around the inside wall of a big revolving cylinder, which is held upright by centrifugal force.  Taking the form of a black-and-white early abstract film, this video spotlights the biker, the spectators, and the drum, sharing with viewers the spectacle, fear, and excitement associated with this extremely dangerous stunt.
Murmeln
Visual artist Ursula Scherrer and composer Michael J. Schumacher collaborate for Murmeln (2001), a sound/video piece which was created by videotaping glass marbles spinning on a turntable from above.  Coupled with the music – a mix of percussion sounds as well as spoken text, piano, cello and computer generated sounds – this video creates an other-worldly meditative multi-dimensioned space.
360° Asia
In 360° Asia (2002), Hiroshi Ono spins a camera at various street corners in cities like Tokyo and Bangkok, to capture the dynamic flux of urban Asia, which reveals surprising harmony among conflicting elements.
Aeroplane Dress
Fashion designer Hussein Chalayan and photographer Marcus Tomlinson collaborate for Aeroplane Dress (2001), in which a costumed woman resembles a whirling rocket as she spins like a dervish.
Pilot
Jeroen Kooijmans started video-taping the Boeing airplanes descending to the Amsterdam airport at the request of his neighbor, who is a KLM pilot. We can see from his whimsical Pilot (1998) how much more fun flying would be if airplanes themselves could "take a spin."
Limbo
Magnus Wallin's Limbo (1999) starts with a spinning-prop helicopter, carrying three wounded survivors from his early video Physical Paradise.  Commenting upon the representation of the physically challenged in the today's society, in this video the artist visualizes a journey of purification from Earth's ugliness and imperfection towards Heaven's beauty and perfection.
After Mapplethorpe
Bruce Yonemoto, in After Mapplethorpe (1999), loops a cycle of life, death and rebirth, with a reference to Robert Mapplethorpe's lily photographs as elegiac memorials to the AIDS crisis of the 1980's.  This video loop spins upon Roland Barthes' idea of life as a series of single-frame photographs masking "the memory of death."
 Fly Me to the Moon
Koki Tanaka made Fly Me to the Moon (2001) with a single roll of toilet paper.  It twirls with a touch of wind-blown elegance, like foot-steps of ball-room dancers.
Dance
In Dance with Astaire and Rogers (2001) Spencer Baker juxtaposes Fred Astaire and Ginger Rogers against an image of the artist's own body, to convey his Proustean nostalgia for his own seminal time in New York City.
Celebration
In Celebration (2001), Rico Gatson uses two black exploitation films, The Mark and Super Fly, as raw material for a rapidly moving collage of 1970's urban black life.  [In this video, he isolates a quarter of the film's frame, multiplying it by four, and rotating the images so they merge at the center of the screen, resulting in a kaleidoscopic effect.]  Disco sequences from these movies are all set against a looped guitar groove from the Super Fly soundtrack. The shattered and mirrored forms of the club dancers seem to float in space, in circular movements perfectly synchronized to the repeating rhythms.