Photographs from the Arlette and Gus Kayafas Collection
-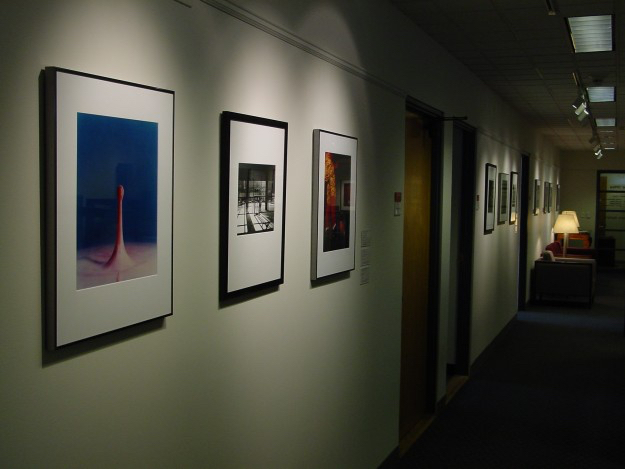 Explore all artists who have exhibited at the List in our
Artist Index
.
This collection of photographs comes to The MIT List Visual Arts Center as a gift from Arlette and Gus Kayafas, MIT class of 1969. Mr. Kayafas is the photographic editor for the Estate of Harold Edgerton, and was the editor for Edgerton's book Stopping Time. 
Dr. Harold "Doc" Edgerton, the beloved MIT alum and professor of electrical engineering, is represented through several memorable and iconic images. Dyedrop Into Milk (1960), Making Applesauce at MIT (1964), and Football Kick (1934), which features three-time All-American football player Wes Fesler, Harvard University's basketball coach (1933-4). Edgerton developed the stroboscope and multi-flash photography to precisely capture rapid motion on static film, techniques that were later utilized by National Geographic, MGM Studios, and the Atomic Energy Commission. Many of his devices are on display in Strobe Alley, now a part of the Edgerton Center, located on the fourth floor of Building 4 on the MIT campus.
Also on view in The Dean's Gallery are works by renowned architectural photographer Ezra Stoller, known for his images of modernist buildings by architects such as Gordon Bunshaft, MIT class of '33 (Manufacturer's Trust Co., 1954); Ludwig Mies van der Rohe and Philip Johnson (Seagram's Interior, 1958); and Eero Saarinen (TWA Terminal Interior, 1962).
Also on view are works by American photographer Rosalind Solomon, whose warm, humanistic photographs have been nationally and internationally exhibited (Mother and Daughter, Brighton Beach, New York, 1985), and works by Herb Snitzer (Nina Simone, 1955), a portraitist and photojournalist whose work within the jazz community spans some forty-five years.
About Arlette and Gus Kayafas
Mr. Kayafas is President of Palm Press, one of the leading ateliers for photographic printing in the United States, established in 1980 and located in Concord, Massachusetts. Ms. Kayafas manages Gallery Kayafas, which features contemporary and modern photography and is located in Boston's South End. After their presentation in The Dean's Gallery, these photographs will be admitted to MIT's Student Loan Art Program.

All images are protected by copyright law and thus cannot be reproduced or altered without the expressed, written permission of the artists.