List Projects: Pauline Curnier Jardin
-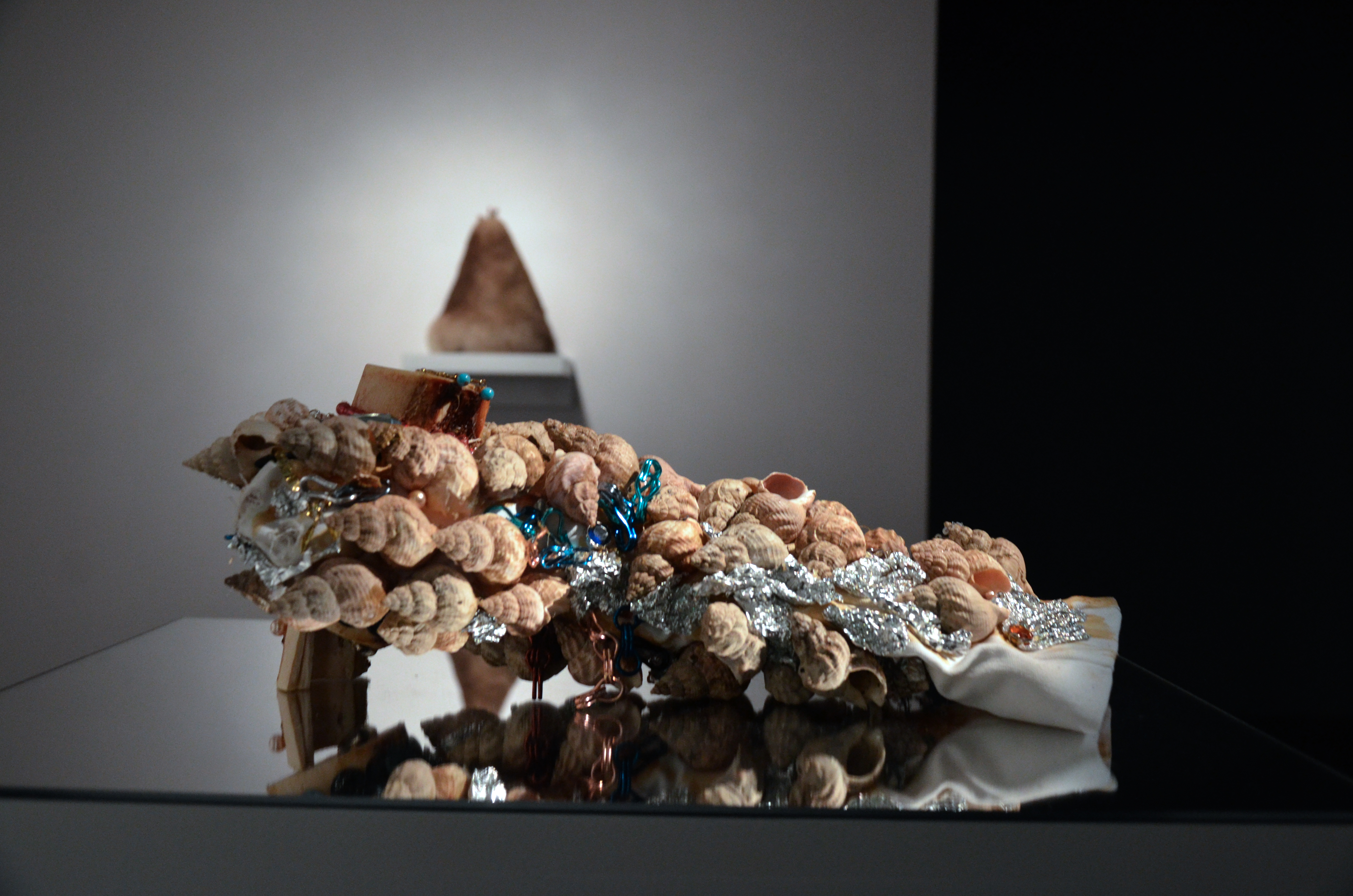 Explore all artists who have exhibited at the List in our
Artist Index
.
Working in drawing, performance, music, installation, and film, Pauline Curnier Jardin (b. 1980, Pertuis, France) crafts fictional adventures full of chance occurrences and wonders that nonetheless carry with them the potential for mishap or misfortune.
Through lighting, color, texture, costume, soundtrack, and props, she creates transgressive, funny, and highly stylized visual settings that owe more to theater than to conventional narrative cinema. Curnier Jardin's stories reveal a fascination with monsters, decorative objects, and animals, although her work expresses a particular awareness of the roles women have played in mythology, folklore, and conventional narrative cinema, roles that are commonly stereotyped as saint, witch, mother, or mystic.
Curnier Jardin supports a generous, intelligent, non-systematic vision of continuity between human and nonhuman bodies—humans consume dirt, cave walls dance, a pear is covered with hair.  While humans take on animal qualities, things take on human traits, such as love and longing. Usually associated with femininity and passivity, she looks to passion—traditionally opposed to "masculine" reason—as primary to sensations, perceptions, and the subject's—or object's—potential for action. More broadly, her work confounds the logic that divides human and nonhuman, rationality and emotion, sacred and profane, ally and enemy, masculine and feminine, showing instead how each is capable of interacting and combining.
By blending the sound and meaning of distinct words and mixing disparate ideas, characters, and environments, her work serves as a receptacle for new kinds of speech, new ways of using language, and new kinds of meaning. Her expansive "portmanteau" approach opens up possibilities for an alternative realm in which speaking is a fundamental fact about rocks and plants, animals and things, and where otherwise marginalized human voices, ethnicities, and desires have, in the words of filmmaker Ulrike Ottinger, "alternatives, possibilities, and the freedom to do wonderful things."

List Projects: Pauline Curnier Jardin features three of Curnier Jardin's most recent films as well as objects related to the films' development and realization. In Grotta Profunda (2011, 30 min.), Bernadette—a visionary inspired by the eponymous saint—sees and hears a siren-like religious apparition, an experience that causes her to search for the truth about the origins of humanity deep inside a nearby cave. Here Bernadette encounters, among other characters, a "monkey-mermaid" as the possible evolutionary origin of the human species, the Venus of Willendorf, and death personified as a crab-woman.  Drawing on woman's films of the 1930s and 1940s and the artist's own experiences, Le Salon d'Alone (2008-2010, 34 min.) is an "objects optic opera" that investigates a woman's increasing loneliness and desperation as the only human left on earth, in which eight hybrid objects—including a "log-flute" and a "hair-pear"—begin to narrate their own stories through song. Coeurs de Silex (Hearts of Flint, 2012, 39 min.) builds off the traumatic history of a small Parisian suburb, Noisy-le-Sec, bombed by the Allies in 1944. The film—set in a "non-time," both post- and pre-apocalyptic—takes place over the course of four days in 2012 during which an ally, occupant, witch, mystic, trainer, and child, all wearing the uniform of the track suit, improvise roles related to the physical and emotional consequences of war.
About the Artist
Pauline Curnier Jardin was born in 1980 in Pertuis, France and grew up in Marseilles. She graduated in 2006 from both the École nationale supérieure d'arts de Cergy-Pontoise in Paris and the École nationale des arts décoratifs, with a specialization in cinema and video. Along with those degrees, she was awarded a scholarship from the Pépinière européens des jeunes artistes to undertake a residency in Finland where she lived from 2007 to 2008 while finishing her dissertation on representations of Joan of Arc in film. Curnier Jardin received a scholarship from Goldrausch Künstlerinnenprojekt, Berlin, in 2010 and her MA in plastic arts from the University of Linköping, Sweden in 2011. She has exhibited internationally including a recent solo exhibition at PSM in Berlin, as well as at the Museum of Modern Art, Paris; Palais de Tokyo; ZKM, Karlsruhe; and Centre Georges Pompidou. She is based in Paris and Berlin.
List Projects: Pauline Curnier Jardin is curated by List Assistant Curator Alise Upitis.
Sponsors

Support for this exhibition has been generously provided by the Council for the Arts at MIT, the Office of the the Associate Provost at MIT, the Massachusetts Cultural Council, TOKY, the MIT List Visual Arts Center Advisory Committee, and the Friends of the List.