Lilla LoCurto and Bill Outcault: selfportrait.map
-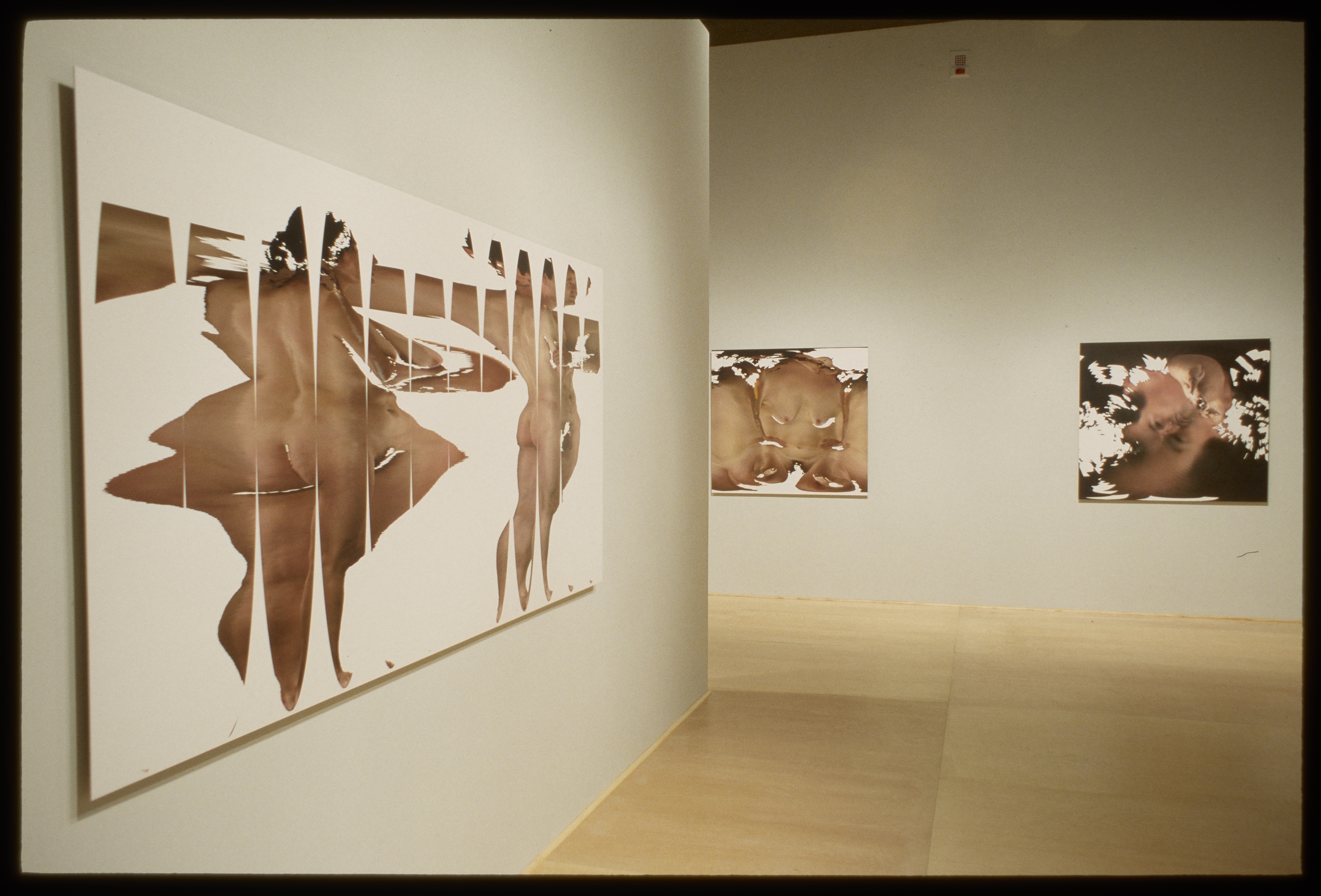 Explore all artists who have exhibited at the List in our
Artist Index
.
selfportrait.map is an exhibition of large-scale, digital photographs by Brooklyn-based collaborators Lilla LoCurto and Bill Outcault.
Their goal is to prompt a reconsideration of the idea of imaging a three-dimensional form — specifically, the human body — into two-dimensions while retaining the image's accuracy. They accomplish this not by attempting to replicate an illusion of three dimensional space or form — but by unfolding and flattening it.
Working with a state-of-the-art, full-body scanner that uses lasers to collect thousands of surface points from the body, LoCurto and Outcault processed this digital data through cartography software written specially for their project. Such imaging, known as projection, is used to create topographical maps. One familiar example and projection model the artists employed was theMercator projection, devised in 1569 by Gerardus Mercator, the Renaissance chorographer who derived the mathematical formula which allowed navigators to plot a true, straight-line course, although it produces scale distortions in a flat world map.
By mapping their own bodies instead of land masses via a variety of projection models, LoCurto and Outcault reference numerous art historical and scientific modes of representation, issues of veracity, and the transformations technology has wrought on our lives.
selfportrait.map includes a computer station where gallery visitors may experiment with the mapping software employed by the artists.
About the Artists
Lilla LoCurto and Bill Outcault met in the mid-1970s while working on their MFA degrees at Southern Illinois University. Although they collaborated on a project in 1979 while teaching at Indiana State University, Evansville, and both moved to Los Angeles in 1980, they worked independently until 1991, when they produced Self Portrait, which was included in the MIT List Visual Arts Center 1992 exhibition, Corporal Politics. They have subsequently collaborated on numerous exhibitions, commissions and residencies with such institutions as The Orange County Museum of Art, CA; Kohler Art Center, Madison, WI; The Carpenter Center, Harvard University and the Fundació Joan Miró, Barcelona
A full-color catalogue containing essays by exhibition curator Helaine Posner, and David Gelernter, a professor of computer science at Yale University, who is also a writer and artist, is available. Published by the Lyman Allyn Art Museum at Connecticut College and University of Washington Press. 
The artists would like to recognize the following individuals:
Charles Shepard, Director, Lyman Allyn Art Museum at Connecticut College
Pamela Auchincloss
Brian D. Corner Ph.D., research anthropologist, U.S. Army Natick Soldier Systems Command
Daan Strebe, computer scientist
Dr. Helaman Ferguson, mathematician and sculptor
Muse[x] Editions, Los Angeles
Dr. Samuel Ferguson, mathematician
The exhibition was organized by Helaine Posner, an independent curator in New York and former curator at List Visual Arts Center, and Katy Kline, director, Bowdoin College Museum of Art, Brunswick, ME, and former director of the List Visual Arts Center. Support provided by MIT's Council on the Arts.