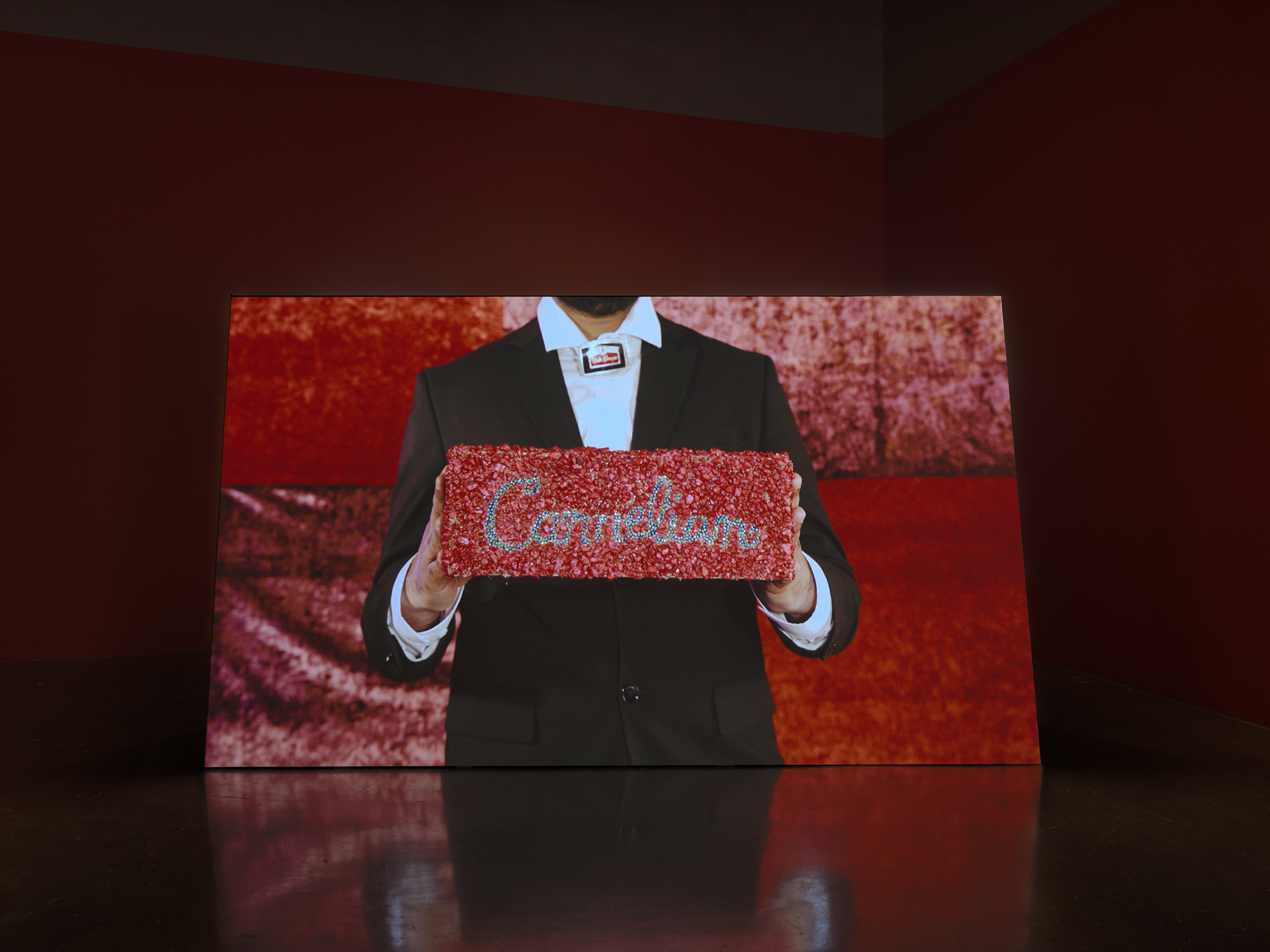 Explore all artists who have exhibited at the List in our
Artist Index
.
Spanning video, sculpture, drawing, writing, performance, and the podcast 1-800-POWERS, Lex Brown's incisive artworks confront pressing social conditions of our time—from gentrification and greenwashing to police violence—through an irreverent, sometimes jarring use of humor.
Steeped in satire and slapstick, Brown's works borrow the visual tropes and intonations of pop culture, social media, and corporate branding.
Often, the artist mimics and lampoons this source material to illuminate the absurdities, contradictions, and exploitative designs of late capitalism and its social constructs. Her recent videos, Communication (2021) and The Glass Eye (2023), for instance, both center on a fictional media conglomerate named Omnesia. Communication features caricatures of tech executives (all played by Brown) who receive advice from an AI named Sylvie on how to expand Omnesia's real estate holdings. In both works, the artist parodies and takes to task the "cosmicmanifest destiny" bids of futurist technologists like Elon Musk, Jeff Bezos, and Richard Branson, who seek to colonize and privatize outer space while advancing automation, AI, and big data on this planet.
Through her works, the artist also savvily observes how our relationships to various kinds of technology and media—both as consumers and, increasingly, "users" and content producers—contour our lived experience. In past installations, for example, Brown has utilized motion sensors to cue videos and illuminate drawings in response to a spectator's path through the exhibition (Animal Static [2019]); viewers have accessed sound installations by telephone (Call Waiting [2021]); and the artist's poetry has scrolled on the monitors of closed-circuit televisions (A Footnote or Red Herring [2021]).
At the List Center, Brown debuts a multichannel video installation titled Carnelian (2023) and a group of significant new paintings. The centerpiece of this new body of work, Carnelian, looks with humor and pathos at impending global disaster and the varying psychological effects that an overwhelming amount of digital content, data, and even news media can yield. Taking the form of a musical—with songs co-composed by the artist and Samuel Beebe and script authored by Brown—the work offers a complex take on contemporary conditions marked by polarizing rhetoric and reporting, endless media content, and the looming threat of human extinction.
Lex Brown: Carnelian is organized by Selby Nimrod, Assistant Curator.  
Lex Brown (b. 1989, Oakland, CA; lives in Philadelphia) has performed and exhibited work at the New Museum, the High Line, the International Center of Photography, Recess, and The Kitchen (all New York); REDCAT Theater and The Hammer Museum (Los Angles); The Baltimore Museum of Art; and at the Munch Museum (Oslo, Norway). She received her undergraduate degree from Princeton University and an MFA from Yale. Brown is the author of My Wet Hot Drone Summer (Badlands Unlimited, 2017), and the host of the podcast 1-800-POWERS. Brown has taught at Princeton University and at Harvard University as a College Fellow in Theater Dance & Media and Art, Film & Visual Studies, and has lectured widely.
Sponsors

Exhibitions at the List Center are made possible with the support of Fotene & Tom Coté, Audrey & James Foster, Idee German Schoenheimer, Joyce Linde, Cynthia & John Reed, and Sara-Ann & Robert Sanders. This exhibition is also supported by generous donors to the 2020 McDermott Award Gala, hosted by the Council for the Arts at MIT. Additional support for Lex Brown: Carnelian is provided by Deli Gallery, New York and the Harpo Foundation. 

General operating support is provided by the Massachusetts Institute of Technology; the Council for the Arts at MIT; Philip S. Khoury, Associate Provost at MIT; the MIT School of Architecture + Planning; the Mass Cultural Council; and many generous individual donors. In-kind media sponsorship provided by 90.9 WBUR. The Advisory Committee Members of the List Visual Arts Center are gratefully acknowledged.