Landscape: Outside the Frame
-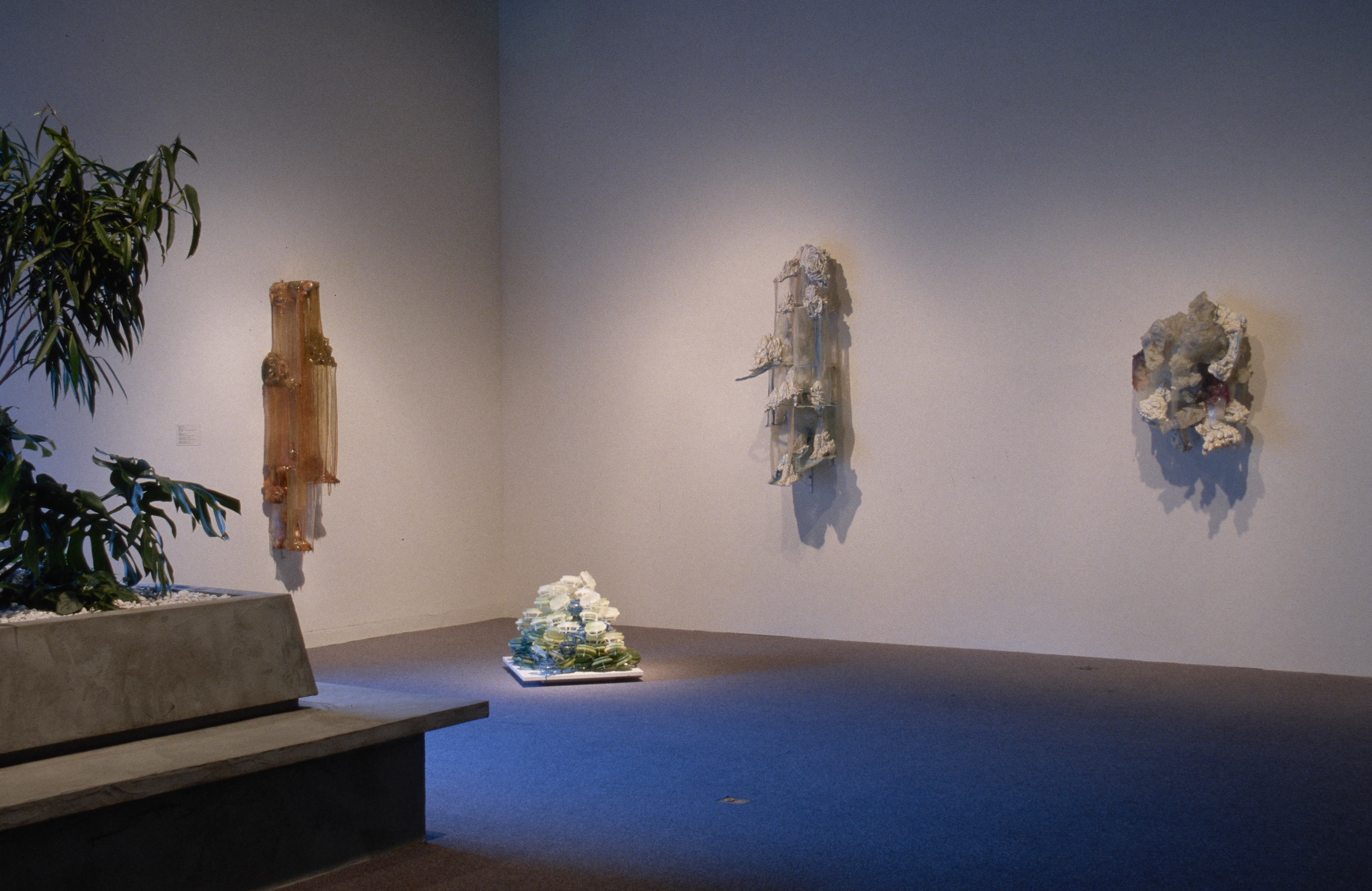 Explore all artists who have exhibited at the List in our
Artist Index
.
Landscape: Outside the Frame presents contemporary artworks that give emphasis to an examination of our relationship and connection with the landscape we inhabit, rather than to pictorial issues.
Each artwork explores a dynamical relationship to various conceptions of landscape, within which humankind is embedded rather than positioned as an outside observer. To this end, the exhibition will focus on work that actively engages the visitor on intellectual and experiential levels, and occasionally with wry humor or playfulness.
Jessica Bronson is a los Angeles-based artist who creates video installations that immerse the audience in landscapes of shifting sensory phenomena, all the while challenging them to analyze their dis/orientation within these complex experiential environments.
Ms. Bronson's work has appeared in solo exhibitions at the Museum of Contemporary Art, Los Angeles, and at the Institute of Visual Arts, University of Wisconsin at Milwaukee. She earned an MFA degree from the Art Center College of Design in Pasadena, CA, a BS degree from the University of New Mexico at Albuquerque, and she engaged in Biomedical Engineering Studies at Louisiana Tech University, Ruston, LA.
The Center for Land Use Interpretation (CLUI) is a collaborative artist-run group based in Culver City, California, concerned about land and landscape issues. Their goal, accomplished via research and multimedia visual presentations, is to increase and diffuse knowledge about how the world's lands are apportioned, utilized and perceived. For the List Center, the CLUI will create a new Site Extrapolation project, an investigation of land-use issues in and around Boston and Massachusetts, presented in installation form with photographs, texts, and brochures about the sites and the CLUI.
Recent projects by the CLUI include Model of Decay: The Chesapeake Bay Hydraulic Model (1998) and Nuclear Proving Grounds of the World (1998), both publications and exhibitions at the CLUI Gallery, Los Angeles; the Route 58 Guidebook (Los Angeles: CLUI, 1997), and Hinterland: A Voyage into Exurban Southern California, an exhibit and bus tour program presented at Los Angeles Contemporary Exhibitions (LACE) Gallery, Los Angeles, in 1997. Matthew Coolidge is the founder and Director of the Center for Land Use Interpretation (CLUI), a nonprofit art/research organization established in 1994. Prior to the formation of the Center, Mr. Coolidge worked for a conceptual design company, FIASCo, located in California, and as as a videographer and production assistant in the film industry. He holds a BA degree from Boston University in Environmental Science, and Contemporary Art and Film Studies. He was born in Montréal, Quebec.
Olafur Eliasson is an Icelandic artist residing in Berlin, Germany, whose work, starkly employing phenomena such as light and water manipulated with simple industrial materials, deals with perceptual issues. Mr. Eliasson will be creating a new light-based work for the List Center exhibition. His work has been seen recently at the Museum of Modern Art, New York; at the São Paulo Biennial, Brazil; the Louisiana Museum, Denmark; the Kunsthalle Basel, Switzerland; and Bonakdar Jancou Gallery, New York. Born in Hafnarfjordür, Iceland, Mr. Eliasson was educated at the Royal Academy of Arts, Copenhagen, Denmark.
Jacci Den Hartog is a Los Angeles-based artist who sculpts colorful landscapes from synthetic materials such as polyurethane. The work merges the artist's memories of viewing Sung Dynasty Chinese painting with an aura of the pop-culture-saturated environment in which she lives, suggesting the manner in which landscapes have served as repositories for human longings, projections, and metaphors.
Ms. Den Hartog has exhibited her work in solo exhibitions at the San Francisco Art Institute, Christopher Grimes Gallery, Santa Monica; and White Columns, NY. Born in Iowa, she received an MFA degree from Claremont Graduate School, Claremont, CA, and BA degree from Linfield College, McMinnville, OR.
Peter Minchell (1889-1984) is a folk artist who resided in Florida during the final years of his life. His watercolor paintings series entitled Geological Phenomena, Comet X, and Planet Perfection are fantastical and playful renderings of the earth's formation and how humankind has both adapted its surroundings and coexists with them.
His work is included in the Hemphill Folk Art Collection at the National Museum of American Art, Washington, D.C. Mr. Minchell, born Isenberg, led a diverse life, which included for a time, the priesthood, the building trade, and later, art inspired by the lush Florida surroundings in which he spent the final years of his life, his most productive artistically.
Olaf Nicolai is from Berlin and presently resides in New York for the duration of an artist fellowship. His work contests the distinctions we make between interior spaces and exterior ones, and explores nature as an entity we understand through scientific, mathematical, and other technological constructs. Mr. Nicolai will present an installation work entitled Modul.
Mr. Nicolai's work has been seen recently at the Fondation Cartier, Paris; Documenta X, Kassel, Germany; and P.S. 1, New York, as well as Galerie Eigen+Art, Berlin. He was born in Halle/Saale, Germany and holds a Ph.D. in German literature and philology.
Landscape: Outside the Frame is curated by Jennifer Riddell, assistant curator at the MIT List Visual Arts Center. The exhibition will be accompanied by a full-color publication to be issued during the course of the exhibition.