Glenn Ligon: Skin Tight (Artist-in-Residence )
-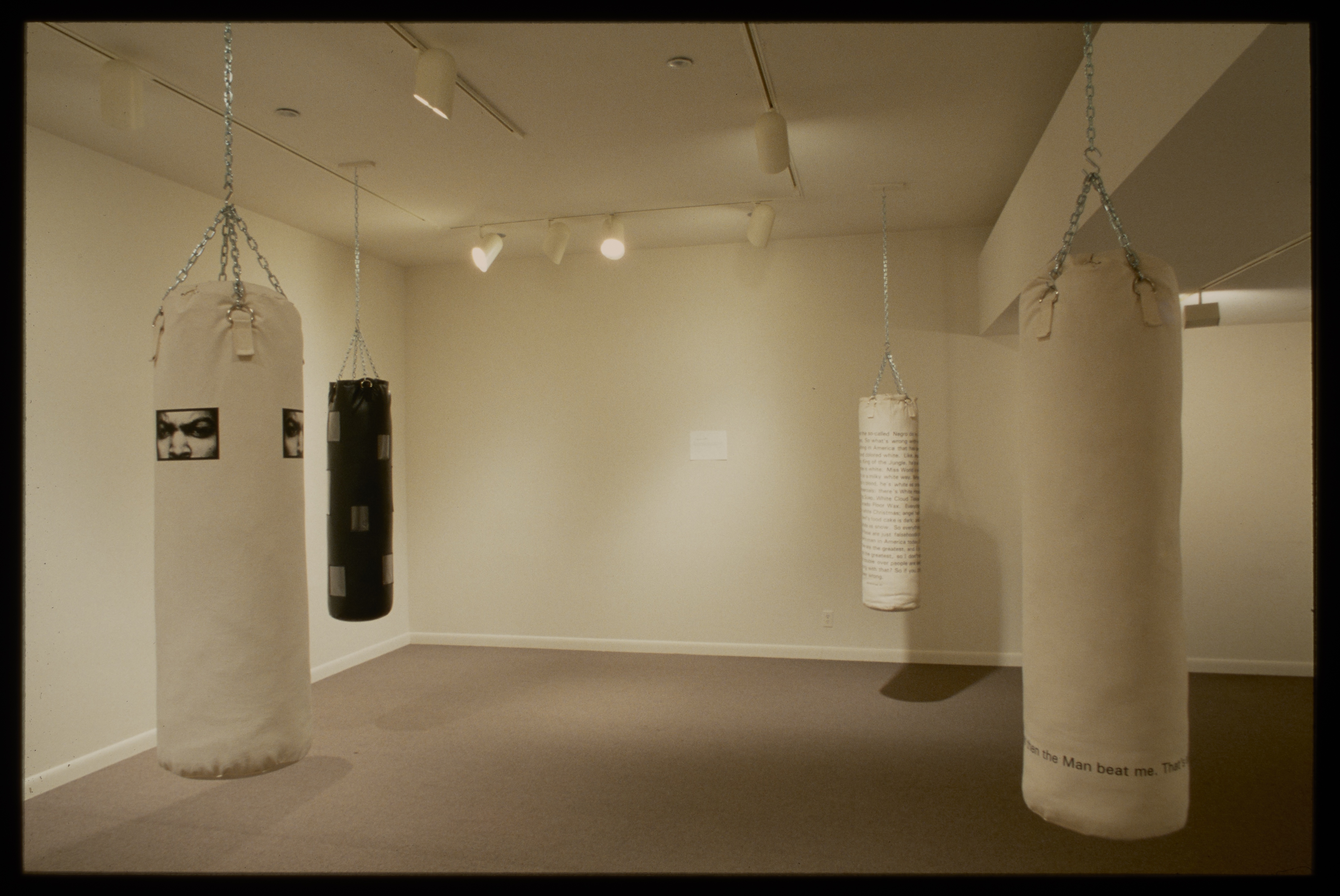 Explore all artists who have exhibited at the List in our
Artist Index
.
Through September, as Artist-in-Residence at MIT, New York-based artist Glenn Ligon created a new series of editioned works on paper focusing on the former heavyweight champion Muhammad Ali and the divergent responses to him as both a boxer and a cultural icon.
The exhibition will also include Ligon's series titled Skin Tight, created in collaboration with The Fabric Workshop in Philadelphia, in which the artist uses the standard form of the punching bag as a substitute for the opponent's body. On the bags, he juxtaposes images and symbols designative of rap singers Tupak Shakur and Ice Cube with texts by Muhammad Ali and Leon Spinks to examine boxing as an arena of conflicted representations of black masculinity. The punching bag becomes the site where the black body is metaphorically worked with and worked over. 
The artist views Muhammad Ali as a highly contradictory figure. He notes a parallel between the punching bags, a neutral form onto which he projects text and images, and Ali, a "slate onto which people project their fears and desires." The diverse interpretations of Ali are conveyed through Ligon's selection of eight quotes by sports figures and writers that appear in the prints. During over thirty years of public life, Ali has been viewed as both hero and villain. George Plimpton proclaims, "there is an aura about him…like a statue of bronzed gold," while boxer Joe Frazier states, "For twenty years I've been fighting Ali, and I still want to take him apart piece by piece and send him back to Jesus." Ligon marvels that while Ali remains his own person, he has simultaneously been so available for meaning. Boxing, Ligon believes, is more than a sport or simple entertainment, it is also a metaphor for larger racial and class issues. 
Glenn Ligon's work has been featured in the 1993 Biennial Exhibition and Black Male: Representations of Masculinity in Contemporary American Art at the Whitney Museum of American Art, New York, inDouble Take: Collective Memory and Current Art at the Hayward Gallery, London, and in Dark O'clockat the Museu de Arte Moderna, São Paulo, Brazil. He also contributed a photographic essay titled "A Feast of Scraps" to Masculine Masquerade, a 1995 co-publication of the List Visual Arts Center and The MIT Press.