Emily Wardill: Game Keepers without Play
-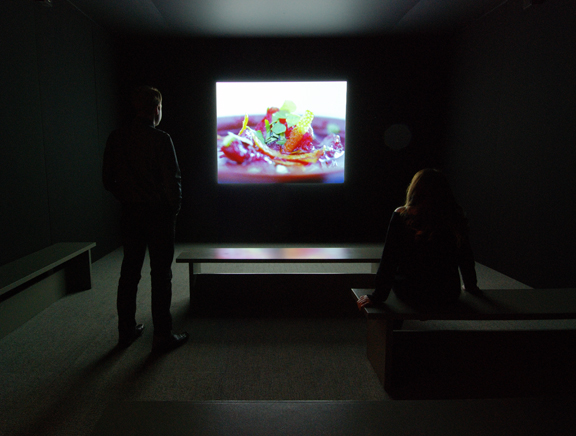 Explore all artists who have exhibited at the List in our
Artist Index
.
The MIT List Visual Arts Center is pleased to present Emily Wardill: Game Keepers Without Game, the first U.S. museum presentation of the work of British artist Emily Wardill.
Wardill (b.1977) combines theatre, allegory, and visual culture to craft poetically complex films. Game Keepers Without Game is the artist's re-imagining of the 17th-century play Life Is a Dream (La Vida es Sueño, 1635) by Pedro Calderón de la Barca. Set in contemporary London, Wardill's meticulously constructed film tells the story of a schizophrenic young girl put up for adoption by her family at age eight. By the time she is a teenager, her father's guilt leads him to devise a plan for her return home. Yet by this time the divide within the family is too great; the girl's psychosis and destructive response to the objects and people around her leads to tragic consequences. Set to a hypnotic drumming soundtrack, which highlights the spatial construction of the film, the narrative unfolds with a refractive precision, juxtaposing inanimate objects with the play of multiple characters. Wardill's short film Ben (2007), is based on a case study of paranoia and Freud's concept of "negative hallucination," where a hypnotized subject becomes convinced they cannot see an object or person that is actually there. Sick Serena and Dregs and Wreck and Wreck (2007) revolves around a stained glass window, its baroque narrative unfolding through the artifice of cinematic melodrama.
Emily Wardill: Game Keepers Without Game is organized by João Ribas, Curator, MIT List Visual Arts Center.
About the Artist
Emily Wardill (b.1977) is a London-based filmmaker. She has exhibited widely in the U.K. and internationally, including an upcoming exhibition at De Appel, Amsterdam, The Netherlands (2010), and past projects at Museum of Contemporary Art, Miami, FL (2009); Spacex, Exeter, U.K. (2009); ICA, London, (2007) and Fortescue Avenue/Jonathan Viner, London, U.K. (2005 and 2006); and STANDARD (OSLO), Oslo, Norway (2008). Her work has been screened at the Art Now Lightbox, Tate Britain, London; the International Short Film Festival, Oberhausen, Germany; Whitechapel Gallery, London; Witte de With, Rotterdam, The Netherlands; and the London Film Festival. In 2008, Wardill was nominated for the Jarman Award and performed Life is a Dream at the Serpentine Gallery, London in 2007.
Sponsors

Support for Emily Wardill: Game Keepers Without Game has been generously provided by David Teiger, the Council for the Arts at MIT, and the Massachusetts Cultural Council.