Edgar Arceneaux: Written in Smoke and Fire
-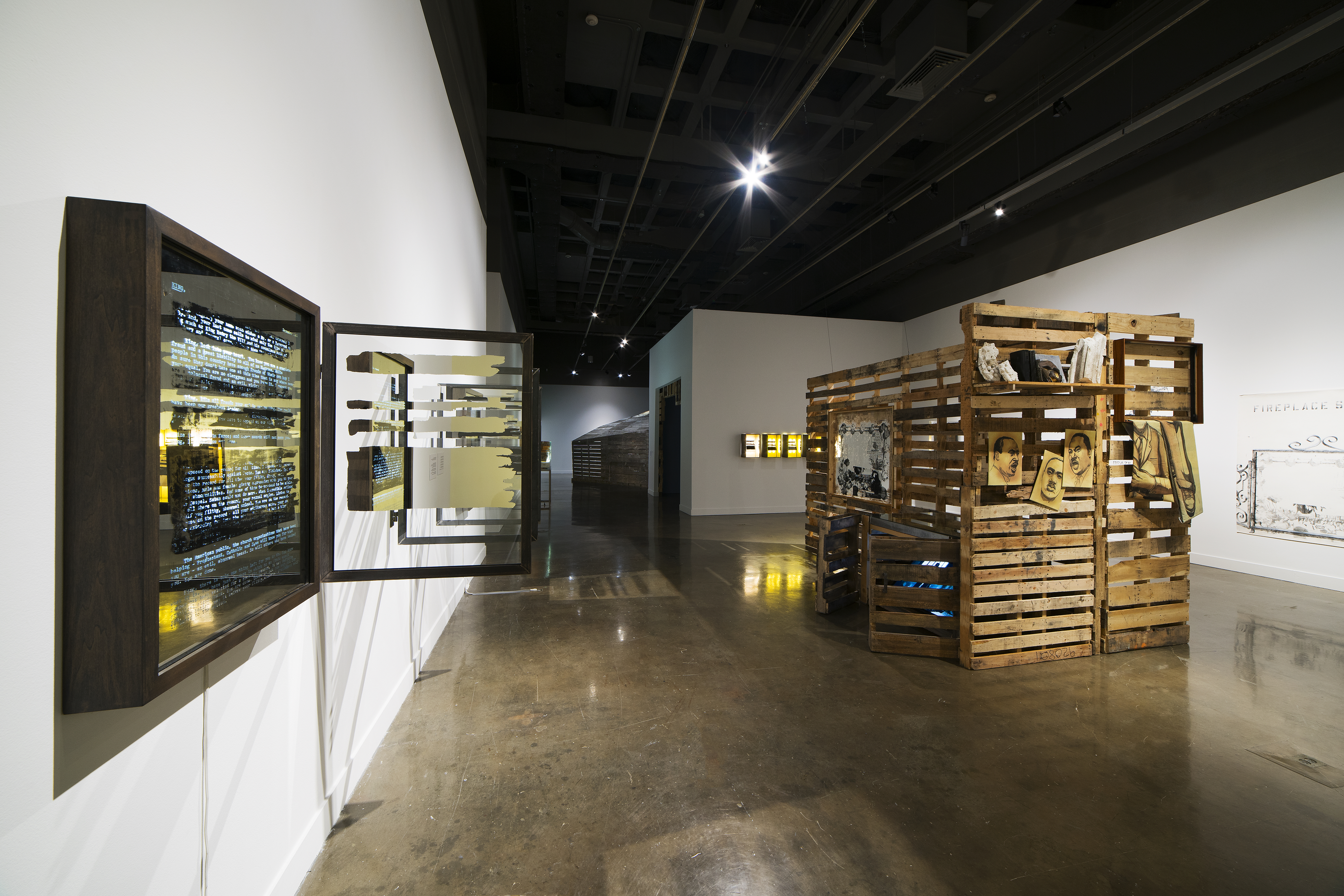 Explore all artists who have exhibited at the List in our
Artist Index
.
Edgar Arceneaux's work in installation, sculpture, drawing, photography, and video, draws inspiration from a wide-ranging set of sources: American history, astronomy, science-fiction, architecture, music, and movies.
His solo exhibition at the List Center presents three major, interlocking projects that reflect on history and remembrance, and consider how specific national, cultural narratives change over time. The body of work titled A Book and a Medal (2014) takes inspiration in part from the life and legacy of Dr. Martin Luther King, Jr. and connects 1960s history with the landscape of contemporary, postindustrial American cities. Arceneaux's recent work The Library of Black Lies (2016) constructs a labyrinthine, Borgesian book repository including various "variations" of books, including volumes by prominent African-American thinkers. The new installation Until, Until, Until (2016), premiering at the List, examines Broadway legend Ben Vereen's controversial performance at the inaugural celebration for Ronald Reagan in 1981, which was televised nationally in a truncated version and derailed his career for decades. Throughout the exhibition, Arceneaux combines sculptural object, historical record, and fictional text in an effort to complicate the construction and transmission of knowledge.
Edgar Arceneaux is featured in the most recent PBS series Art in the Twenty-First Century, Season 8 (2016). View the segment here.
Edgar Arceneaux (b. 1972 in Los Angeles) lives and works in Los Angeles. Arceneaux was the director of the Watts House Project from 1999-2012. Solo exhibitions of his work have been mounted at Kunstverein Ulm, Germany; Susanne Vielmetter Los Angeles Projects; The Studio Museum of Harlem, New York; and the Project, New York, among others. He has been included in group shows at Galerie Thaddaeus Ropac, Paris; Mona Bismarck American Center, Paris; Whitney Museum of American Art, New York; Museum of Contemporary Art, Los Angeles; the Orange County Museum of Art; the San Francisco Museum of Modern Art; Kunstmuseum Basel; and the Museum Ludwig, Cologne, and many more.
Edgar Arceneaux: Written in Smoke and Fire  is curated by Henriette Huldisch, Curator, MIT List Visual Arts Center
Sponsors

Exhibitions at the List Center are made possible with the support of Cynthia & John Reed and Terry & Rick Stone. The accompanying publication is generously supported by the Elizabeth Firestone Graham Foundation; Susanne Vielmetter Los Angeles Projects; and Galerie Nathalie Obadia, Paris/Brussels. The List Center is thankful to Alberta Chu & Murray Robinson for their additional support of the opening reception.

General operating support is provided by the Massachusetts Institute of Technology, the Council for the Arts at MIT, the Office of the Associate Provost at MIT, the MIT School of Architecture + Planning, the Massachusetts Cultural Council, and many generous individual donors. The Advisory Committee Members of the List Visual Arts Center are gratefully acknowledged.