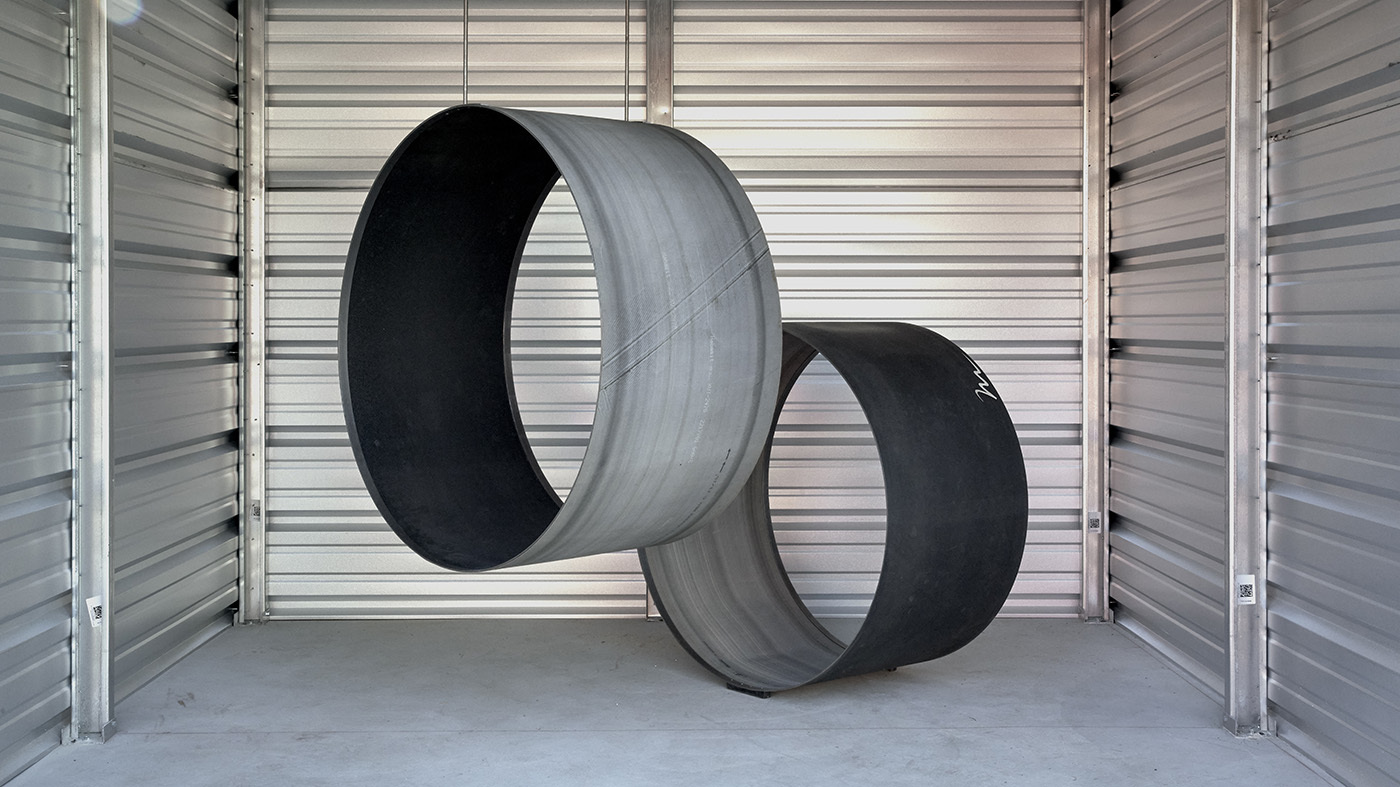 Explore all artists who have exhibited at the List in our
Artist Index
.
In fall 2023, the MIT List Visual Arts Center will present Carlos Reyes's first museum solo exhibition.
Sculpture is a primary medium for the New York- and Puerto Rico-based artist, whose works are concerned with material investigations of infrastructure, architecture, and other designed objects that we encounter in our built environments. His elegant sculptures feature found materials that bear traces of their former use, such as graffiti-etched cedar planks salvaged from a bathhouse and "exhausted" treadmill belts stretched and scuffed from wear. Other works cannily recast everyday items—plastic supermarket egg cartons and IKEA lamps, for instance—into sculptural configurations. While the austere forms of many of Reyes's sculptures and installations cite those of Minimalism, they refocus its historical emphasis on industrial finish to instead foreground visible residues—whether embodied energy like breath and touch, or transitory forces like light and heat—that are exerted on objects and architectural elements over time. In doing so, Reyes indexes human activity within spaces and systems that are socially or politically produced, and gestures towards the networks of circulation, use, and exchange that shape these movements.
Carlos Reyes (b. 1977, Chicago, IL) lives and works in New York and Caguas, Puerto Rico. His work has been the subject of solo exhibitions at Soft Opening, London (2021); Waldo, Maine (2020); Bodega (Derosia), New York (2018); Galerie Joseph Tang, Paris (2019); Vie d'Ange, Montreal (2018); White Flag Projects, St. Louis (2015); and Arcadia Missa, London (2015). Reyes has been featured in group exhibitions at Centre Pompidou d'Art Contemporain, Paris; Aspen Art Museum, Palais de Tokyo, Paris; Futura Center for Contemporary Art, Prague; the 2018 Venice Architecture Biennale; Hessel Museum of Art, Annandale-on-Hudson, New York; Bradley Ertaskiran, Montreal; PPOW, New York; Société, Berlin; Luxembourg and Dayan, New York; Tanya Leighton, Berlin; Bortolami, New York; and Praz Delavallade, Paris; among others. Reyes has received fellowships and residencies from Urban Glass, Lower Manhattan Cultural Council, and Denniston Hill. His work is in the permanent collection of the Centre Pompidou, Paris.
Reyes's exhibition is organized by Selby Nimrod, Assistant Curator.
Sponsors

Exhibitions at the List Center are made possible with the support of Fotene & Tom Coté, Audrey & James Foster, Idee German Schoenheimer, Joyce Linde, Cynthia & John Reed, and Sara-Ann & Robert Sanders. This exhibition is also supported by generous donors to the 2023 McDermott Award Gala, hosted by the Council for the Arts at MIT. Additional support for Reyes's exhibition is provided by the Henry Moore Foundation.  

General operating support is provided by the Massachusetts Institute of Technology; the Council for the Arts at MIT; Philip S. Khoury, Vice Provost at MIT; the MIT School of Architecture + Planning; the Mass Cultural Council; and many generous individual donors. In-kind media sponsorship provided by 90.9 WBUR. The Advisory Committee Members of the List Visual Arts Center are gratefully acknowledged.