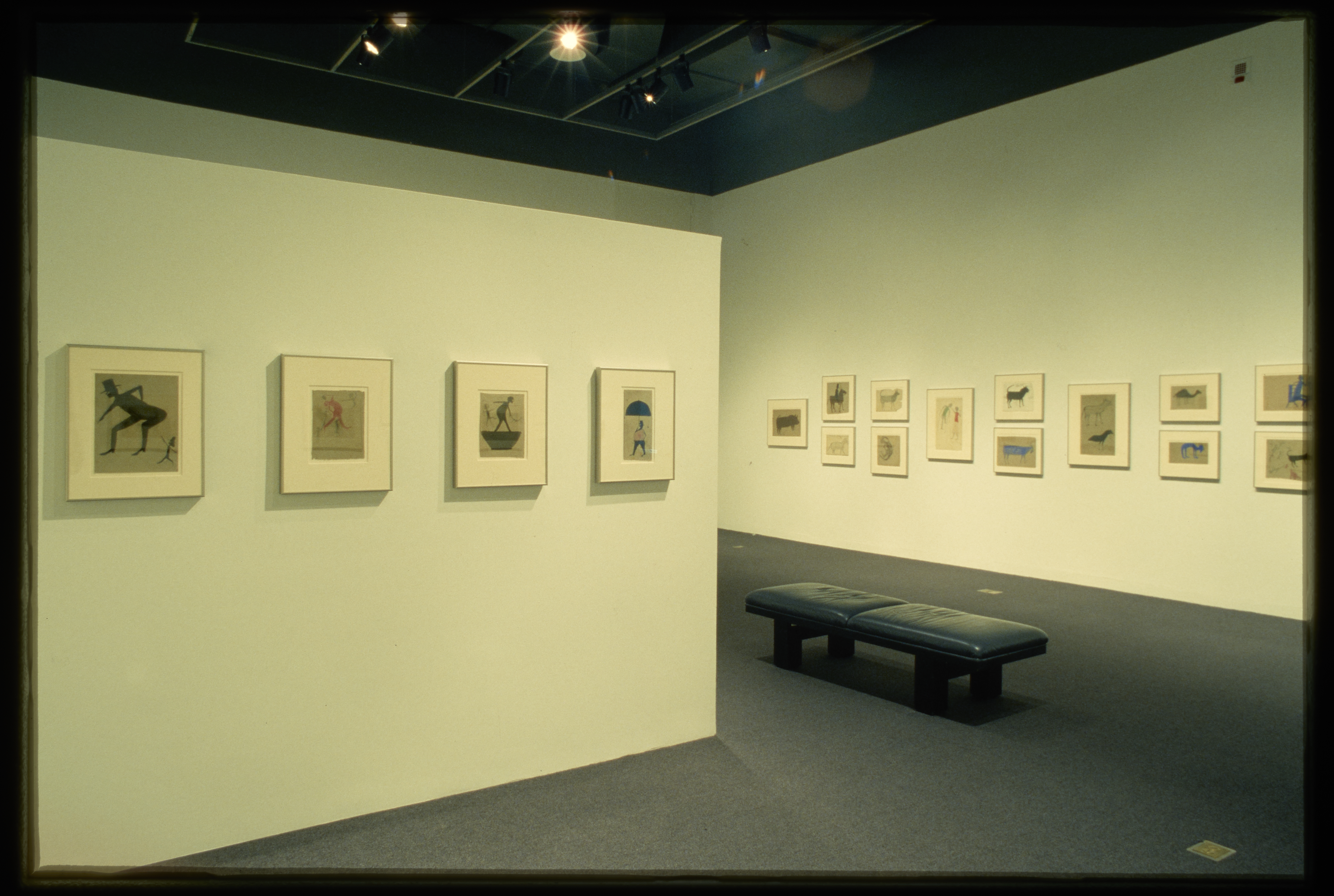 Explore all artists who have exhibited at the List in our
Artist Index
.
Born into slavery near Benton, Alabama, Bill Traylor worked and lived on the same plantation for eighty-four years.
In 1939, at age eighty-five, he moved to Montgomery, Alabama, and suddenly began to draw. Every day for the next few years Traylor drew constantly, perched atop a curbside box outside the Montgomery funeral home where he slept at night. He hung his drawings on the fence behind him, selling occasionally to passersby. 
Traylor was a self-taught, "outsider" artist, who had no formal art training and little exposure to other artists. Michael Bonesteel writes in his essay for the exhibition's catalogue, "Traylor has delved into a creative imagination transcending race and culture…[conjuring up] images straight out of what Carl Jung would call the Collective Unconscious." The role of primitive or outsider art has played a pivotal role in the art of the 20th century. Its direct and unselfconscious expressiveness operates unaffected by the rational impulses inherent in much modern art. Picasso's fascination with African sculpture led him to his breakthroughs with Cubism; many contemporary artists—such as Martin Puryear and Louise Bourgeois—often look at the art and artifacts of primitive and ancient cultures for inspiration. 
Traylor drew the world he knew: people on the Birmingham streets, farm animals, and rollicking drinking scenes. Using a pencil and straightedge, he would begin by drawing geometric forms on whatever paper or cardboard he could find. These simple shapes would then be filled in with paint or crayon, and elaborated into human or animal figures. Traylor's drawings gain power through their bold, concentrated compositional groupings and quirky, fanciful narratives. 
While in Montgomery, Traylor was befriended by Charles Shannon, a young artist who would bring him paints and paper and sit and watch Traylor draw. Shannon also began to collect Traylor's drawings, and urged others to do the same, thereby ensuring that they would not disappear. Shannon sold much of his collection to collector Joseph H. Wilkinson; all of the works in this exhibition are from Wilkinson's and Judy Saslow's collections. 
Sponsors

This exhibition was organized by the Chicago Office of Fine Arts, Department of Cultural Affairs, and co-sponsored by the Chicago Public Library. Generous support was provided by the Illinois Arts Council, the National Endowment for the Arts, and AT&T.