Basel Abbas and Ruanne Abou-Rahme: Only sounds that tremble through us
-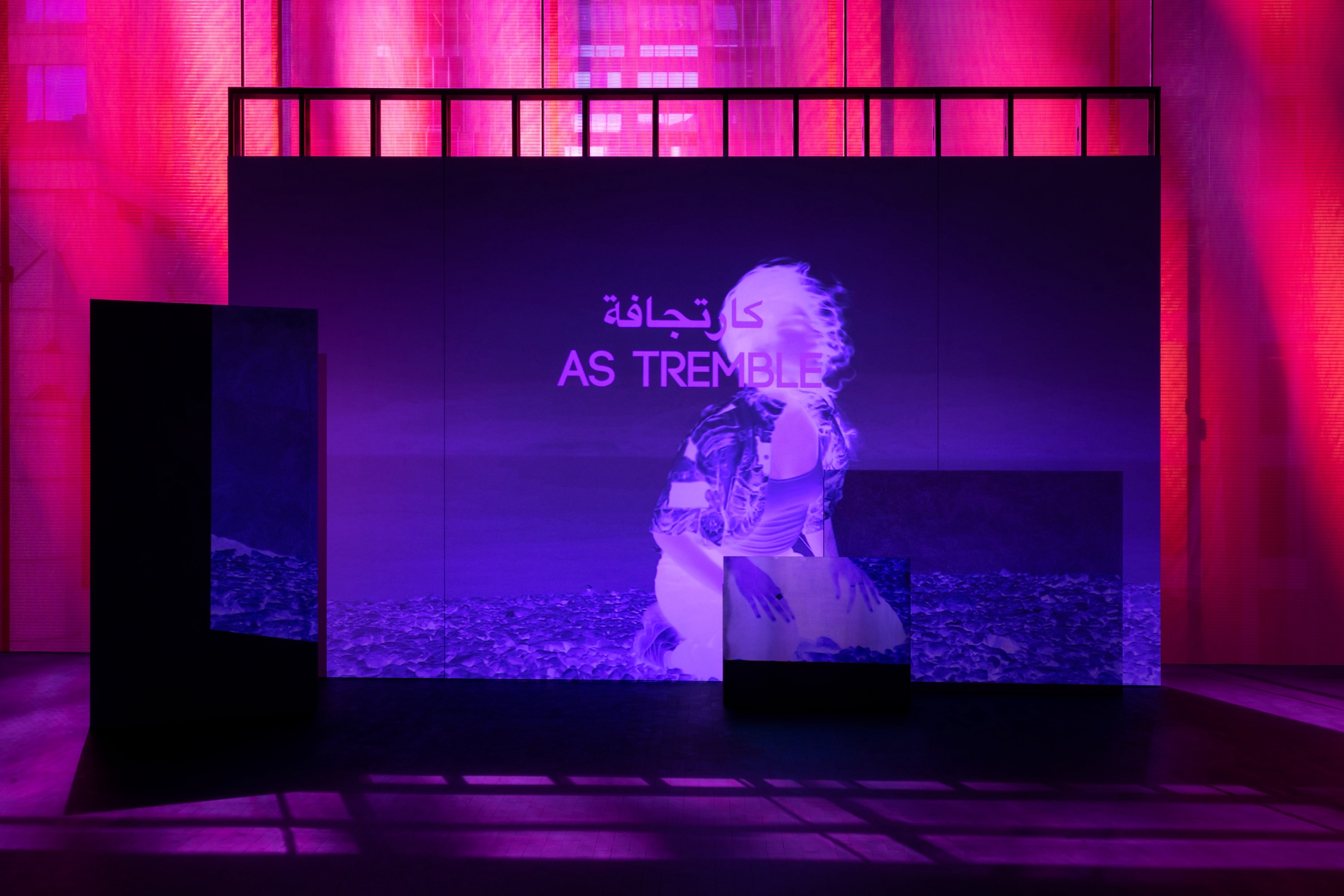 Explore all artists who have exhibited at the List in our
Artist Index
.
In fall 2023, artist duo Basel Abbas and Ruanne Abou-Rahme will present a new site-specific installation and performance series at the MIT List Visual Arts Center.
Working across a range of media—including moving-image installations, sound, performance, and text—Basel Abbas and Ruanne Abou-Rahme undertake long-term research projects that center themes of collectivity and resistance, erasure and memory, and the quest for new political imaginaries. Their rigorous research, most recently into communal song and dance in the Arab world, yields densely layered narratives and saturated, multisensory installations. Further complicating their works—which sample found video footage alongside their own moving images and intense, pulsing soundscapes—is the artists' concern with gaps and glitches, as well as their consistent reflection on their own role in witnessing or translating the fugitive sounds and images they engage.
Abbas and Abou-Rahme's forthcoming List Center presentation will take shape as a multi-channel sound and video installation, offering a new site-specific iteration of May amnesia never kiss us on the mouth (2020–ongoing). This multipart project joins fragments of communal song and dance in Iraq, Palestine, Syria, and Yemen, which the artists collected from videos posted on social media over the past decade, with new filmic performances created by the artists with dancer Rima Baransi and electronic musicians Haykal, Julmud, and Makimakkuk, who respond to specific gestures, music, or texts from the archive. In looking at ephemeral performances in politically marginalized parts of the world and asking what it means to archive sound and gesture through embodiment, the artists reveal performance to be both a critical space of resistance and an ever-evolving repository of memory.
Basel Abbas (b. Nicosia, Cyprus, 1983) and Ruanne Abou-Rahme (b. Boston, USA, 1983) live and work between New York and Palestine and have collaborated since 2007. They have had institutional solo exhibitions at, among others, Astrup Fearnley Museet (2023); the Museum of Modern Art (2022); Common Guild, Glasgow (2022); the Art Institute of Chicago (2021); Centraal Museum, Utrecht (2020); Kunstverein in Hamburg (2018); Art Jameel Project Space Dubai (2017); and the Institute for Contemporary Art, Philadelphia (2015). Their work has been included in major international biennials such as the Sharjah Biennial (2023, 2015); the Berlin Biennale (2022); the Busan Biennial (2018); the Gwangju Biennale and the São Paulo Biennial (both 2014), the Istanbul Biennial (2013), the Liverpool Biennial (2010); and the Venice Biennale (2009).
Abbas and Abou-Rahme's exhibition is organized by Natalie Bell, Curator.
Sponsors

Exhibitions at the List Center are made possible with the support of Fotene & Tom Coté, Audrey & James Foster, Idee German Schoenheimer, Joyce Linde, Cynthia & John Reed, and Sara-Ann & Robert Sanders. The related performance series is made possible through a Visiting Artist Grant from the MIT Center for Art, Science & Technology (CAST). This exhibition is also supported by generous donors to the 2023 McDermott Award Gala, hosted by the Council for the Arts at MIT.

General operating support is provided by the Massachusetts Institute of Technology; the Council for the Arts at MIT; Philip S. Khoury, Vice Provost at MIT; the MIT School of Architecture + Planning; the Mass Cultural Council; and many generous individual donors. In-kind media sponsorship provided by 90.9 WBUR. The Advisory Committee Members of the List Visual Arts Center are gratefully acknowledged.