Ann Hamilton: Artist-in-Residence aleph
-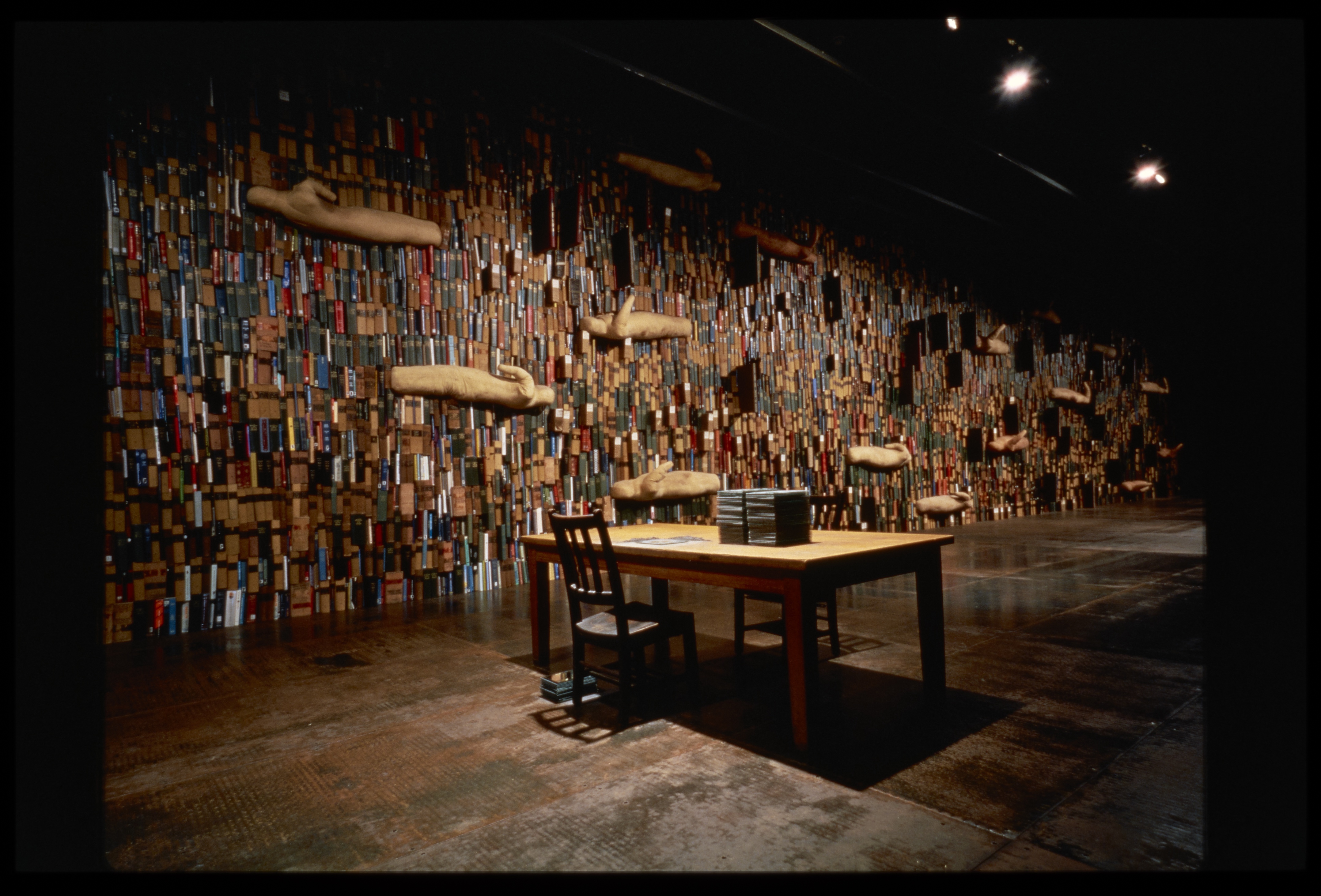 Explore all artists who have exhibited at the List in our
Artist Index
.
As Artist-in-Residence at MIT throughout the fall, Ann Hamilton created a new site-specific work entitled aleph. 
Hamilton activates our senses of sight, sound, smell, and touch and invites us to absorb the meaning of her complex, enveloping environments through unmediated sensation. Hamilton arranges new relationships among existing objects which hold rich, associative meanings for both the artist and the viewer. 
In her site-specific installation at the List Visual Arts Center, Hamilton examines our primary means of constructing identity in the late 20th century – the word and the image. The artist has stacked a long wall with over 20,000 books supporting and encasing a collection of androgynous bulbous "bodies." Towering above our heads, this dense, textured library represents the authority of knowledge conveyed through the written word, the most highly valued tool in our society. The "bodies," weighty forms based on wrestling dummies, are an ambiguous presence. Are they buried in and oppressed by the strata of books, or do they float within a field of information? Our physical empathy with these mute, unarticulated forms raises questions about our own ability to register sensual experience, and about the limitations of language as the principle means of expressing our relationship to the world.
This solid wall of books and bodies forms the background for the two actions taking place within the cavernous gallery space. A small, videotaped image embedded in the far wall focuses on stones slowly rolling around in the artist's open mouth. The mouth, the border or edge between the internal and external body, is the site of ingestion, sensual pleasure, and the release of language. The mouth also recalls the ancient oral tradition whereby stories embodying the values of the community were passed on from person to person, as opposed to the written tradition in which the knower is always separated from the known. aleph, the first character of the Hebrew alphabet, evokes the formation of all words – both oral and written.
In aleph a person seated at a long table slowly and meditatively erases a series of small hand-held mirrors. The mirror may represent the highly self-conscious and individualistic nature of contemporary life. Erasure of the mirror allows a release from self-consciousness and suggests the possibility of breaking through an image to reveal a more complete sense of self. By reminding us of our own humanness, Hamilton acknowledges our limitations and losses and metaphorically attempts to reconnect us with our environment, with others, and with ourselves.
In 1999 Anne Hamilton represented the United States at the 48th annual Venice Biennale. Her exhibition was organized by former List director Katy Kline and former List curator Helaine Posner.
Ann Hamilton is the recipient of the 2015 National Medal of the Arts.
She is one of 15 artists chosen by former and current directors of the List Center to represent the List's rich exhibition history for the MIT List Center 30th Anniversary Portfolio.