2014 Student Loan Art Program Exhibition and Lottery
-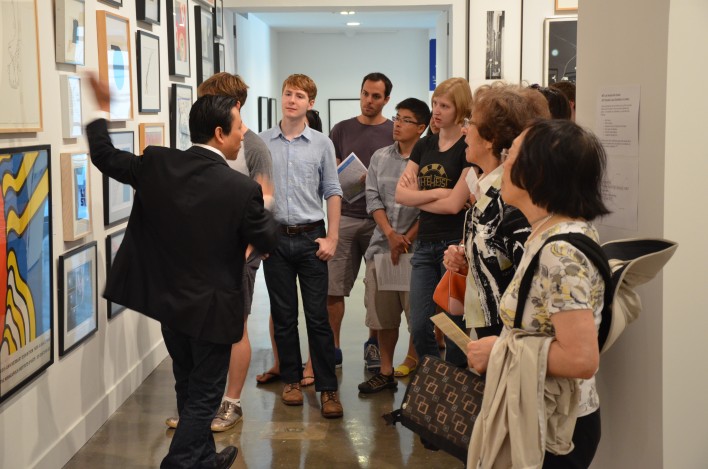 Explore all artists who have exhibited at the List in our
Artist Index
.
The MIT List Visual Arts Center presents the annual Student Loan Art Program Exhibition and Lottery from August 29 to September 7, 2014.
Through this popular loan program, MIT graduate and undergraduate students have the opportunity to borrow original works of art from the collection for their living and work spaces.
The collection now includes more than 500 framed original works of art, primarily prints and photographs by leading artists, which are made available to students for loan each September. The collection is comprised of the Catherine N. Stratton Collection of Graphic Arts, established in 1966, the List Student Loan Collection, established in 1977, and the Ronald A. Kurtz Student Loan Collection, established in 1985. Approximately fifteen new works are added to the collection annually to expand the breadth of its offerings.
A unique and popular MIT tradition, students have been borrowing artwork since 1969, and since 1977 the program was reestablished as an annual two week gallery exhibition providing both the MIT community and the public at large the opportunity to view a wide and diverse selection of the collection. The exhibition features framed prints and photographs by leading modern and contemporary artists, including Andy Warhol, Louise Bourgeois, Alex Katz, Cindy Sherman, Sol LeWitt, and Fred Wilson.  
Although only MIT students can borrow art, the exhibition is free and open to the public. As MIT List Visual Arts Center director Paul C. Ha states, "One of the List's important ongoing annual programs is our Student Loan Art Program. It is where MIT students participate in caring for and living with art, experiencing first hand what it is to be a contemporary art collector. The List is proud to host this program as it continues to grow in participation and in collection."
Schedule
Lottery: September 8 and 9, 2014
Results of the lottery are posted by 6 pm on September 9.  If you are selected to receive an artwork or are selected as an alternate, you are notified by email; in addition, results are posted on our gallery doors.  
Pick-up: September 10 and 11, 2014
The List's galleries are open noon to 6 pm for students to claim their artworks. Students must present a valid MIT ID to pick up their work.
Last Chance: September 12, 2014
Students who do not receive art through the lottery have another opportunity to borrow one of these pieces. Artworks that are not claimed by the end of the day on Thursday, September 11 are available to students (including those who did not participate in the lottery) on a first come, first served basis starting at noon on Friday, September 12. Artwork will be distributed until 6 pm or until all pieces are claimed.
Sponsors

Support for this program has been provided by Vera G. List, MIT's Campus Activities Complex, MIT List Friends of Boston Art, endowments generously established by John Taylor and Alan May and new purchases from Gerald Appelstein, Brit d'Arbeloff, Karen & Greg Arenson, Rhea Cohen, Lindsay & Charlie Coolidge, Karen Ho, Mindy Home & Drew Katz, HyunA Park & Jacob Friis, John & Cynthia Reed, Sara-Ann & Robert Sanders, and Toby L Sanders. The Graduate Students' Reception is supported by Student Life Fees and Christine Ortiz, Dean for Graduate Students.  New acquisitions include generous gifts by Andrew Katz and Melinda Home, Cynthia F. and Dr. Michael W. Weisfield ('66), Julie and Gerald Jay Sussman, Beth and Richard Marcus, Jeane and Don Stanton, and Sara-Ann Sanders whose gift was provided in honor of Martin Rosen ('62).