The Very Quick of the Word
2014, Sternberg Press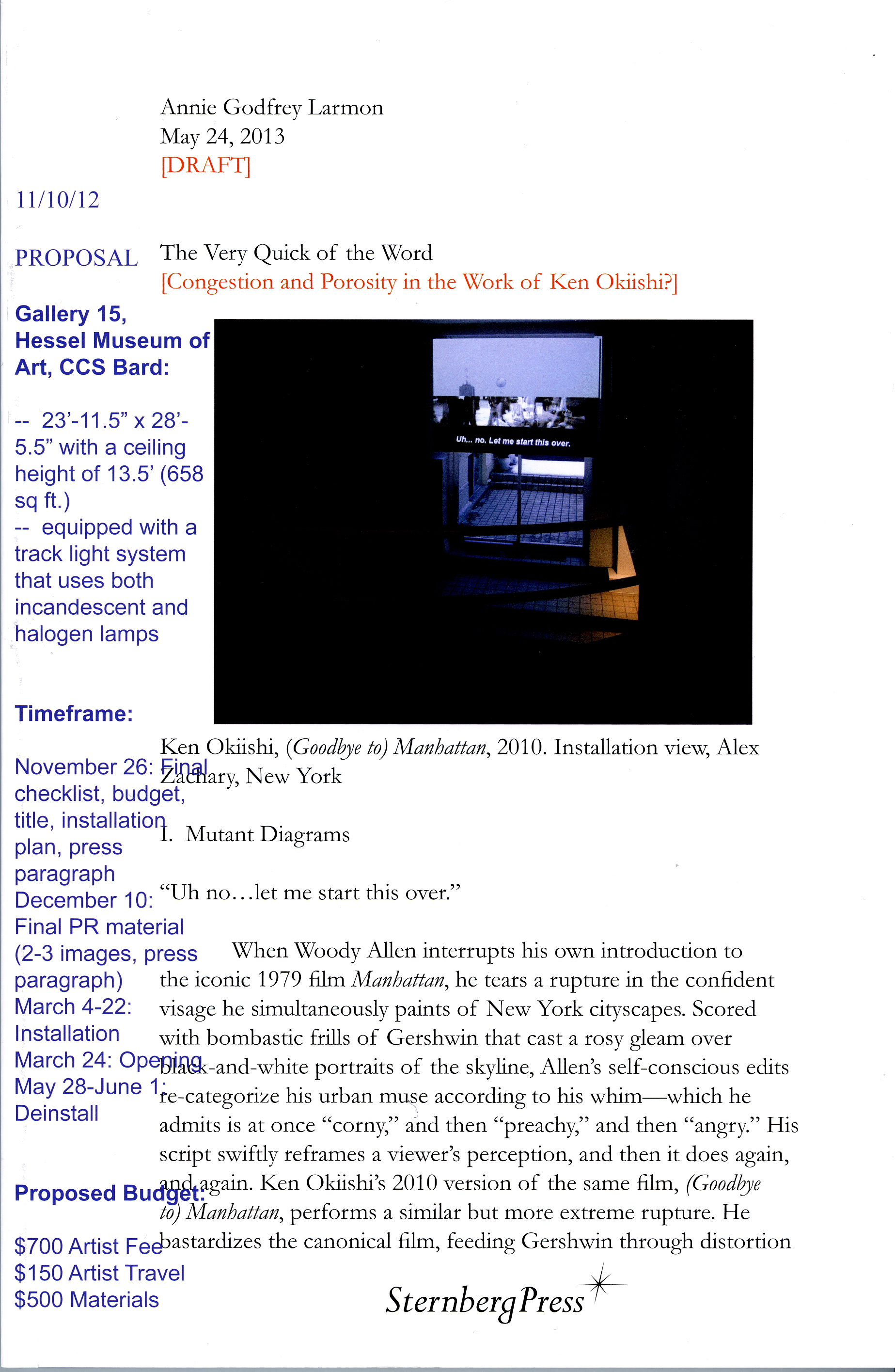 Ken Okiishi's artwork has explored the subject in between digital and continuous space, the changing nature of authorship, memory, and perception, and the indeterminacy of consciousness as it clashes with the strictures of technology. He has engaged seminal works by figures including Woody Allen, Arthur Rimbaud, Marcel Duchamp, Stephen Spielberg, David Wojnarowicz, Jacques Demy, and Larry Clark (and the histories and personalities that circulate around these cultural products), infusing them with autobiographical and technological elements that reframe them through the incongruity of "real life." While working on the exhibitions at MIT and CCS Bard that occasion this publication, Okiishi realized a radical material rupture in his work, as linguistic and bodily glitches became registered both inside and outside the screen, and the surface of media itself became the support surface for weirdly gestural paintings. This series of works, titled gesture/data, was first exhibited at CCS Bard and, most recently, was exhibited to great acclaim at the 2014 Whitney Biennial. This book is the first instance of considering Okiishi's work from the last fifteen years as a heterogeneous whole.  Contributions by Ken Okiishi, Annie Godfrey Larmon, and MIT List Center curator Alise Upitis.
This publication takes the format of the exhibition catalogue—as a carrier for the circulation of texts and images—as a format in crisis. The physical book appears here as a dummy that is loaded with various files, many appearing as the glitchy in-between that we have become accustomed to as files load on so many different devices and scales of screens. Included in this mass of files is Annie Godfrey Larmon's thesis on the work of Ken Okiishi (the first in-depth study of the artist's work), a new text by Alise Upitis on computing and the conditions of translation, images from Okiishi's series gesture/data (2013–ongoing), and a screenplay book of Okiishi's 2010 runaway hit, (Goodbye to) Manhattan.
The Very Quick of the Word is published in conjunction with Ken Okiishi's exhibitions at the MIT List Visual Arts Center (July 16–September 1, 2013) and the Hessel Museum of Art, Center for Curatorial Studies, Bard College (March 24–May 26, 2013). Design by Ken Okiishi.