Maclaurin Buildings, 1913
William Welles Bosworth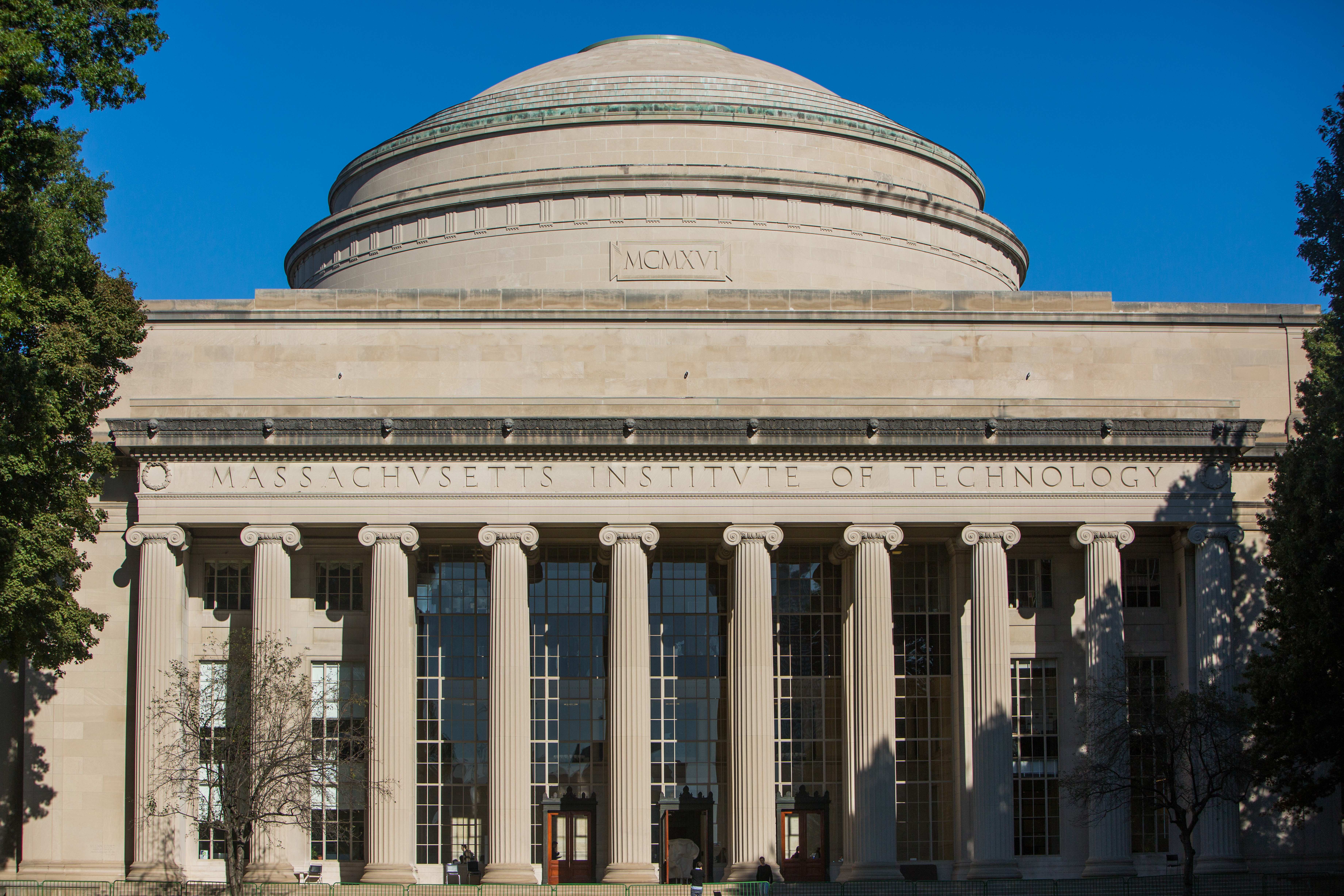 Owing to the rapid development of technology and industry in the late nineteenth century coupled with parallel growths in both the Institute and the population of Boston, MIT found that its city-allocated plot of land in Back Bay was becoming increasingly insufficient for the demands of the institution.
In the early 1900s, MIT president Richard Maclaurin spearheaded a massive fundraising and infrastructural effort to move the campus to a flat, fifty-acre plot across the river. The Cambridge campus, as it exists today, was unveiled to the public in June 1916. 
Selected upon a recommendation from John D. Rockefeller Jr. (for whom Bosworth worked as a personal architect), William Welles Bosworth was tasked with designing the campus plan. The grand dome of Building 10, along with the adjacent Buildings 3 and 4, frame the central quad of Killian Court, leaving the fourth side open to the Boston skyline. The ten ionic columns supporting the portico of Building 10 are arranged in a slight outward curve, rather than a straight line, to create an illusion of stability and horizontality. The famous double-loaded "infinite corridor" that unifies these buildings was constructed to support the spatial needs of the growing campus population and the machinery and equipment used for research. The megastructure format, encased in the Beaux-Arts aesthetic ideals found across many US campuses, reformulates the liberal arts model of the campus as a bucolic academic village, instead presenting the institution as an urban system of dynamic, interconnected parts. 
William Welles Bosworth (1869­­–1966) was born in Marietta, Ohio. He graduated from MIT in 1889 with a degree in architecture. As a student, he worked as a draftsman in the Boston office of Henry Hobson Richardson. Bosworth studied classical architecture at the British Museum under Sir Lawrence Alma-Tadema and enrolled in the École des Beaux-Arts, Paris. Bosworth's early commissions consisted of gardens and buildings for New York businessmen, including V. E. Macy, Frank Vanderlip, and John D. Rockefeller. Between 1913 and 1916, under Bosworth's supervision, the Institute erected Buildings 1, 2, 3, 4, and 10, as well as Building 8. He would later design Walker Memorial (Building 50), the President's House (Building E1), and the Pratt School (Building 5). In 1924, Bosworth traveled to France to participate in the restoration of the Palace of Versailles, Fontainbleau, and the Cathedral of Reims. He spent the rest of his career in France.